-Tony Fernandes ‏@tonyfernandes

7h
-
- From the 1880s and on! - The Bushman QPR Photo Archives


- QPR Report Messageboard
-
- Follow QPR REPORT on TWITTER!

_________
IanJTaylor ‏@IJTaylor81
54s
#PFA #Championship TOTY: Schmeichel, Trippier, Cresswell, Morgan, Shackell, Drinkwater, Reid, Bryson, Hughes, Ings and McCormack
Trending in Indonesia...

@QPRReport

the 1st mention of 'Own Goal' appears on your TL. Now is Trending Topic in Indonesia!

#trndnl
- 3 Years Ago Today: The Sun with the Headline "Guilty" re QPR and "Faurlingate"
- 3
5 Years ago Today: Clive Allen's Full Debut: Scores a Hattrick vs Coventry
40 Years ago, Yesterday: QPR Crowd Attendance of 35,000 is set versus Leeds United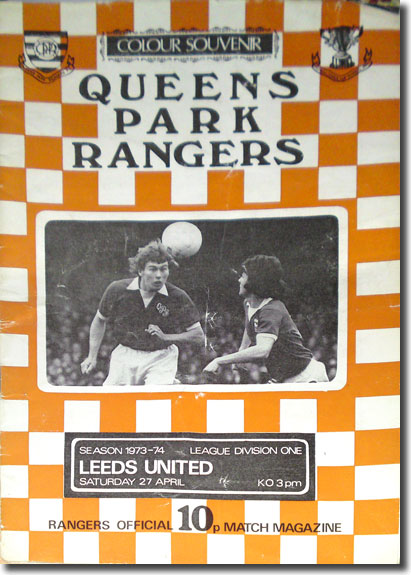 41 Years ago Today: Already-Promoted QPR Beat Fulham

10 Ago today, Gianni Paladini Buys Into QPR-

Looking back [10] years, on this day....At the time, Jones and Blackburn (and Davies) were running the club. Bill Power had just recently also bought into the club. Within a couple of months of Paladini's purchase of shares, Power and Paladini had taken over from Blackburn,Jones and Davies. 18 months later, Paladini was Chairman.
BBC - April 28, 2004 - Paladini buys stake in QPR
QPR have finally found an investor
Italian businessman and agent Gianni Paladini has bought a 22% stake in Queens Park Rangers.
Paladini, who has represented Fabrizio Ravanelli and Benito Carbone, has invested around £650,000 and more cash may follow in the future.
QPR have been seeking investors since coming out of administration in 2002.
The board are speaking to other groups interested in buying a major stake, including American Tim Krause and a consortium fronted by Brian Rowe.
Krause is the president of Milwaukee Wave, the American club QPR entered into a partnership agreement with last year.
Lifelong R's fan Rowe was commercial director at Loftus Road under former owners Jim Gregory and Richard Thompson. BBC
Standard/Matt Hughes - April 28, 2004
Rangers are lifted as Italian pumps millions into club.
QUEENS PARK RANGERS have received a huge boost ahead of Saturday's promotion clash with Swindonin the form of a multi-millionpound investment from Italian businessman and agent Gianni Paladini, writes Matt Hughes.
Paladini's Leeds-based property company, Moorband Limited, have bought a 22 per cent share in QPR Holdings and could increase their stake further if the club win promotion-to the First Division. Paladini has more than 30 years' experience as a football agent and will play a key role in restructuring the QPR squad this summer."
QPR 1st - 28th April 2004
QPR1st gives a cautious welcome to the investment made by Moorbound Ltd, a company of former-football agent Gianni Paladini. We are pleased to see that the Club Board has at last succeeded in attracting inward investment to QPR, but there are a number of questions that we would like to see addressed, primarily to do with the deal itself and with the business credentials of Mr Paladini and his team.
In particular, we are keen to know roughly how much has been invested to secure 22% of QPR shares and what further investment plans Mr Paladini's company has. These questions alone have become pressing, since Mr Paladini's emergence as a bidder has generated substantial rumour, which QPR1st does not believe is good for either the Club or its support.
Also, should Mr Paladini's company exercise its option, as a part of this agreement, to extend the 22% to 51%, it would make this deal the beginning of an effective takeover rather than an 'investment', although QPR confirms that the Board is at the advanced stages of negotiations with other interested parties.
Given the potential that Mr Paladini could shortly have control of QPR, we call on the Board to explain what checks of Mr Paladini's business credentials and background have been done (we understand from QPR chief executive David Davies that every test so far put in front of Mr Paladini has been met on time). Meanwhile, we are seeking talks with Mr Paladini, to establish exactly what his company's involvement will mean for QPR.
QPR1st -15th April 2004 - Three investors circle QPR
QPR1st has learnt that a third potential investor in QPR has emerged. In some respects this could be positive news if it means that people are beginning to see Rangers as a viable business proposition. However, there is still plenty of room to be cautious, since two have previously explored investing in QPR and have not yet gone through with it while the third has plenty of history elsewhere in the football world.
The latest interested party to emerge is Gianni Paladini. This was reported in the Daily Express this morning but the story has subsequently been confirmed to QPR 1st by QPR chief executive David Davies. Davies stated that Paladini is looking to invest, rather than take a controlling stake.
Gianni Paladini came very close to a majority buyout of Port Vale in December 2003, through a corporate vehicle named Vantis. However, at the very last minute, another party was given priority by the Port Vale board. Some sources say that this was related to Paladinis' stated desire to be the new Port Vale Chairman, others that he simply wasn't a credible bidder with sufficient funds. In an interview with BBC Stoke he claimed he had shown the Port Vale board proof of funds before they pulled-out of the deal.
www.bbc.co.uk/stoke/sport/portvale/2003/12/vale_takeover3.shtml
Whatever the truth, there does appear to have been a significant falling-out between Paladini and Bill Bratt the Port Vale Chairman.
QPR 1st continues to explore Paladinis' provenance. It is understood that Vantis had recently taken an interest in 'investing in' or 'acquiring' a couple of clubs ... Port Vale and Notts County.
Opinion amongst Vale supporter groups appears to back the Port Vale boards' position in rejecting Paladinis' advances. Port Vale Supporters' Trust (VAST) and Supporters Direct uncovered a series of County Court Judgments against him. Davies explained to us that these are public knowledge and arose from disputes between Paladini and another football agent. That does not mean that they should be ignored, however.
Supporters groups also discovered that, despite his early denials, Paladini was a director of several companies, including a Leeds-based property development company.
Davies confirmed that the critical difference between the Vantis interest in Port Vale and the current Paladini interest in QPR is that at Vale Vantis was attempting a complete takeover attempt, whilst Paladini is seeking to invest in QPR as an individual and not to take a majority stake. This,claims Davies, should ease supporters' worries about the ground being property-developed, as the rest of the QPR board would have to agree to such a thing. At the time of the Paladini takeover attempt at Vale, it was claimed by some that he was only interested in Vale for property development.
Meanwhile Milwaukee Wave, whose owner Tim Krause has long been looking at investing in QPR, remains interested and looks to be moving to reflect that through investment.
Last, but not least, the Brian Rowe-led consortium, which also includes the Anelka brothers, is still looking to invest.
Davies confirmed that there was a possibility of a combination of two of the three parties/ groups working together and being able to invest independently. He also confirmed that an announcement about this could come earlier or later than this Monday, as stated in the Express.
Meanwhile, the board must pick none, one or two from three. QPR1st calls on the board of QPR to take great care making their decision. Whilst recognising that failure to secure inward investment will almost certainly leave the club dangerously exposed as the season draws to a close, we recommend that prospective bidders be examined as closely as ever. At a time when the club is about to play a crucial promotion game, we have a critical weekend ahead of us. QPR1st
Dave's Queens Park Rangers Site - "Moorbound Ltd Buy 20% of QPR" -Moorbound Ltd Buy 20% of QPR"
Moorbound Ltd Buy 22% of QPR Holdings
QPR have announced that Moorbound Ltd have bought 22% of the PLC's issued shares giving the club a much needed cash injection of around £650,000.
The deal sees Azeem Malik and Gianni Paladini join the board at QPR. Gianni Paladini is a former agent who represented many of the foreign stars who joined Middlesborough in the 1990's. Ravenelli, Juninio and Emerson were all on Paldini's books but he is now no longer a football agent after investing his money into QPR.
Chief Executive David Davies was delighted with the investment and told
www.qpr.co.uk
" "Moorbound were hoping to retain some confidentiality until the end of the season, but following speculation in the press, the Board have decided to confirm the investment.
"They have taken a substantial stake in the business and with Gianni's experience in football, it should be a great aid to us.
"They bring skills to the table and Nick, Ian and I are looking forward to working with them."
Gianni Paladini has the option to buy up to 51% of the shares if no new investment is forthcoming which would make his move a take-over and a little more concerning to QPR fans. Paldini attempted to take over Port vale earlier this season but fans grew nervous of the agents plans and were very pleased when his bid failed. ....
www.queensparkrangersfc.com/newsnow/may04.htm
BOARDROOM BLUES
PALADINI'S REP JOINS THE BOARD
Tuesday 27 April 2004
QPR Holdings today confirmed that 22% of the issued plc shares have been sold to Moorbound Ltd of Leeds, and that Mohammed Azeem Malik has joined the board of QPR Holdings plc.
At the plc's last AGM shareholders voted to allow the board to issue further shares. To acquire 22% of the plc, Moorbound must presumably have bought a combination of newly issued shares and QPR Nominees shares. The plc has not announced how many new shares it has issued.
Gianni Paladini's representative Azeem Malik is recorded on the Association of Chartered Certified Accountants' website as being employed by Rehman Michael & Co of 277 Roundhay Road, Leeds.
Moorbound Ltd was incorporated as a private limited company in June 2003 and its registered address is also Rehman Michael & Co, 277 Roundhay Road.
Director Bill Power, posting on the
www.qprnet.com
messageboard today in response to concerns about the future of the Loftus Road ground, said: "I don't think I am breaking any confidentiality agreement by confirming that anyone who has asked to buy a majority stake within QPR have a stipulation in the agreement stating that they must guarantee our ground stays as is or improve it."
www.boardroomblues.co.uk/
http://qprreport.proboards.com/thread/13161/years-gianni-paladini-joins-buys#ixzz30AeWRZRS
------