-

--
Play "SPOT THE BALL!"
-
-
Throughout the day, the QPR Report Messageboard has news updates, comments and perspectives - even links to other board comments of interest re QPR matters (on and off the field) along with football (and ONLY football) topics in general....Also Follow: QPR REPORT ON TWITTER
_____________________________________________________________________________________
-
The Latest "Football Rich List" (QPR no longer #1)
-
Bullard Reportedly told by Hull Not to Return
-
Next: Crawley Town vs QPR - Ticket Information
- Flashback to June QPR Official Site: "
Plans are already afoot for a pre-season celebration, once the players return to training in July
" -
QPR
-
Three Year Flashback: Lee Cook Returns and The New QPR: The New QPR: Evolution Not Revolution - Views of Ian Dowie, Stan Bowles and Ali Russell
-
Previews/Predictions for 2011/12 CHAMPIONSHIP!
-
April Flashback: Routledge to QPR on a Free!
-
Italy Match Fixing Claims from Atalanta
-
QPR only one of three or four Premiership clubs NOT playing in the Premiership League.
(Norwich, Swansea, Wigan. Wolves. WBA. Bolton. Blackburn. Aston VIlla. Sunderland. Liverpool. Everton. Chelsea. Fulham. Arsenal. Man Ut. Newcastle all are.
(Spurs, Manchester City, QPR are not) -
League
Sami Mokbel/Daily Mail - Warnock set to inherit transfer war chest with takeover looming
- Air Tycoon Tony Fernandes is preparing to hand Queens Park Rangers manager Neil Warnock a transfer fund of £10million as he looks to finalise his takeover plans.
-
Sportsmail exclusively revealed how the Malaysian-businessman held talks with QPR co-owner Bernie Ecclestone and his business partner Flavio Briatore over purchasing a majority stake in the Barclays Premier League new-boys.
- And Fernandes' interest in the Loftus Road club was evident when the millionaire businessman joined Briatore on a whistlestop visit to Bergamo, Italy, to watch the West London club win the three-team Bortolotti Trofeo tournament, which also included Atalanta and Braga.
- The 47-year-old, who is also team-principle for Formula One outfit Team Lotus, flew to Italy from Budapest after Saturday's qualifying session for the Hungary Grand Prix, before returning on Sunday morning for the race itself.
And Sportsmail has learned discussions over Fernandes' proposed buy-out are at a 'highly advanced' stage and he is hopeful of being on board by the start of the new season.
- Fernandes and Warnock met briefly after the tournament as the QPR boss looked to strike a relationship he hopes will bring the job stability he craves after months of speculation over his role.
- And West Ham supporter Fernandes is ready to back Warnock in a show of support for the experienced manager.
- Warnock told Sportsmail: 'Myself, Flavio [Briatore] and Tony all had a positive chat after the match on Saturday.
- 'We've already spoken about possible targets and he is a very positive chap.'
Warnock has been restricted to free transfers this summer, with Jay Bothroyd, Daniel Gabbidon and Kieron Dyer all arriving for nothing.
- The Loftus Road chief will continue that trend this week by completing free transfer moves for former Ipswich goalkeeper Brian Murphy and ex-Portsmouth striker Danny Webber.
- But Fernandes' investment will give Warnock the chance to spend some money for the first time this summer.
- Having missed out on Kyle Naughton to Norwich, a new right-back remain one of Warnock's top priorities with Manchester City defender Nedum Onuoha high on his hitlist.
- Tottenham midfielder Jermaine Jenas is liked by Warnock, as is Jimmy Bullard - whose future at Hull is shrouded in doubt after he was suspended by the Tigers last week.
Warnock hopes to complete his first cash deal today when he holds talks with striker - DJ Campbell after QPR met Blackpool's £1.25million release clause for the striker.
Daily Mail
QPR Triumph in Italy
-
New Video From Italy Games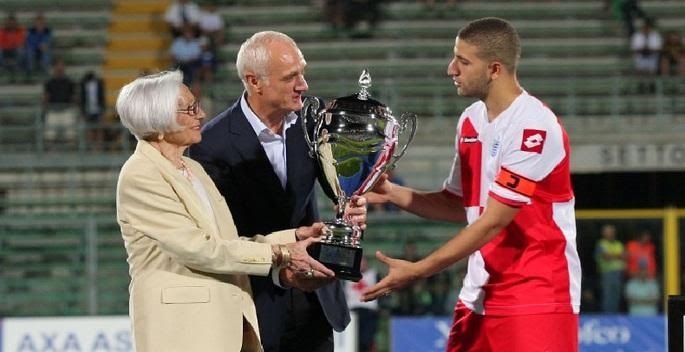 -
QPR Win in Italy! Photos from "QPR, Atalanta, SC Braga - Trofeo Bortolotti"
-
QPR Win in Italy! Photos of QPR and Flavio Briatore - from "QPR, Atalanta, SC Braga - Trofeo Bortolotti"



- Additional Photos from Atalanta Including Taarabt with TROPHY!

- Photo of Team with Trophy (Including Past, Present and Future? Owners)
-
Video of Trophy Presentation (posted by Devon Park Ranger)
-
QPR Official Site - WARNOCK: 'A NICE HABIT TO BE IN'
-
QPR Official Site - TOUR BLOG: PART VI
-
MATCH 2 - QPR Official Site -R'S WIN TROFEO BARTOLOTTI
Flashback Five Years: Gianni Paladini's QPR Official Statement re Training Ground and "Campaign Against QPR"
Five Year Flashback: Chairman Paladini Denies and Denounces
"...It is frustrating that, despite all the hard work everyone has been doing during pre-season, a tiny minority of people seem intent on damaging team morale and destroying the Club in the run up to our important first game..."
"...The latest is the absurd rumour suggested on a message board that the players were locked out of the Harlington training ground, when in fact Gary Waddock had just given them the day off as they had only recently arrived back from a busy schedule in Italy...."
"...The Club is in a better financial position than it has been in for a number of years. Things are still tough, but we have reduced the annual debt by millions and intend to reduce it further. Yet ridiculous rumours still seem to be invented by a few people for reasons beyond me...
"QPR fans will ask themselves why should people invent such rumours? The purpose can only be to destabilise the Club and to injure the morale of players and fans just days before the season kicks off. The Club will not allow another season to be derailed by these people....We will not allow a tiny group of people, driven by an agenda that has nothing to do with football, to destroy this Club...."
"For the last time I say to those who's criticism of the Board has developed into an agenda to undermine the Club, if you know of a better alternative to take QPR forward with the necessary funding to support it, then please let us know. Otherwise stop pursuing a divisive and destructive agenda. The Board, the players and staff and the thousands of fans of QPR will not allow a small selfish group to ruin the season for the rest of us...."
QPR Statement
-
Three Year Flashback: Parejo and Gorkss Join QPR
-
AFC Wimbledon's Odyssey
-
COMPLETE WORLD CUP DRAW
-
Bushman's Photos from 1959-1960 Season
-
VIDEO re "Inside QPR" - Looks to be a Truly Riveting Video 'Four Year Plan'
-
Parliamentary Committee Issues Report Calling for stronger FA, Control over Club Ownership and stronger, implemented "Fit and Proper" Rule, and So Forth
-
Year Flashback: Nobody Else Wants Him so Taarabt Open to QPR
-
Two Year Flashback: Alessandro Pellicori Joins Queen's Park Rangers
SQUAD NUMBERS FORTHCOMING
QPR's Ian Taylor: "
For all those asking ... We're expecting to announce the #QPR squad numbers early next week
"
http://twitter.com/IJTaylor81
-
Guide to Football Grounds... Guide to Loftus Road
-
Four Year Flashback: "QPR Chief Paladini to Sell Up"
-
UDPATED: Europe's Top Clubs Threaten Revolt. Fan Reaction
-
FA Reportedly Given Year to Reform or Else Legislation
-
Flashback: The 1959/1960 Season
-
A Statistical Guide to Points Needed to Stay Up
-
Premiership Relegation Odds
-
An Early Preview of QPR vs Bolton
-
Premiership Rules re Kits
-
VANISHED WITHOUT NOTICE! The Club's Official Messageboard
-
Still No QPR Offical Site Update re the Status of the Official Supporters Club (OSC). Despite Committee Resignations.
-
Home Ticket Price Information
QPR's Remaining Pre-season Games
- Tuesday 2nd August - Crawley Town (a) 7.45pm
- Friday August 5 - Luton (A)
QPR