-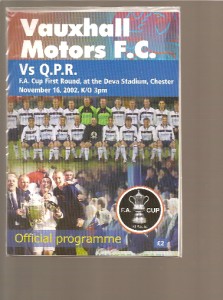 --
-
UPDATED THROUGHOUT THE DAY: For continuously updated throughtout the day news about QPR - as well for football only-discussion: visit the football-only, QPR Report Messageboard/quasi-blog. Join in the various discussions or just read!
-
QPR REPORT Available on TWITTER!
-
*** QPR's Pre-Season Calendar: UPDATE - Hendon vs QPR XI, August 3rd
_____________________________________________________________________________________
OLD QPR VIDEOS:
-
QPR's 1982 FA Cup Quarter Final Victory Versus Crystal Palace
-
Chelsea vs QPR From 1980
-
1985: Coventry vs QPR
-
Neil Warnock Approves Notts County's Managerial Choice
-
Simon Royce is Brentford's New Goalkeeping Coach
-
What QPR Looked Like Three Years Ago
-
QPR Finances Two Years Ago
-
Three Years Ago Today: Reports of a QPR "Winding Up" Order
-
Chairmen and CEOs off to Malta
-
Ex-Chairman Antonio Caliendo Meets Last Remaining Survivor from the 1930 World Cup
-
RIP: Bristol City's 107 Year Old Fan
PADDY KENNY - South Yorkshire Star - Blades: Paddy Kenny was always Warnock's first choice at QPR
By James Shield
PADDY Kenny was always Queens Park Rangers' first choice to fill the goalkeeping vacancy which has existed at Loftus Road ever since Neil Warnock's arrival in March, The Star can reveal.
Reports have claimed that Rangers, who are also poised to confirm the capture of Darren Ambrose from Crystal Palace, switched their attention to the former Sheffield United favourite when Julian Speroni, who also worked with Warnock at Selhurst Park, refused to agree a move.
But while United's Championship rivals WERE interested in opening talks with the Argentine, sources in the capital insist they have been monitoring Kenny's situation ever since he returned to action following a nine month ban in April.
Despite all three parties involved agreeing the £750,000 transfer, Rangers could decide to delay Kenny's official unveiling until the Ambrose deal is also completed.
But United have already launched their search for the Republic of Ireland international's replacement with Stoke City's Steve Simonsen expected to be Kevin Blackwell's first port of call.
Given the sheer volume of players required to strengthen a squad which proved particularly vulnerable to injuries and suspension last season, losing Kenny has dealt a major blow to United's hopes of having the majority of signings in place before they establish a training camp in Malta next month.
Initially, Rangers interest appeared to come out of the blue.
But Warnock, who brought Kenny to Bramall Lane in his previous guise as United's manager, is believed to have been considering the possibility of a swoop when, looking remarkably lean and fit, he marked his first appearance since being banned for a doping offence with a commanding display against Swansea City.
The discovery that Kenny could be secured for such a cut-price fee served as further encouragement.
Rangers subsequently bid the exact amount required to trigger a clause contained within his deal granting them permission to discuss personal terms.
United have yet to comment publicly on the chain of events which led to Kenny's departure.
But, having handed him a new contract despite testing positive for ephedrine during the Championship play-off semi-finals in 2009, they are known to be "extremely frustrated" at how they have unfolded.
Even more concerning, however, could be Rangers' decision to flex their financial muscle this summer.
Plymouth's Jamie Mackie and former Sheffield Wednesday marksman Leon Clarke have already been tempted south but the arrivals of Kenny and Ambrose represent ominous statements of intent.
The midfielder was expected to be first out of the door when Palace's administrators threatened to start liquidating the club's assets on Tuesday.
But the CPFC 2010 consortium struck a last-ditch deal to save the club and, having put any player sales on hold, are set to try to persuade their top scorer last season to stay.
However, Warnock, who joined Rangers from Palace, said: "Darren has his heart set on coming and we've shaken hands on the deal with Palace. I doubt they and their owners will want to renege now."
http://www.thestar.co.uk/sportheadlines/Blades-Paddy-Kenny-was-always.6342684.jp
Mirror - Blades turn on "traitor" Paddy
- Paddy Kenny has been called a "money-grabbing traitor" after deserting Sheffield United for QPR.
The Ireland keeper, 32, went from cult hero to hate figure at Bramall Lane after completing his shock £750,000 switch from the Blades to Loftus Road.
Kenny has signed a three-year deal with Rangers worth £20,000-a-week – almost double his Blades salary.
But United fans are fuming over what they see as treachery.
The Blades stood by Kenny when he was handed a nine-month ban from football for failing a routine drugs test 13 months ago.
They honoured his contract, offered him a new deal and he has returned to first-team action.
Richard Batho, spokesman for the Blades Online fans group, rapped: "Kenny has betrayed us."
Stoke's Steve Simonsen, and Crystal Palace's Johannes Irtl are potential ­replacements
Mirror
-
(Depressing) VIDEO: Brian Little's 1976-77 League Cup Semi-Final Hatrick vs QPR at Highbuary
-
Paddy Kennedy: Vital Football/Sheffield United Profile
-
The QPR Report World Cup Game: Feel Free to Join!