-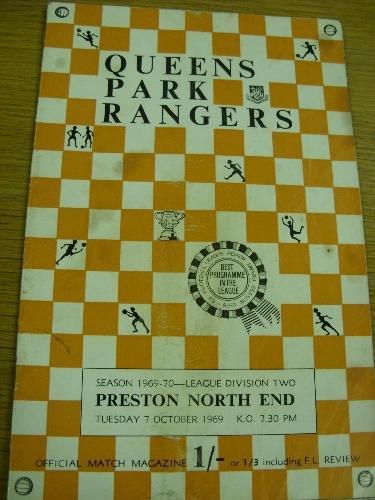 -
Next: Preston at Loftus Road
-
-
For QPR and Football Updates and perspectives throughout the day, visit the QPR Report Messageboard. All QPR and football perspective welcome...Also Follow: QPR REPORT ON TWITTER
____________________________________________________________________________________
-
Ex-QPR Goalscoring Machine from half a century ago, Brian Bedford Talks (re pre-QPR)
-
QPR Official Site Youth Report and Praise
-
Birthday for Ex-QPR Captain (and Penalty Taker), Terry Fenwick
-
When Saturday Comes (WSC) has reposted an interview with Holloway from March 2003
Daily Record/Gavin Berry - Mackie Speaks
Scoring on my Scotland debut was highlight of my career, says Danny Wilson
"....Fellow goal hero Mackie was relieved to end his 12-game scoring drought after a barren run at club level with QPR.
Now he hopes his first Scotland goal will open the floodgates.
The striker said: "It was a beautiful feeling when the ball hit the net. It was nice to get the tap-in and open my account. Hopefully there are many more goals to come for Scotland.
"There's an element of pressure when you come into the squad because you're asked to perform.
"I wanted to show everyone what I'm about to make sure I stay in the squad.
"The pressure is from myself and I'm pleased with how I did."
Mackie made his debut on the right flank against the Czech Republic as part of Levein's controversial 4-6-0 set-up.
And the English-born ace was pleased to start up front against the Faroes.
The 25-year-old said: "Against the Czechs I was asked to fill a role which wasn't my natural position.
"I'm a striker but physically I was able to play wide and I thought I coped well.
"But up front is my favourite position and hopefully I'll play there again. It's a different level with international football. The Championship is extremely competitive and sets you up well but I want to play in the Premiership.
"Hopefully I can keep doing well for my club side and country.
"I could have scored more goals in the second half and I was a bit disappointed not to get more than one.
"I'm greedy - I'm a striker and that's how I will always be. The fact I hadn't scored for a while wasn't on my mind. I've been playing right-back for two of the last three games for QPR!
"I haven't really been at that end of the park. I haven't played up front all season, only on the right. It doesn't prey on my mind. I'll look to keep playing well and the goals will arrive.
"But it was good to score here. It gives you a taste of that feeling and hopefully I'll get on the goal trail again.
"I've taken some stick from my QPR team-mates but the manager Neil Warnock has been great. He said Scotland was a great chance for me.
"It has always been on my mind that I can play for Scotland and my family are extremely proud.
"There are some good players coming through now and that can only be good for Scottish football."
Daily Record
Comparing QPR at This Stage of the Season With Past Few Seasons
- 2010/2011: After 17 games have 35 points (Warnock)
- 2009/2010: After 17 games had 27 points (Magilton/Hart/Harford/Warnock)
- 2008/2009: after 17 games, have 25 points (Dowie/Sousa/Ainsworth)
- 2007/2008: after 18 games, 16 points (Gregory/De Canio)
- 2006/2007: after 18 games, QPR had 24 points (Waddock/Gregory)
- 2005/2006: after 18 games, QPR had 24 points (Holloway/Waddock)
- 2004/2005: after 18 games, QPR had 30 points (Holloway)
-
Strange Finances at Mansfield
-
Spurs Olympic Stadium Bid Critiqued
-
Vote to Select the 2011/2012 Football League Charity
-
Flashbacks: CEO Graham Mackrell Exits QPR after Three Months...Bob Malcolm Joins
Football 365/Nick Miller - F365`s Best Players In The Championship
Jay Bothroyd may be good enough for the England squad, but he isn't number one in our list of the best players in the second tier. There's a professional gobs**te, a fat keeper and a stayer... NB: We decided not to include loan signings on the list, explaining the absence of Craig Bellamy, Kyle Naughton etc.
10 - Robbie Savage (Derby)
Oh he's a dreadful b**tard and seems to be spending an inordinate amount of time cultivating his post-playing career as a professional gobs**te, but Savage is still chugging on, playing when his creaking old bones and media schedules allow. As he is fond of saying, there are much more gifted players out there, but if anyone needs a lesson in maximising talent, speak to Savage. And he will be more than happy to reply. At length. As well as being the sort of spoiling, notice-him-when-he's-not-there type (he allows the more creative likes of Kris Commons and Tomasz Cywka to do their thing), Savage still pops up with the odd free-kick and takes a mean penalty. Painful as it is to include him on this list, he remains better than we'd like him to be.
9 - Ashley Williams (Swansea)
As well as being a tough-as-nails stopper, Williams could make this list based purely on longevity. At the time of writing, Williams has played 109 consecutive league games for Swansea, breaking club records and laughing in the face of those who believe the speed and physical demands of today's game cripple our players. A stalwart of the second-best defence in the league, Williams has also been known to deputise in midfield, impressing wherever he's asked to step in.
8 - John Utaka (Portsmouth)
Thin their squad may be, but Portsmouth have some genuine class in their ranks. Liam Lawrence doesn't make this list as he's technically still on loan from Stoke, but Utaka does make the cut. Of course, given that he's probably the best-paid player in the Championship (even with relegation clauses, his wages will be a fair old whack) one might expect him to be decent, but since Pompey emerged from their early-season sticky spell, Utaka has looked most impressive.
7 - Andy King (Leicester)
It's been a reasonably rapid progression for King at Leicester. From prospect in their calamitous relegation season of 2007/8, to key man in the promotion pushes in League One and the Championship, and now their most important player and top scorer from midfield. There hasn't been much talk of interest from higher up the footballing food chain, and while it's not the business of this column to try and sell the better players in the Championship, it will be interesting to see whether the bigger fish start to take notice if his performances continue.
6 - Lewis McGugan (Nottingham Forest)
If this list was for the most improved player in the Championship, McGugan would be skipping away with the award, laughing at the insignificant claims of those trailing behind. Since breaking into the Forest side in 2007, McGugan was seen as a potentially excellent talent, but carrying a little more timber than is ideal and with a slightly ropey attitude. This didn't change for roughly four years, until the penny dropped last summer, McGugan trained hard and avoided Greggs, and the chubby caterpillar turned into a butterfly. A butterfly with a right foot like a traction engine, obviously, as Preston, Watford and most impressively Coventry will tell you. McGugan is the form midfielder in the Championship, so it will be a test of his newly discovered attitude to see if he can continue his good play for the whole campaign.
5 - Scott Sinclair (Swansea)
A case of finding his level? Possibly, but Sinclair has been undeniably impressive for Swansea this season, as they challenge for automatic promotion. Excelling as one of the wide men in a 4-3-3 formation, Sinclair - often appearing far too lightweight for the Premier League - has picked up 12 goals already, making up for Swansea's lack of a consistent, identifiable centre-forward. After being decidedly underwhelming for Chelsea, then a long string of loan clubs, has Sinclair finally found a home in which he can flourish?
4 - Paddy Kenny (QPR)
Cardiff might have the most impressive attack, but QPR's defence is by a distance the most miserly, conceding only seven in their 17 games. The next best backline have conceded almost twice as many, and while Matthew Connolly and Kaspars Gorkss are both impressive presences, it's Kenny that has made their defence watertight. Surprisingly athletic for someone of his...ahem...girth, Kenny is probably the best shot-stopper in the division, and his issues with weight, common sense and that unfortunate incident with the drugs test last season have probably prevented a Premier League club from taking a chance, but Kenny would be a much better bet than some of the keepers bafflingly touted for a big move. See Loach, Scott.
3 - Darren Ambrose (Crystal Palace)
Many a footballing statistic can be written off as a coincidence. However, when Ambrose and his 15 goals from midfield were a virtual ever-present for a financially-crippled Crystal Palace last season, they survived and would've finished closer to the play-offs than the relegation zone had it not been for their ten-point penalty. This season, Palace have been without Ambrose for 12 of their 17 games, and have been in the relegation zone since September. Oh, and of the five games Ambrose has started, Palace have won three. And he's scored in all of them. A fair few of his goals come from penalties, but Palace would be in even deeper trouble without their star man.
2 - Jay Bothroyd (Cardiff)
A call-up for the national team is an impressive achievement. A call-up while playing in the second tier of English football is even better. Sure, Bothroyd's elevation is thanks to the unavailability of half the standing strikers in England, but you can't argue with the numbers. In a season when many thought Craig Bellamy would outshine his less-handsomely-remunerated colleagues, Bothroyd has banged in 15 goals in as many league and cup games, helping his side to the top of the table. In the last few seasons, Cardiff have been well-placed for promotion but essentially bottled it, either missing out on or losing in the play-offs. Bothroyd's goals, should they continue to flow, should ensure that doesn't happen again.
1 - Adel Taraabt (QPR)
'Disco' Adel must be a monumentally frustrating player to support. Watching him for the first time in the flesh this season on Saturday, it was clear that Taraabt's movement was superb, his passing ability excellent and his touch the best in the division. Indeed, Neil Warnock said: "That's his best all-round performance since I've been at the club. Not just going forward, but the other side to his game as well. I was very pleased with him."
However, the Frenchman is prone to trying the ridiculous and the unrealistic. One often doesn't mind a flair player trying the ambitious, for that's when the spectacular goals occur that make us all purr, but it's when there are three clear passes available and he still insists on trying an elastico and thumping the ball into the upper tier from 30 yards that patience starts to wear thin. Still, when he's good, he's exceptionally good, and by a distance the most naturally talented player in the Championship. Frustrating, sure, but he's the sort of player that makes football fun.
- Nick Miller -
Football 365
-
QPR Finances (Updated)
-
Brief Excerpt from the 1933-34 QPR Handbook
-
QPR Kits From the 1980s on
-
Marking Exactly 1,300+ Days: QPR's Last Fan Forum......QPR's Last Club/Fan 'Reps' Meeting approching 250 Days Ago
-
Bid for QPR Poppy Shirts
-
Donate to QPR GIRLS ONLINE