-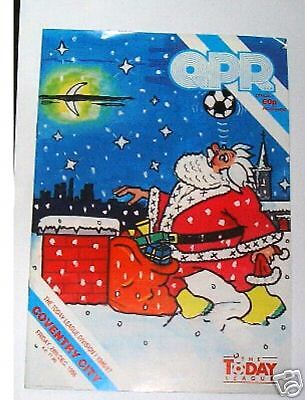 -

-
For QPR and Football Updates and perspectives throughout the day, visit the QPR Report Messageboard. All QPR and football perspective welcome...Also Follow: QPR REPORT ON TWITTER
_____________________________________________________________________________________
-
Coventry Behind the Scenes: QPR Report Interview With a Coventry City Fansite
-
"On This Day Flashback" (Thirty-six Years Ago!): QPR Crush Chelsea at Stamford Bridge!

- December 28th 1974: Recently-appointed, Dave Sexton-managed QPR against a recently-having-dismissed-Dave Sexton Chelsea at Stamford Bridge. QPR had the recently-signed Don Masson in midfield and John Beck in his best QPR season. Chelsea managed by Ron Stuart with Eddie McCreadie as Coach. Final Score: Chelsea 0 QPR 3 - Two goals from Don Givens; one from Gerry Francis. QPR: Parkes - Clement Webb Mclintock Gillard - Francis Beck Masson - Givens Bowles Thomas Chelsea: Phillips - Locke Hay Droy Harris - Wilkins Hollins Kember Cooke - Hutchinson Garland - Sub: Houseman
-
Today: Coventry Weather Permitting) - Coventry Stats
-
Birthday/Flashback: Birthday for Ex-QPR Frank McLintock
-
STATS: QPR Compared to Previous Seasons and Other Clubs at Year's End
-
Ex-QPR Scott Donnelly Set for Wycombe
Mirror/Matt Butler - QPR hotshot: We can't stop talking about promotion
- Jaime Mackie claims QPR are already talking about promotion – even though the season is not halfway through.
- The Rangers striker, who ended a three-month drought with the opening goal in Sunday's 4-0 win over Swansea, knows his side are regarded as nailed-on Premier League contenders.
They have lost only two games this season and are four points clear at the top ahead of this lunchtime's game at Coventry.
And Mackie revealed the players are talking about promotion – whether their boss Neil Warnock likes it or not.
He said: "We all want to get there – that is the promised land. A few of us have played there and the rest are striving to get there.
"The manager is not going to be able to stop us talking about it. I am sure he talks about it as well, but there is no point in talking about it unless we do it on the pitch.
"That's our target. We are top of the league now and we have two really hard away trips.
"We are top of the league and we don't worry about anybody else. We just worry about ourselves and try to keep picking up results."
The win over Swansea ended a wobble by Rangers, who had lost their previous two games against Watford and Leeds.
But Mackie insisted his side never lost belief, adding: "All it was was a blip, but people made a lot of it because we went 19 games unbeaten.
"But I don't think anybody expected us to go through the whole season unbeaten."
Adel Taarabt provided the assist for Mackie's goal, along with scoring two himself.
But Mackie revealed the Moroccan's tendency to showboat rather than offload means he has suffered some stick from his team mates. He said: "You have to get on his case. He has that much ability in the game, but sometimes the best thing is a five-yard pass, like he did for me to score."
Aidy Boothroyd wants Coventry to forget about their defeat at Cardiff by bouncing back against Rangers.
The Sky Blues boss gave an honest assessment of his side's 2-0 defeat at their Welsh promotion rivals.
Boothroyd insists his men cannot afford to dwell on that below-par performance before their clash against the Championship leaders at the Ricoh Arena.
Boothroyd said: "We have to respond. When we have a result and performance like that we have to bounce back.
"It was a disappointing display but there is no point in sulking about the result. We have to move on and get on with it.
"It's what the Championship is like as the games come along quickly.
"We have lost games before and recovered from them. I hope we can do the same again."
Mirror
SKY - Warnock eyes loan additions
Rangers boss considers January options
..Queens Park Rangers manager Neil Warnock admits he could turn to the loan market during the January transfer window.
Warnock's Hoops are currently sitting pretty at the top of the Championship and will remain at the summit for the turn of the year.
It has been a fantastic campaign for Rangers so far and they will be keen to kick on and secure promotion to the Premier League between now and May, having already finalised a deal for Norwegian left winger Petter Vaagan Moen to join in January
Warnock admits anyone coming into Loftus Road will have to be better than the players already at his disposal, and for that reason the loan market may be the best option.
He told Sky Sports News: "I think we've got to look at who comes available. If someone comes available and we think is going to be better than what we've got or will give us an extra chance to take that step up then we'll go for it and I'll speak to the directors.
"But at the moment there's nothing planned. We're signing a lad from Norway but there's nothing planned as such.
"I think it may be a case of getting a few loan players in - looking at the top-flight clubs and seeing if there's a loan player we can get till the end of the season.
"We're all in the same boat in the Championship - we don't want to spend too much money until everyone knows where you are.
Misleading
"Sometimes January can be a little misleading. You think you need strengthening in different areas and all of a sudden when you sign them you realise they're not better than what you've had."
QPR thrashed fellow promotion hopefuls Swansea 4-0 on Boxing day and take on Coventry on Tuesday live on Sky Sports 1 and HD1.
Warnock is not taking anything for granted and believes a number of sides can still push for a top-two spot.
"There's about six teams who could gain automatic promotion at the moment, it's levelling out," he added.
"When you look at the table it's much-of-muchness. There's some very good teams, teams who can beat anybody.
"You can't take anything for granted, it's going to be a long season 46 games."
Clint Hill was shown a red card on Boxing Day but Warnock confirmed the club have lodged an appeal against the decision.
SKY
STEFFAN MOORE/Cambridge News - Moore's debt to Gregory turns into Saints' gain - by Michael Vaughton
John Gregory may not have directly helped bring Stefan Moore to St Neots in October, but he did play his part some four years ago.
In 2006, striker Moore was at a low ebb after falling out of favour at Queens Park Rangers following his move from Premier League side Aston Villa.
The forward had captained the Villains to FA Youth Cup glory in 2002, but an ankle injury hampered his chances with the club he followed as a youngster, and he was deemed surplus to requirements by manager David O'Leary.
Fortunately, the perfect pick-me-up arrived when Gregory, whose father John Gregory senior managed St Neots in the 1960s, arrived at QPR and lifted his spirits.
"I've not spoken to John for a couple of years, but I was quite interested to hear his father used to be the manager at St Neots," said Moore. "John was really good to me at QPR and he got me back in love with football. He really looked after me and took me under his wing.
"I was away from home and it was a hard time for me. I was really struggling at that time and he really helped me."
The departure of Gregory from the Loftus Road hotseat in October 2007 was quickly followed by Moore's exit, with spells at Walsall and Kidderminster before he joined Zamaretto League, Premier Division club Halesowen at the start of last season.
He banged in an impressive 37 goals in all competitions and caught the eye of the ambitious Saints' manager Dennis Greene and chairman John Delaney, who brought him to Rowley Park in October.
"St Neots showed an interest, so I came down to have a look at the club and I liked what I saw," said Moore. "For someone playing in non-League, seeing the club and their facilities, it looked so professional. It was something I wanted to be a part of.
"I feel I've settled in quite well at St Neots. I don't think I've showed my full potential yet, but I'm enjoying it and everything done at the club is done in the right way. It's a club on the rise."
The Saints have so far risen to the summit of the Hereward Teamwear United Counties League, Premier Division and booked their place in the fourth round of the FA Vase.
Moore, who has found the net 13 times for his new employers - including two hat-tricks and one four-goal salvo - is determined to remain injury-free and help the club realise their ambitions.
"I had two-and-a-half good years at QPR and it's a great club, but I've never really been settled at a club as I've had a lot of injuries in my career," he said.
"The year I was with Halesowen and since my time with St Neots, touch wood, I've only had one injury. I think a lot of it is down to luck.
"When you've played at a higher level and then find yourself playing at this level, it's nice to be part of something like this.
"We've got to take every game as it comes. Everyone knows we want to get promoted, but if you look too far ahead then things can come unstuck."
After having thoughts of pursuing a return to professional football at the end of last season, Moore is now fully focused on playing a big part in the St Neots revolution.
"I'm 27 now and if I was going to go back into full-time football then it would have happened in the summer," said the striker.
"I've signed a two-and-a-half year contract at St Neots and I expect to be here for that time."
Cambridge News
-
Rodney Marsh Interviewed about his latest Book, "Lose Cannon"
-
Nominate your Fan of the Year