-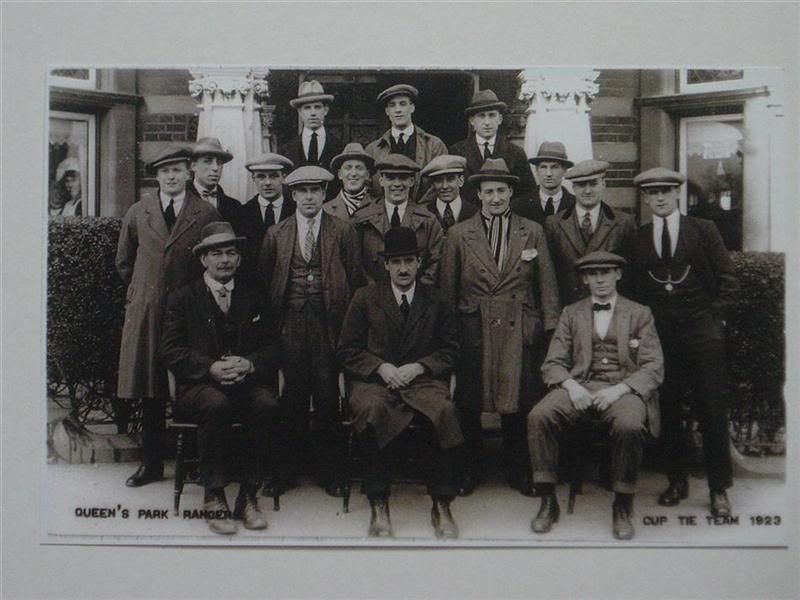 -
-
Throughout the day, updates, comments and perspectives re QPR and football in general are posted and discussed on the QPR Report Messageboard...Also Follow: QPR REPORT ON TWITTER
_____________________________________________________________________________________
-
Other Great, Old, OLD Football Videos from 1914, 1917, 1923 and on up
-
Old QPR Kits Links
-
QPR Video from 1923: QPR vs Sheffield UnitedPATHE
FIGHT FOR THE CUP QPR V. SHEFFIELD UNITED video newsreel film
- Item title reads - The Fight for the Cup. Queens Park Rangers v. Sheffield United in the fourth round. London. Both teams take to the pitch, it fades to M/S of two captains shaking hands with each other and the referee, they pose for camera then toss a coin and choose sides. This fades to C/U of the referee and the two captains standing togethe… (more)
- Item title reads - The Fight for the Cup. Queens Park Rangers v. Sheffield United in the fourth round. London.
- Both teams take to the pitch, it fades to M/S of two captains shaking hands with each other and the referee, they pose for camera then toss a coin and choose sides. This fades to C/U of the referee and the two captains standing together. Various shots of the match, goals are missed.
CLICK TO VIEW
II: MORE SCENES OF QPR V. SHEFFIELD UNITED video newsreel film
- Various shots of the matches between Queens Park Rangers and Sheffield United; and the Charlton Athletic v. Bolton Wanderers match. They stand around and miss goals as well as playing the game. L/S of latter match taken from behind the crowds. We see the games from various angles. Note: these extra football scenes are from G 962 on *PM0300*,… (more)
- Various shots of the matches between Queens Park Rangers and Sheffield United; and the Charlton Athletic v. Bolton Wanderers match. They stand around and miss goals as well as playing the game. L/S of latter match taken from behind the crowds. We see the games from various angles.
- Note: these extra football scenes are from G 962 on *PM0300*, please see separate records.
-
CLICK TO VIEW VIDEO
-
-
Can also view as stills
[
Note: If aware of any older QPR Video, PLEASE, so cominform me
!]
PEOPLE/Dean Jones - QPR midfielder Adel Taarabt refuses to sign improved deal until end of season
- ADEL TAARABT will discuss an improved deal at QPR – but may not put pen to paper until the end of the year.
- Taarabt, who has two years left on his contract, has been named the Championship's best player.
- He is being monitored by a string of top clubs including MANCHESTER UNITED and REAL MADRID, but the Moroccan is pledging his immediate future to Rangers because he enjoys working with boss Neil Warnock.
- Taarabt, 21, currently earns around £17,000 a week but is in line to be rewarded for his brilliant displays since joining.
- If they go up then QPR will hand out a tidy promotion bonus, and then discuss a new contract.
People
-
QPR Community Trust's Tiger Cubs Take part in Downs Syndrome Football Festival
-
Watford Supporters Trust Fears About Takeover/New Owners
-
Soap Opera at Port Vale?
-
David James/The Observer: The Impact of Premiership Players on Loan in the Championship
-
Flashback: Martin Allen Remembers His Trevor Francis Baby Fine
The INDEPENDENT/STEVE TONGUE - John Burridge: 'I was thinking about ways to kill meself. Hang meself, take pills'
Thirty clubs and 800 games but 'Budgie' could not cope when it ended and contemplated suicide as the beautiful game turned into the crying game
- Sunday, 27 March 2011
- Finally admitting defeat by Father Time and hanging up boots – or gloves in a goalkeeper's case – can be difficult for any footballer. Few have found it as hard to cope with as John "Budgie" Burridge. It could be said that, hyperactive obsessive or not, he was far more fortunate than most in carrying on until the age of 46 as player-manager of Blyth Spartans while working part-time as a coach at Newcastle United and Leeds United. No matter: "I was on the bench with Kevin Keegan and his staff at a game against Arsenal one day, and I just started crying. Kevin asked what was the matter and I said, 'I just want to play'."
- Unsure what direction his life would take after becoming the oldest player to appear in the Premier League – at 43, a record that still stands – he had tried to cover every option simultaneously with coaching, management and a sportswear business. Physical and mental exhaustion was the outcome, compounded by embarrassing headlines after a court case for unwittingly selling counterfeit goods. Fined £16,000, he left the court "feeling sick and depressed" and shortly afterwards contemplated drastic action. "I locked myself in my room and was thinking about ways to kill meself – hang meself, take pills..."
- If that sounds extreme, it seemed a logical response; for those who live for football, as Burridge claims to do a dozen years later, what happens without it? He spent several days shut away, refusing to eat, until professional help was summoned when his long-suffering wife Janet phoned Keegan. "It's always said it's men in white coats who come for you, but it's not," Burridge recalls. "They wear green boiler suits and stick a needle in your arse. When I woke up, I was in The Priory."
- He stayed for five months, hearing tales from the real world and contrasting them with his own worries. "On the first floor were the depressives, the second floor the alcoholics and the third floor the 13 or 14-year-old girl drug addicts. In group therapy a woman would say she'd lost her husband and three kids in a car crash. And I'd have to stand up and say I was suicidal because I was 47 and couldn't play Premier League football any more.
- "It made me think a bit and it did me good just to be away from everything, like being in a bomb shelter. But when I came out I thought, 'I can't go to another Premier League game, I'll start crying again'. I had to get away to another country."
- Having earned coaching badges on Scottish Football Association courses while playing for Hibernian, he was able to find a job as goalkeeping coach with one of his many former managers, Ian Porterfield, in Oman. That was in the late Nineties and he has been in the Gulf ever since, in and out of jobs as is the way with football folk, but loving the lifestyle. He survived a potentially fatal accident when knocked off his bicycle by a car travelling in the opposite direction, requiring 147 stitches and "umpteen operations and skin grafts" while becoming hooked on Prozac, yet recovered sufficiently to become a local TV personality as a football pundit.
- He is proud to have discovered the first player from the area to make a career in the Premier League in Ali Al-Habsi, the keeper currently on loan from Bolton to Wigan.
- All this is recounted in a hugely entertaining autobiography which covers 30 clubs, almost 800 games and so many managers it is impossible to keep count. Ask for his favourite among them, or happiest time, and the two coincide: "Terry Venables by a million miles and playing for him at Crystal Palace in a great young team with kids like Kenny Sansom. Terry taught me more in six months than other managers in six years."
- In the far-sighted Venables, he found a kindred spirit. If his regular somersaults and handstands were playing to the crowd, he can claim to have been ahead of his time in terms of diet, warming up on the pitch (which most grumpy groundsmen tried to stop), using gloves even on dry days and visiting a sports psychologist: "I used to get the piss taken out of me right, left and centre but now everyone's doing those things."
- Beating Bobby Robson's Ipswich 4-1 at Selhurst Park, Palace sat briefly on top of the old First Division, which Burridge celebrated by sitting on top of the crossbar – while play was going on. Yet the supposed "team of the Eighties" lasted only one season into that decade before falling apart. Venables soon left for Queens Park Rangers, where Burridge would later join him, having had a not untypical row about wages. "I was selfish about money," he happily admits, while denying that it stemmed from a "horrendous" upbringing in Workington, Cumbria. "It wasn't insecurity, it was pride. If I'd had a good season and got a club like Wolves or Palace or QPR promoted, which I did, making them millions, I'd be first into the manager's office to ask for top wages or I was off." Sometimes the ploy would work, sometimes not, and he would be away on his travels once more.
- His least favourite manager was no contest either; largely, it has to be said, through his own doing. In an era when goalkeepers received less protection than today, Burridge would employ specially sharpened studs to stand on the foot of anyone who came too close. Ossie Ardiles became an infuriated victim at Southampton, receiving a mouthful about the Falklands War at the same time, and never forgave him. Introduced as the new manager of Newcastle in 1991, he ignored Burridge's outstretched hand and simply told the club secretary to pay up his contract. On the road again.
- The brief Blyth Spartans experience suggested he would have made an interesting manager, yet his reputation counted against him. "Chairmen thought I was a jackass, because I turned football into entertainment. I was regarded as a nutcase, but I was a totally dedicated pro, first in for training and last out. You don't play until 46 if you're not dedicated."
- Since the Oman FA sacked their manager Claude Le Roy in January, Burridge, now 59, has spent more time than usual at one of his three houses in Muscat, looking at the Indian Ocean from a hammock. It is impossible to imagine him lying there for very long.
- 'Budgie: - The Autobiography of John Burridge' (£16.99) is published by John Blake on 4th April -
Independent
-
VIDEOS: QPR vs Chelsea, Liverpool, Manchester City, Aston Villa and Barnsley
-
45 Year Flashback: The Beginning Rodney Marsh's Home Debut for QPR...QPR Won 6-1
-
Two Year Flashback: Blackstock Joins Nottingham Forest Onloan
-
Thirteen Years Ago: Vinnie Jones Joins QPR...and Neil Ruddock
-
Two Year Flashback: Flavio Briatore on Sousa's QPR Future; Not Picking the Team; and Walking Away
-
Capello: The Press Convinced Me to Do It
-
Petition to Save Orient
-
"Save The Date: London Masters (Presumably with QPR)London Wembley Arena, July 9 (Past QPR Masters "Championship"
-
Next: Sheffield United - Video: QPR-Sheffield United Rodney Marsh vs Tony Currie Flashback
-
Thirty Years Ago: QPR Announce Installing Artificial Pitch - The First in English Football
QPR "Spot The Ball"#5: