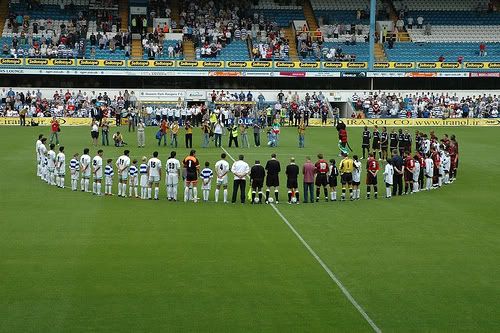 -
-
Seven Year Flashback: Marc Nygaard Joining QPR as QPR Beat Iran
__________________________________________________________________________
- QPR Asia Tour Concludes Tonight
-
Flashback: Bushman's Compilation of Former Michael Wale Report Profiles of and Interviews with QPR Stars
- Flashback article re Clubs and Finances "Foreign Fans the Way to Go"
- Flashback: Transfer Leak Infuriates QPR Chairman as Transfer Falls Through
- Two Year Flashback: Alberti Goes Out on Loan
- "John Terry Gets Standing Ovation..."
-
Seven Year Flashback: Marc Nygaard Joining QPR as QPR Beat Iran
SHAUN DERRY/Portsmouth Interest?
PORTSMOUTH NEWS/Neil Allen -
Pompey boss interested in bringing midfielder back to Fratton
Michael Appleton has admitted he would be interested in bringing Shaun Derry back to Fratton Park should he become available.
The QPR midfielder was linked with a return to the south coast over the weekend.
Derry made 55 appearances and scored one goal for the Blues before being sold by Harry Redknapp to Crystal Palace in the summer of 2002.
Since then, he has played for Nottingham Forest, Leeds and now QPR, who he made 29 appearances for in the Premier League last season, just one of which came as a substitute.
Now the 34-year-old is reportedly lined up to leave Loftus Road this summer as QPR manager Mark Hughes continues his rebuilding.
However, Derry's existing contract – which expires in the summer of 2013 – would have to be cancelled by mutual agreement to enable him to become a free agent.
As it stands, Pompey are in no position to recruit any players until they get permission by the

Football

League

.
Nonetheless, Appleton conceded he would consider an approach to Derry if the situation arose.
The Pompey boss said: 'Shaun is a Premier League player. Would I be interested in a Premier League player? Of course I would.
'At the end of the day, if people like that became available then we would be interested, so whether Portsmouth would be the destination for someone like Shaun, then who knows?
'If it became a possibility, though, then I would be very interested.'
Derry initially joined Pompey in March 2000, Tony Pulis signing him from Sheffield United.
He would spend the next two-and-a-half years at Fratton Park, becoming captain under Graham Rix and a key part of the Blues side.
Yet Redknapp didn't fancy the combative midfielder and he was part of the clear-out in preparation for what would be a successful push for promotion to the Premier League.
MIRROR
Junior aspirin: Massive fee would ease the pain of losing Hoilett to QPR says Kean
Blackburn Rovers contract rebel will not be moving without the thick end of £6million changing hands – or some sort of swap involving Jamie Mackie
QPR will have to pay a big fee for Junior Hoilett as Blackburn Rovers boss Steve Kean stands firm on his contract rebel.
Mark Hughes' men are set to confirm the signing of Canadian attacker Hoilett despite live interest from German side Borussia Monchengladbach.
But Kean warned there will be a big tribunal demand - over £6 million - from Rovers if they cannot agree a fee or get an agreement to take top target Jamie Mackie in exchange.
Kean said: "QPR might make us an offer, if not it might go to a tribunal. We were always hopeful he would go to a club here because the compensation would be greater.
"Manchester City got a chunky figure when Daniel Sturridge went to Chelsea. We have had Junior for a long time and we developed him and put a lot of time and effort into him.
"I am sure that will be reflected when the time comes."
Kean wants Mackie as part of the deal but admitted it would be a fight and said: "There are plenty of good players down there. But we are finding out that clubs like to keep their best players."
Rovers are also unhappy with Hoilett for leaving without saying a word, only finding out about his medical at QPR second hand.
Hoilett was brought to England by Blackburn as a kid and put through school before becoming a first-team player after a lengthy work permit battle.
Kean said: "We feel we have been a big part of his development. It would have been nice to get a call.
"We had monthly meetings with his dad and he said he was keeping his options open. His dad is his agent and has been all around the world looking for offers."