-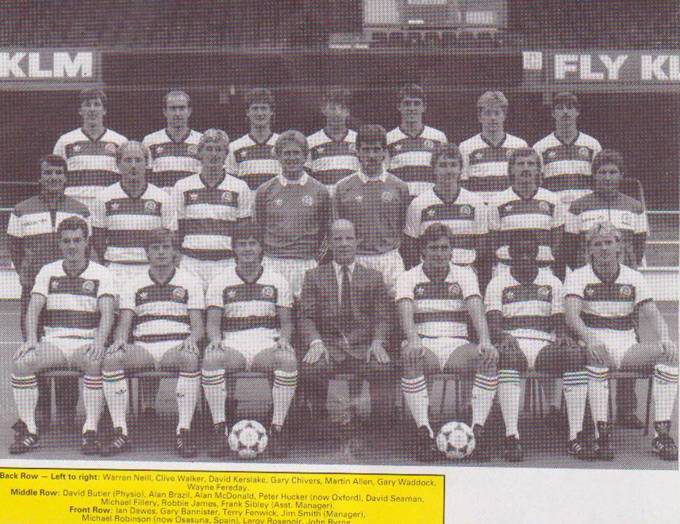 -
Twenty-Five Years ago Today - a Quarter century - QPR Under David Bulstrode and Jim Smith Start with a win at West Ham
__________________________________________________________________________
-
England Manager Roy Hodgson Expresses Support for John Terry

Nelsen to skipper All Whites in Christchurch

RICHARD KNOWLER
http://www.stuff.co.nz/the-press/sport/7....in-Christchurch

15/08/2012

WILLING AND ABLE: Oly-Whites captain Ryan Nelsen is now keen to lead the All Whites in their Oceania games.

Ryan Nelsen has confirmed he wants to lead the All Whites in Christchurch on October 6.

The Queens Park Rangers defender told All Whites coach Ricki Herbert at the London Olympics that he wanted to represent New Zealand in their crucial Fifa World Cup qualifying matches, including a game against Tahiti at AMI Stadium.

It will be the first time that Nelsen has represented his country in his home town of Christchurch.

His father, Wayne Nelsen, said yesterday that he believed the previous team that Ryan, 34, had played for in the city was Woolston, the club he represented when he briefly returned home from the United States.

Six matches involving Oceania teams New Zealand, New Caledonia, Solomon Islands and Tahiti will be played between September 7 and March 26.

Under Fifa regulations, all players should be made available by their clubs for these fixtures.

New Zealand Football chief executive Grant McKavanagh expects highly regarded professionals such as Nelsen and Winston Reid, who plays for English premiership club West Ham, to front if they are fit. "The feedback we have had from Ricki is that Ryan is very keen to captain the team through all the qualifying games," McKavanagh said.

"He understands the importance of these games in regards to getting into the intercontinental playoffs. We will certainly be using the rights that we have under the Fifa window clauses to have our strongest team available.

"When Ricki was in England he met with most of our English-based professionals and Winston [Reid] was also one of them. Everybody is dead keen to get back for these games."

Winning the Oceania section will edge the All Whites closer to qualifying for the 2014 World Cup in Brazil; they would then progress to the playoffs against the fourth-placed qualifier from the North and Central American regions.

Having Nelsen back will allow Herbert to feel more secure after the All Whites bombed out of the Oceania Nations Cup tournament.

That dismal failure meant the All Whites failed to qualify for next year's Confederations Cup and blew a $1.8 million payout.

After that disastrous campaign, in which the All Whites were humiliated by a 2-0 loss to New Caledonia in the semifinal, former All Whites captain Danny Hay urged Herbert to resign. The return of Nelsen, who didn't play in those matches, may take some heat off Herbert.

"We need to put a team out there that can win every game," McKavanagh said. "It is important that people understand there are no easy-beats in world football any more and the 12th man [home crowds] is vitally important for us so the team can go out there and do a job.
Ad Feedback

"We need to create as hostile an environment as possible for anyone coming to New Zealand to play."

Herbert helped Neil Emblen prepare the Oly-Whites at the Olympics. Nelsen played but Reid was unavailable because he was trying to impress West Ham in the final stage of their off-season programme.

The match against Tahiti will be the first All Whites match in the South Island since a 1-0 win over Malaysia at QEII Park in February 2006.

The venue for New Zealand's third home qualifier on March 22 has yet to be decided.

Meanwhile, Oly-Whites goal scorer Chris Woods has been told by West Bromwich Albion he can leave either on loan or permanently.

- � Fairfax NZ News The Press
NewtownAbbey Today
Legends match in memory of Big Mac
Former Northern Ireland and QPR players are set to play in a Legends match in memory of Rathcoole's Alan McDonald - and officially launch The Alan McDonald Trust.
The match will take place at Seaview on Monday, September 10 (7.30pm kick-off) and will see the two teams lock horns under the leadership of legends of the Irish and English game, Pat Jennings and Gerry Francis. All proceeds from the match will be donated to the Alan McDonald Trust.
The Northern Ireland team will include Carrick Rangers boss Michael Hughes, Ballyclare's Tommy Wright and John McClelland who is originally from Whiteabbey and Newtownabbey's Alan Fettis.
The R's XI will include Ray Wilkins, Kevin Gallen, Marc Bircham, Danny Maddix, Bradley Allen, Paul Furlong, Tony Roberts, Steve Wicks and Andy Sinton, as well as other team-mates of Alan from his 17-year career at Loftus Road.
The Alan McDonald Trust aims to reach out to the disadvantaged and disabled children of all cultures in Belfast and the local areas. The Trust will challenge the issues they face by providing facilities and projects that will have a positive and dynamic effect on their lives through participation in sport.
The Alan McDonald Trust has been set up by Alan's widow Tonia and several of Macca's former close friends, who aim to embrace his hard-working ethic and provide a sporting legacy for the youngsters of Northern Ireland.
"The response to this match has been fantastic," said Tonia.
"I'm really taken aback by the numbers of ex-players who have committed to play for Alan. It should be a great evening and I'm really looking forward to seeing the ground full of both Irish and QPR fans."
Tickets
for the match will be priced at £10 (adults) and £7 concessions (Under-16's and Over-65's). On sale details will be announced in due course.
Northern Ireland players confirmed: Iain Dowie, Jim Magilton, Steve Morrow, Keith Gillespie, Jimmy Nicholl, Gerry Armstrong, Alan Fettis, Tommy Wright, Steve Lomas, Michael Hughes, John McClelland, Ian Stewart, Jimmy Quinn, Gerry Taggart, Robbie Dennison, Phil Gray, Sammy McIlroy, Mal Donaghy, John McClelland, Billy Hamilton, Ger McMahon, Kevin Wilson, Jim Cleary, Lee Doherty and Glenn Ferguso
http://www.newtownabbeytoday.co.uk/sport/football/legends-match-in-memory-of-big-mac-1-4149948
QPR OFFICIAL SITE
NEW ROLE FOR BIRCH
Marc named Head Coach of Elite Development Squad, under Glyn Hodges ...
MARC Bircham has been named as the Head Coach of QPR's Elite Development Squad.

Bircham, formerly Youth Development Assistant Manager, will now oversee the Reserves and Under 21s under the guidance of Glyn Hodges.
"I am really pleased to take on this role," he told www.qpr.co.uk. "With the new EPPP system which has been brought in, it is an important part of the club's development.
"Having been so heavily involved with the youth set-up I always keep a close eye on how the lads are progressing, so it is great for me to continue working with them.
"Mark Hughes and his coaching staff are renowned for their professionalism so it is brilliant to learn from them.
"Our job with the Under 21s is to mirror what the first team are doing in terms of the training regime and the fitness regime.
"It means that it won't be a culture shock for any of the lads who are considered good enough to make the step up to the first team.
"That's what the development group is all about – it's a stepping stone towards the first team."
As a QPR fan himself, Bircham understands better than most just how much it means to the R's faithful to see a player come through the ranks.
"I think it's like that at most football clubs," added Bircham. "You always want to see local lads come through and that's what we will be working hard to achieve."
QPR Official Site
Evening Standard/Mihir Bose

Mark Hughes: Manchester City experience is helping me at QPR

Huge as the London Olympics have been, the pull of the Premier League remains an astonishing story as Mark Hughes, manager of Queens Park Rangers, discovered last month.

His club may have just managed to avoid relegation on the last day of the season but, as the team arrived in Indonesia at 11pm, huge crowds met them at the airport. And, on this tour, the match against a local team was streamed to 3.1million viewers in that country.

"As a player travelling with Manchester United, I was aware of the interest in the Premier League in the Far East but I'd never experienced it as a manager. It was a new world for a lot of the guys, a fantastic trip, a record for QPR. This club have ambitions."

Such talk comes easily in football. It may also seem a touch ironic given that Hughes left Fulham last summer saying he wanted a more ambitious challenge, only to end up with QPR in January. He admits he had doubts about taking over the club who were already struggling to avoid relegation.

"I could very easily have let the opportunity pass me by because it was all based on promises. I had to take people at their word. I had to think: is this right for my career at this point and make a leap of faith. I was convinced by what Tony Fernandes [the chairman] and Amit Bhatia [vice-chairman] said and nothing since has made me change my mind."

So, while the club plan a move to a new training ground, Hughes is proud of how he has shaken up the existing facilities in the shadow of Heathrow. "When I first came through the door, this building didn't work for the players. What was happening didn't lend itself to preparing a Premier League team properly. Now it actually works and we can benefit from that."

Interestingly, this is just what 48-year-old Hughes and his ever faithful back-room staff of Mark Bowen, Eddie Niedzwiecki and Kevin Hitchcock, did at City when Thaksin Shinawatra took him there from Blackburn in 2008.

"A lot of the things that you need to call on weren't at City — provision for recovery, preparation for games, all the buzz words that we adhere to. They were there at Blackburn and I assumed they would be at City. So we had to build City from the bottom as well as putting money in at the top. It's been very similar here and that's helped."

Hughes has been busy this summer, letting 10 players go and bringing in seven. "We had to make ourselves more competitive. Experience in the Premier League is vitally important and we needed to bring good quality that understood this League."

This search has seen the arrival of Ryan Nelsen, Andrew Johnson, Robert Green, Samba Diakite and Fabio da Silva but the key player is Park Ji-Sung from Manchester United.

"He is a statement of what we're trying to do. We're trying to be a club that has the ability to attract top players. A key player for many seasons for United, he was always involved in the crucial games, a player you could trust. He has the right attitude, right ability and can affect games at the highest level. He also gives us credibility."

Not that it was easy to persuade Ji-Sung to leave Old Trafford. "I had to sit in front of him with Tony and convince him QPR was his best next move."

Hughes was in an almost identical position when he left United for Chelsea in 1995. "I was 31, about the same age. It's a big step to leave a club like Manchester United. You have to be convinced that it's the right thing. I understand what Ji and other players are going through. So maybe that helped the negotiation."

This personal touch also reflects how Hughes likes to conduct transfer negotiations, not based on video evidence or recommendations of an agent. "Ideally you want to get out and understand the player. Then, if you can look them in the eye and get an indication of what kind of individual they are, you're less likely to make expensive mistakes.

"People suggest that I throw money at things but, if you look at my record, I like to think I know a player. The guys around me have got an eye for a good player and all the players I've brought to the Premier League back that up."

For proof, Hughes can point to the legacy he left at Eastlands including Joleon Lescott, Carlos Tevez, Gareth Barry, Nigel de Jong, Pablo Zabaleta and Vincent Kompany.

This may explain why the pain he confessed to feeling when Manchester City sacked him in December 2009, following the Abu Dhabi takeover, is now a distant memory. "It was raw at the time. Nobody likes being taken from their position but I wasn't appointed by them. There's always that nagging doubt in the back of your mind whether or not they'll back you. I went there at a difficult time. It was a great learning experience that has benefited me here."

No amount of experience can equip a manager to deal with Joey Barton, a former City player Hughes inherited. His well publicised misdemeanours in the last match of the season mean he is not available until October.

Hughes has until September 1 to decide whether to include him in his registered squad of 25. "Joey's a contracted player here and his situation isn't what we wanted to go through. It's difficult for him, difficult for us. Joey likes an input and to have a voice and I haven't got a problem with that. He knows what he did was unacceptable. He's been brought to book and he's trying to turn it around. I've got to make a judgement on whether or not I can afford to put him in the 25."

Hughes gives no inkling of what he might decide. But one thing he is sure of is that the Football Association's decision to charge John Terry for allegedly using racist language against Anton Ferdinand will have no effect on the QPR defender or the club. Terry was found not guilty at Westminster Magistrates Court last month but will face a lengthy ban if the FA find, under their terms, that the case is proven.

"Anton didn't talk a great deal about it. But it must have been difficult and he coped very well. Obviously, it's still ongoing but Anton's not involved so we've drawn a line under it."

Ensuring the well-being of his squad is just part of Hughes's role and he admits that the move from player to boss has changed him.

"I'm a bit of a different personality as a manager compared to when I was a player. However, there will always be a distance between me and the players and that's difficult to overcome. That is when you have to have good staff round you to fill in the gaps."

This may not have echoes of the Alex Ferguson school of management but then Hughes, whose relationship with his old manager was once considered frosty, does not see Sir Alex as a mentor, "I don't wonder what he would do in a certain situation. But, given the amount of time I spent in his company, things must have rubbed off."

Hughes's career path could not be more different to Sir Alex's but, with QPR, he seems ready to put down roots. He has a two-year contract so could he still be there when the club moves to a new ground, possibly in five years? "I hope to be here when that happens. If I am, that means we've been successful and we'll continue to build and get better every year."
What Hughes thinks about . . .

Manchester City

City will be buoyed by the fact that they've won the Premier League. But the second year is always the difficult one, and the challenge for top players is if they replicate what they've just done. That was always the job at Manchester United. I remember the first year we won it. Sir Alex Ferguson came in and said: "I've got a number of names in this envelope and these names will let us down if we allow them to think we will do it again just because we have done it once." He never told us the names in the envelope. Probably there weren't any names. But he'd got us all thinking that we had to show him that it wasn't us.

Manchester United

I can see United coming back because that's in their DNA.

Chelsea

Chelsea will challenge again and Roberto Di Matteo's management will be interesting. They have spent heavily and look like they want to invest in young players as well, so there could be a lot of changes and that might involve transition.

Tottenham

I was a little bit surprised that Harry Redknapp went. He had a good season, although maybe it tailed off towards the end. I wasn't privy to what went on but maybe the relationship between him and his chairman wasn't as it should be.

Liverpool

They've got a new manager and a new way of thinking. I believe they'll have a better season. Last term they often dominated but weren't able to get over the line. I don't expect that to happen this time: but I don't know whether or not they can challenge right at the top.

Arsenal

I am an admirer of Arsene Wenger, just by virtue of the longevity he's had in the game at the highest level. It takes a lot of energy and desire to keep on doing the job year in, year out. This could be a crucial season for them and they've invested in two good players, in Lukas Podolski and Olivier Giroud.

West Ham

It is always difficult for a promoted club. Last year was one of the very few occasions that the three promoted teams survived. But West Ham have a huge following and if they get behind the team that can sustain them. If they get their home form functioning, then they'll be okay.

Follow Mihir on Twitter @mihirbose Standard
September 2004