QPR's
Ivor Powell: RIP at Age 96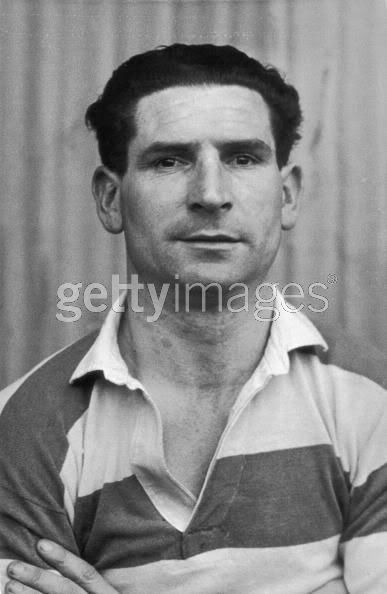 ______________________________________________________________________________
-
Points comparison: QPR currently have 4 points from 10 Games. A year ago, QPR had 12 points from 11 games (as they started on their "Slump" Run..In QPR's 1995/96 Premiership Relegation Season, QPR had 10 games from 11 games.
- Flashback: Three Years Ago, QPR1st Met With Club - Their Meeting Report
- On This Day in 1973, QPR Smashed Sheffield Wednesday 8-2
- Ex-QPR Chairman Gianni Paladini Edges Closer to Birmingham Takeover
QPR today announced the death of Former QPR Player, Ivor Powell. He was 96.

Queen's Park Rangers: Division Three (South) Champions (1947-48)
Back row, left to right: A. Addinall, G. Powell, R. Allen, R. Saphin, A. Jefferson, J. Eggleton (trainer)
Middle row, left to right: D. Boxshall, G.Stewart, C. Hatton, Mr D. Mangnall (manager), D. Mills, J. Hartburn, G. Smith (captain)
Front row, left to right: I. Powell, A. Smith
Standing, left to right: J. Eggleton (trainer), L. Powell, G. Powell, R. Allen, A. Smith, A. Addinall, A. Jefferson, Dave Mangnall (manager)
Seated, left to right: W. McEwan, C. Hatton, G. Smith (captain), D. Mills, J. Hartburn


From a 2008 QPR Official Site Interview and Profile

Jan 2008: QPR OFFICIAL SITE INTERVIEW WITH POWELL

POWELL'S PALACE DATE

Former R's half-back Ivor Powell is looking forward to a big day out at Buckingham Palace next month.

The 91 year-old was awarded an MBE for services to sport in the New Year's Honours list. So now Powell is going to meet the Queen to pick up his gong.

Speaking exclusively to www.qpr.co.uk, Powell said: "I'm very happy about it. This is a real honour and privilege. It was a big surprise when I got the letter.

"I have to travel up to London for the ceremony in February. Unfortunately, my wife Joan died four years ago and that was a big loss for me. But I will be accompanied on the trip by other family and friends."

Powell moved from his native South Wales to join Rangers in 1936. His life was to change forever.

"When I left school, I worked in a mine with my father and six brothers," he said.

"I was there seven hours a day, six days a week. We had to walk a mile and a half underground every time to reach the coal face. I was only earning 12 shillings and a penny each week.
"I also played amateur football for a local team called Bargoed Thursdays FC. After we won the league and cup by remaining undefeated, Queens Park Rangers picked me up.

"I was called in to sign for the Club by QPR Manager Billy Birrell when I was 20 years-old. It felt like becoming a millionaire! And I said to myself 'I'm never going down that bloody coal pit again!' I never did.

"The top wages I received at Loftus Road were £7 a week in the reserves and £8 in the first team. We got £6 in the summer. There also were bonus payments of £2 for a win and £1 for a draw."

Powell made 157 appearances for Rangers in a 12-year spell that was interrupted by the War. He was part of the R's team that clinched the Division Three South title in 1948 and was our first post-war player to be capped - going on to make eight Welsh international appearances.

"QPR had a very good side in those days," he said.
"The secret was that there was a great spirit in our squad. We all linked up well together and we had a lot of excellent players like Billy McEwan, Cyril Hatton and Arthur Jefferson.

"Our team formation was very far removed from what you see today. We had a goalkeeper, two full-backs, three half-backs and five forwards.

"We also played with a heavy, laced-up leather ball. It was totally different to those much lighter versions that they use in the modern game which I call tennis balls!"

Nowadays, the sprightly Powell passes on his tactical knowledge to the players at Team Bath FC of the British Gas Business Southern League Premier Division. He relishes his involvement and has been officially recognised by the Guinness Book of Records as the oldest working football coach in the world.

"I take training sessions on Mondays, Wednesdays and Fridays. I also sit in the dug out at our matches," said Powell.

"I like to see football played hard but fair. My watchwords have always been aggression, determination, work rate, consistency of performances and the will-to-win. If players adopt those characteristics then they will do well on the field.
"I can spot little things in matches that need to be corrected and the lads appreciate me telling them quietly. I don't curse and yell. I coax and encourage them.

"The most important thing is that I never ask anybody to do something that I can't do myself. But then again, I can still demonstrate passing and heading as well as producing a few tricks with a ball!
"I have been in the game for more than 70 years and I have received great pleasure from every moment of it. But I am not done yet and I will keep going as I am enjoying it and I have still got something to give.

"As long as they want me at Team Bath, I'll be here. Anyway, I have got to show my great-great-grandchild that I have still got the power, the strength and the health in me!

"I will never forget my early days down in the coal mines with all those hard working people. Their plight has forever been etched on my mind and that has given me the willpower to carry on in coaching right into my nineties."

Powell is a walking encyclopaedia of football recollections and when he is greeted by Queen Elizabeth next month, he is sure to talk about the Club where it all began for him.

"QPR were my first true love," he said.

"I really relished my time at Loftus Road. Every match where I pulled on the famous blue and white hooped jersey was a dream come true for me. So Rangers will always be my team. I still follow all their results and I hope the R's do well in the future."
- SPOT THE BALL

Evening Standard/Simon Johnson - QPR 1 Reading 1: Swallow your pride, Tony, and show Mark Hughes the door

05 November 2012

Tony Fernandes continues to show admirable support for manager Mark Hughes but the Queens Park Rangers chairman is now in danger of letting his pride come before a fall.

As the boos rang out round Loftus Road after a 10th successive League game without a win this season, one can only assume that they fell on deaf ears in the boardroom.

For Hughes confirmed after the draw with fellow strugglers Reading that, in contrast to many of the club's fans, Fernandes had offered him his full backing once again.

The QPR manager said: "Tony has been fine. We've just been speaking and he's as frustrated as we all are but he has real belief about what is going to happen to this football club.

"Obviously there is impatience in football and we have to understand that but he is a guy that likes longevity, he likes things to be stable and that's the only way you can progress."

Given Fernandes issued a similar message in his programme notes, a phone-in show for Rangers fans last Thursday and on his personal Twitter account throughout the season, it is understandable why his words are having less of an impact on the home crowd.

Instead, there is a growing frustration over the endless endorsements Hughes keeps getting but the supporters should not be that surprised because Fernandes also has a lot to lose should he send the Welshman on his way.

The 48-year-old businessman was the one that chose to fire Neil Warnock at the beginning of January and appointed Hughes with great fanfare to lead the club to safety, giving him good backing in the transfer market.

It was a major gamble and only just succeeded. It took QPR winning their last five home games to triumph and even then they only stayed in the top flight on goal difference.Hughes was then given more investment in the squad to turn them into a mid-table club and yet 10 months after taking the helm, QPR are in an even worse position than they ever were under Warnock and have still yet to win away from home in 2012.

After a measly tally of four points from a possible 30, speculation linking Harry Redknapp with the post will only intensify but Hughes remains Fernandes's man. The Air Asia owner has invested a lot of time, finances and trust in his direction and by sacking him, he will be admitting to making a terrible and expensive mistake.

One senses that this successful businessman is not prepared to be associated with such failure and that is why Hughes is being given more time, than perhaps he deserves, to turn things around.

No one wants to see a manager lose his job but then no one enjoys seeing a team get relegated either, unless they happen to be a close rival of some kind. The problem is if Fernandes's faith goes unrewarded too much longer, it could be too late for Rangers to recover.

They are still making the same mistakes under Hughes and are already in danger of being left with too much ground to make up. After they failed to beat 10-man Everton two weeks ago, Hughes moaned about his side needing more luck — a remarkable statement considering QPR went ahead to a deflected shot and had a man advantage for the last half hour.

It was woeful defending from set-pieces, not misfortune, which cost them all three points then and it was the same story against Reading.

Every time Nicky Shorey took a set-play, it ended with a Reading player getting his head on to it first and they should have made more of their dominance in this part of the game.

They took the lead in the 16th minute when Kaspars Gorkss fired home after Sean Morrison's header came back off the bar but the visitors wasted chances from other free-kicks and corners. One wonders what Hughes is working on in training for the players to still be so inept at what is a basic aspect of the game.

In his defence, he can point to the fact that his team came back strongly in the second half and certainly merited Djibril Cisse's equaliser. But for two fine saves by Alex McCarthy from Esteban Granero and Adel Taarabt either side of the break, they might have got that elusive first victory.

The point gained did at least lift them off the bottom, although Southampton will go back above them if they draw or win at West Brom tonight.

QPR striker Jamie Mackie said: "It gives us a little lift but we still know we're down there and it's not where we want to be. But it's only us players on the pitch who can get us out of it.

"The way we came back showed that we are still fighting for the manager and ourselves."

Fernandes is still fighting for him, too, but it takes a braver man sometimes to admit they're in the wrong and know when to throw in the towel. Evening Standard
MAIL/Amy Oliver - Football fan accused of branding Premier League players a 'monkey' and a 'chink' while watching match with wife
Police picked William Blything out from photographs of crowd after 1-1 draw on October 21

Blything denies using racist language
By Amy Oliver
A football fan has appeared in court accused of calling one Premier League player a 'monkey' and another a 'chink'.
William Blything, 41, is alleged to have hurled the insults at Korean Queen's Park Rangers captain Park Ji-Sung and Everton midfielder Victor Anichebe when he was at a match with his wife.
Police picked Blything, from Wavertree, Liverpool, out from photographs of the crowd at Loftus Road when a complaint was made after the 1-1 draw on October 21.
Merchant seaman Blything, who is an Everton supporter, told Hammersmith Magistrates' court he would fight the claims and defend himself.
'I'm not guilty to the racial bit, but I fully admit I used offensive language,' he said. 'I'm quite clear I didn't say that.
'Any one of 4,000 people could have said that, and I'm getting the blame. My wife heard me swear, but she knows I didn't say anything racial.'
Speaking in a West Country accent, Blything added witness statements referred to the abuser as yelling in a Liverpool accent.
The court heard fans claim he called Anichebe, originally from Nigeria, a 'f***ing monkey', and shouted 'Take down that chink' at Ji-Sung.
Blything is alleged to have shouted 'take down that chink' at Korean QPR captain Park Ji-Sung (centre) during the match
Blything is also alleged to have called Everton midfielder Victor Anichebe, (left) originally from Nigeria, a 'f***ing monkey'. Blything denies both the accusations
Before the match, QPR defender Anton Ferdinand and other teammates caused a stir by refusing to wear a T-shirt from anti-racism group Kick It Out.
Chelsea skipper John Terry last month accepted a four-month suspension and £220,000 fine after racially abusing Ferdinand during a match last October.
Blything denies a single count of racially aggravated intentional harassment, alarm or distress.
His trial was fixed for January 21 by District Judge Fiona Barrie who granted him unconditional bail. Daily Mail