-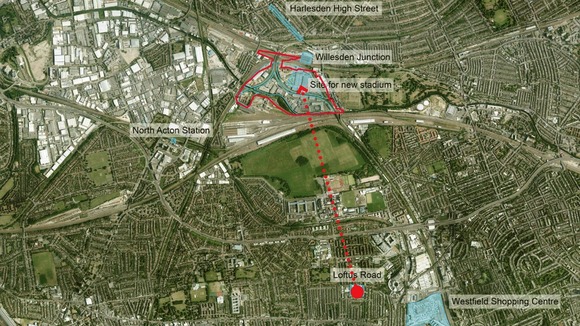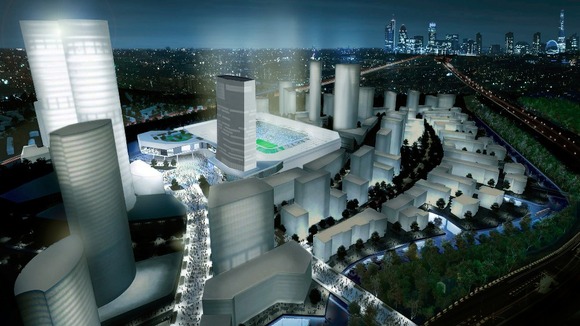 QPR CEO Philip Beard
"You can't build a stadium for 19 home matches and leave it empty for 340 days of the year. We are looking to build a stadium with facilities that can be used all year round with events, conferences, dinners."
-
-
____________________________________________
- Flashback QPR's First Stadium in that Area - Century Ago


- BBC VIDEO:
-
Neil Warnock Optimistic re QPR Plans (and on Managing)
Independent

Neil Warnock: Why return to management? Because I'm hooked on the buzz – it's why we keep coming back when the only certainty is the sack

Friday 13 December 2013


Looking at the managerial merry-go-round the last few weeks, with eight managers fired in 24 days, you must wonder what keeps us coming back for more. I suppose the answer is the satisfaction you get out of it – not just winning a game, but achieving something like promotion or staying up. The buzz you get from that you can't really put into words. The adrenalin it delivers can be addictive. That feeling you have when the whistle blows and you've done what you set out to do… you miss it when you're not in the game. That is why I was tempted last week when Milan Mandaric asked me to consider taking over Sheffield Wednesday.

I've been fortunate most of the seven promotions I've won have been with sides I built from zero, so it is doubly rewarding. There is nothing to match being in the dressing room celebrating promotion after a long season with a group of lads you have put together. When QPR clinched promotion at Watford I was so overcome with emotion I couldn't even finish congratulating them. To get the Clint Hills and Adel Taarabts, such different players, working together and appreciating each other's talents was smashing.

It's not all like that, of course. You do understand when you get into management that you will get the sack at some stage, but that never puts people off trying again. This week David Flitcroft, who did a great job last season keeping Barnsley up, then was sacked a fortnight ago, has taken over at Bury, and Richie Barker, sacked by Crawley late last month, has gone back into it at Portsmouth.

It is important for first-time mangers such as David to get back into work as soon as they can, because around 40 per cent of managers sacked from their first job don't get a second chance. That's terrifying.

For a lot of young managers, especially those who have not played at the top end of the game, there is also a financial need to work. Some of them could find employment in another field, but you can't beat making a living out of something you really enjoy doing. I know there is the option of coaching, but I've always wanted to manage and I'm sure that applies to David and Richie. Then you can do it your way. You need good staff with their own opinions – Mick Jones has been a great No 2 as he's not a yes-man – but at the end of the day the buck stops with you and the good managers are the ones who make more good decisions than bad.

Obviously, when one manager takes a job it means another must have left. So while I'm pleased for David – a good lad, whose brother, Garry, played for me at Sheffield United – I'm disappointed for Ronnie Jepson, who worked with me at Leeds and other clubs. Jeppo took over from Kevin Blackwell in October, lost once in the last seven league games, and by all accounts was playing some good football, but I suppose for the owner the opportunity to bring in David, a local lad and former player, was too good to turn down. And what an owner says, goes – including, in many cases, the manager.

So there is insecurity to add to the despair of losing matches, the drudgery of travelling, the frustration with transfers, and the 101 things a manager has to do. But when someone asked me last week how I could contemplate going back into management when I was enjoying the media work and spending time with the family, it wasn't those things I thought of. It was the buzz, and the day-to-day patter with the players. Football humour is so different to what I have experienced anywhere else, you can't replicate it, and you do miss it.

You do need humour around the training ground and in the dressing room. It helps put players at ease in what can be a stressful sport. There have been times when I've had a choice of players and gone with the one who was funny. The best example would be Rob Kozluk at Sheffield United. He was a decent full-back, but what a tremendous person and comedian. He didn't pick on anyone in particular, they all came under his spell, but they all took it well and it wasn't nasty stuff. There was also Dean Thomas at Notts County, and Gary Clayton at Burton. Those sort of players keep things going when results are not as they should be.

There are fewer players like that at the top level because there are so many foreign players. As well as the language barrier, they often have a different sense of humour.

I felt that was why Fabio Capello struggled at the 2010 World Cup. At the end of a long season, players need a bit of humour, not strictness.

QPR have great new grounds for optimism

The announcement of a new QPR stadium is great news for all Hoops fans. I spoke to chairman Tony Fernandes on my TalkSPORT show on Friday and he's very excited.

We were talking about the need for a new stadium and training ground when Tony came to the club and he has really taken it on board.

I know we'll miss the atmosphere of Loftus Road but it is not beyond the bounds of possibility that they can double the crowd in the right environment. There are so many more women and children likely to come to a ground with great facilities.

It promises to be exciting times for QPR. What is needed now is for Harry Redknapp to keep them on course for a return to the Premier League, which I am sure he will, and the club can go forward.
www.independent.co.uk/sport/football/news-and-comment/neil-w...
QPR lodges John Lewis shed bid
By Chris Berkin | Industrial | 29-11-2013 | 07:00 | Print
Queen's Park Rangers Football Club has lodged a bid to buy the John Lewis distribution centre in Park Royal, west London, for a major new stadium.

The Championship club has offered around £21m to buy the 285,500 sq ft shed to satisfy its long-running requirement to replace its 18,500-seat Loftus Road stadium in Shepherd's Bush, W12. Alternative uses for the site, including a training ground, are also being considered.

QPR is going head-to-head with shed developer Prologis to buy the 12.1-acre site at 41-44 Kendal Avenue, which was put up for sale in July through Aspect Property Consultants and Jones Lang LaSalle.

But a question mark hangs over the sale owing to uncertainties surrounding the route for the £43bn HS2 rail link.

HS2 Ltd has put safeguarding orders on several sites in Park Royal to be used for a ­construction storage depot during the development of the London end of the proposed high-speed line.

One such order has been placed on the Waitrose fulfilment centre on Victoria Road, prompting parent company the John Lewis Partnership to pause the sale of Kendal Avenue.

A source said: "It is a really good price on offer but John Lewis cannot rush into selling something without knowing what is going on down the road. HS2 has given them a lot to think about."

QPR launched a search for a new stadium with a capacity of around 40,000 seats in 2011. In April, the club said a £15m loan secured from Barclays would go towards a new stadium.

In August, the club said it was considering a number of options, including a site at Old Oak Common.

QPR has played its home games at two different Park Royal grounds in its history – the 40,000-seat Royal Agriculture Society ground between 1904 and 1907 and the 60,000-capacity Park Royal Stadium between 1907 and 1915.

John Lewis put its Park Royal shed up for sale after striking a deal with Gazeley for a 675,000 sq ft mega shed at Magna Park in Milton Keynes to connect to its existing 650,000 sq ft warehouse at the park. It is due to open in February 2014.

Aviva Investors, on behalf of the Lime Property fund, bought the Magna Park shed in August for £74.2m – a yield of 4.9%.

All parties declined to comment.

www.egi.co.uk/news/article.aspx?id=776057
Location
John Lewis Distribution Centre, Kendal Avenue, Park Royal , W3 0TP, Greater London, London
Investment
Description
• Strategically located on the southern edge of Park Royal, Europe's largest industrial area
• The property is excellently situated off the A40 Western Avenue and the A406 (North Circular Road)
providing quick links to Central London and the national motorway network
• The property provides approximately 26,526.1 sq m (285,525 sq ft) of gross internal accommodation
• Site area 4.9 hectares (12.1 acres)
• Let to John Lewis until 31st March 2016 on a lease excluded from security of tenure provisions of 1954 Landlord & Tenant Act.
• The passing rent will be £1,500,000 per annum, £5.25 per sq ft
• Signifi cant redevelopment opportunity in a prime London location
• Alternative use potential subject to the necessary consents
• Offers are invited for our client's freehold interest, subject to contract, exclusive of VAT and on the proposed leaseback provisions
property.joneslanglasalle.co.uk/pr

operty-search/property-details.aspx?t=c&id=JLLATC37251