-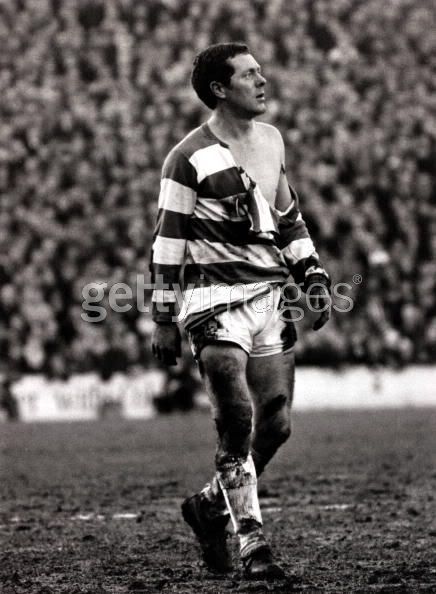 -
QPR REPORT Available on TWITTER!
-
For continuously updated throughtout the day news about QPR - as well for football only-discussion: Also visit the football-only, QPR Report Messageboard/quasi-blog
____________________________________________________________________________________
- On this Day in 1967: QPR's Final Game of the season and onwards and upwards!

- 1970/71 Video: Rodney Marsh Scoring for QPR vs Hull
-
List of Games Shown on London Weekend's "The Big Match" During the late 1960s, the 1970s and much of the 1980s. Unfortunately, NOT the videos themselves!
-
(Once Again) No QPR in Irish Milk Cup International Youth Tournament
-
Another Fine Profile of Blackpool's Ian Holloway
-
Flashback to February 2006: QPR Chairman Gianni Paladini Places Ian Holloway on "Gardening Leave"
-
Flashback to Summer of 2009: QPR's Interest in DJ Campbell
-
Further Premier League Clubs "Bullying/Taking Advantage" of Smaller Clubs
-
Doncaster Rovers Win Championship "Fair Play" Award
-
Coming in July: Soccerex-Asia Conference
-
Query: re Gordon Jago's Absence from Player of Year Dinner - The reason?
-
QPR's 2009/2010 Stats: Attendances, Appearances, Goalscorers, EtcQPR Interest in Non-League Goalie: Bexhill United's Ben Oakman
Hastings Observer/ 12 May 2010 By Simon Newstead
Ben Oakman celebrated a victory treble as Bexhill United Football Club held its season-ending presentation.
The accomplished young goalkeeper scooped the first team player of the year, players' player and supporters' player awards at The Polegrove.
Oakman is currently being trailed by several Football League clubs, including Queens Park Rangers and Leyton Orient. He trained with Rangers last week and has been invited back for pre-season next month, while Bexhill have had contact with Orient this week.
Winners: first team player of the year - Ben Oakman; first team players' player - Ben Oakman; supporters' player - Ben Oakman; reserve team player of the year - George Aston; reserve team players' player - Dan Cruikshank; young player - Gordon Cuddington; Pat Norton Shield - Tracy Aston; Dane Cup - Phil Rhodes; Chairman's Trophy - Gerard Moyse/Andy Wilson; top goalscorer - James Doswell; goal of the season - Jethro Warren (v Dorking Wanderers); supporters of the year - Steve Parsons, "Old Man" Mote, "Old Tom"....
Hastings Observer
Mirror/James Nursey - QPR line up summer bid for Rochdale ace Craig Dawson
- QPR are lining up a summer bid for highly-rated Rochdale defender Craig Dawson.
- Rangers coach Mick Jones was in the crowd to scout Dawson against Barnet last weekend.
- The 20-year-old centre-half is regarded as one of the best prospects outside the Premier League and scored 11 times this term as Dale finished third in League Two.
Mirror
Mirror - QPR leading the chase for Plymouth star Mackie
By Alan Nixon
- QPR boss Neil Warnock wants to sign Plymouth's pacy forward Jamie Mackie in a £500,000 deal at the start of a signing spree.
Mackie can leave the relegated Devon club and Rangers are ahead of Warnock's old club Sheffield United and Derby in the chase for him.
The speedy left-sided attacker has been to London for talks as Warnock tries to recruit seven or eight new faces - with a handful of his old Crystal Palace players also in his sights.
Mirror
Ben Kosky/Kilburn Times - Triumphant Rangers ready to be an Academy again
- ELATED Steve Gallen is confident that his team's stirring victory in the Youth Alliance League Cup final can be the launchpad to regaining Academy status.
Gallen's under-18 side, who also finished runners-up in the league, fought back from 3-1 down to beat Stockport County 4-3 at Loftus Road and clinch the cup for the first time.
QPR chairman Ishan Saksena and first team boss Neil Warnock both witnessed the youngsters' victory - and have indicated they would back moves to restore Rangers to youth football's top table.
The club brought through a stream of talent between 1979 and 1994, including Clive Allen, Paul Goddard, Gary Waddock, Alan McDonald, Peter Hucker, Warren Neill, Danny Dichio and Gallen's brother Kevin.
But Rangers gave up their Academy status for financial reasons almost a decade ago, switching to the lower-grade Centre of Excellence and, until recently, when Antonio German and Josh Parker emerged into the first team, the well has run dry.
Gallen, who was appointed Centre of Excellence manager a year ago, told the Times: "Winning the cup doesn't mean we've made it - but it says we're almost the best Centre of Excellence in the country.
"We've got two players in the first team and we've sold a 15-year-old, Raheem Sterling, for £500,000, which could go up to more. That suggests we're doing something right - but I hope we don't have to sell anyone again.
"Neil Warnock came down to the dressing-room to congratulate the boys on their comeback, he's talking about us being an Academy and the chairman is talking about it too.
"I really hope and believe we will go back to being an Academy and we can try to challenge the big clubs."
Rangers had surrendered the lead to lose the previous year's final to Grimsby - and it looked as if history might repeat itself after captain Max Ehmer headed them into an eighth-minute lead against Stockport.
The Hatters were hardly in the game, but turned the deficit around with goals from Danny Rowe and Cameron Darkwah in a three-minute burst just before the half-hour point.
Bruno Andrade was unlucky not to equalise when his 30-yarder rattled the post, but Stockport seemed to have dealt their hosts a killer blow when Steven Murty turned in a low cross to make it 3-1 early in the second half.
But Andrade pulled a goal back four minutes later and, after Darkwah was sent off for two yellow card offences within the space of a minute, QPR piled on the pressure.
Danny Fernandez levelled from the spot after Christian Nanetti had been pulled down inside the penalty area - and the striker then stabbed home his second of the night from Frankie Sutherland's deflected cross with 12 minutes remaining.
Substitute Sam Bewick could have sealed victory when he rounded the keeper and hit the post in injury time - and Nanetti missed a better opportunity as he fired into the side netting.
But Rangers held on for a deserved victory and Gallen added: "Even at 3-1, I thought 'we're going to win this' and, once we got to 3-2, I knew we would.
"We'll try to do better next year and that doesn't just mean trying to do the double. Doing better next year would be getting two more players into the first team."
Meanwhile, Rangers announced on Wednesday that Parker - who featured in their last four games of the season - had signed a one-year professional contract. "
Kilburn Times
QPR Pre-SeasonOfficial Site - R'S HEAD TO CORNWALL
-
The full fixture list is as follows:
- Tavistock AFC v QPR - Monday 12th July 2010 - 7.00pm kick-off
- Bodmin Town v QPR - Wednesday 14th July 2010 - 7.30pm kick-off
- Torquay United v QPR - Friday 16th July 2010 - 7.30pm kick-off
QPR
-
QPR: Fan's Match Raises Over £5,000
-
QPR Season Ticket Information: Launch of YourQPR.Co.UK
-
Football Fan Census: QPR Fans' View of Club Kits
"Dear QPR fan - We're running a short survey on club kits, what did you think of your club's 2009-2010 season kit, which manufacturer offers the best kits, how do football shirts compare to other tops in terms of value for money?...
Football Fan Census
-
$250,000 to Rent Loftus Road?
-
Interesting Factoid: Prime Minister David Cameron's constituency is Witney and Cameron is "Club Patron" of Witney United!