-
-
This Week's "Spot The Ball"
-
-
Tony Hazell Turns Sixty-Four
-
-
Throughout the day, the QPR Report Messageboard has news updates, comments and perspectives - even links to other board comments of interest re QPR matters (on and off the field) along with football (and ONLY football) topics in general....Also Follow: QPR REPORT ON TWITTER
_____________________________________________________________________________________
-
Courtesy of "Bushman:" - Photos from the 1967 League Cup Final and Cup Final Previews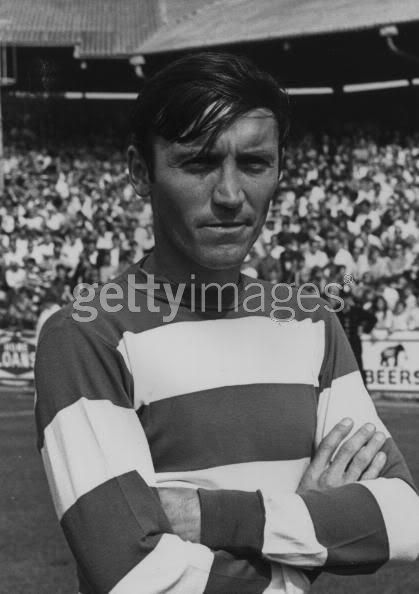 -
Flashback: Forty-One Years Ago Today, Barry Bridges Last Game for QPR
-
Shaun Derry on Talksport re "Feel Good Feeling"
-
Five Years Ago: Gary Waddock's Last Game in Charge of QPR (QPR Lost to Port Vale)
-
True show of gratitude: Plymouth Axe Peter Reid as Manager
-
Blackburn Flying Some Fans to India to give views to Owners!
Sounds unlikely...

MIRROR - Forest keen on loan deal for QPR defender
Nottingham Forest want to take QPR defender Clint Hill on loan.
Hill, 32, will be given a chance to revive his career at the City Ground.
He has not played for Rangers since being sent off on the opening day of the season against Bolton.
Mirror

New Straight Times - Fernandes: Astro should show QPR matches
2011/09/19
KUALA LUMPUR: Queens Park Rangers Football Club (QPR) won 3-0 away on Saturday and its chairman, Tan Sri Tony Fernandes, said the match should have been shown live on Astro.
The newly promoted English Premier League side, which has Malaysia Airlines (MAS) on its home kit and AirAsia on its away jersey, had featured all five recent signings of the Tony Fernandes' era when they won at Wolves.
Fernandes said QPR had generated a lot of interest in the country.
"Astro should give what its subscribers want and if QPR is generating interest, it will attract a greater audience in the country," he told the New Straits Times.
He said the QPR match had to make way for the Bolton Wanderers-Norwich City match.
Fernandes said he had felt the overwhelming support from Malaysians from the number of tweets he had been receiving.
"We are waiting patiently to introduce the new shirts to Malaysians, now that the sponsorship has been taken care of, and I'm extremely pleased with yesterday's performance, winning 3-0." Astro sports head C.K. Lee said Astro, together with ESPN Star Sports (ESS), had agreed on a "pick" system with the premier league on which match goes on ASSP, ESPN and Star Sports channels.
Lee said the QPR-Wolves fixture belonged to ESS and it picked the matches for the region and not specifically for Malaysia.
QPR was not picked by ESPN for this region, but Lee said sponsors of football clubs always had the option of sponsoring live matches of their clubs to be shown in Malaysia if they wished.
Loftus Road, home to QPR, has a 19,100-capacity. It has reduced ticket prices, refunding the extra amount paid by season ticket holders and made five signings, including captain Joey Barton and Shaun Wright-Phillips.
New Straight Times

-
Wolves vs QPR: Earlier Compilation of Match Reports and Managerial Comments
-
Compilation of Wolves vs QPR Photos!
Guardian/Richard Rae
Silky QPR silence Wolves, but keeping Joey Barton quiet is harder
• Barton in spotlight again after Twitter jibes at Karl Henry
• New signings have slotted in as I hoped, says Neil Warnock
It's all very simple, as far as Neil Warnock is concerned. Look, explained the Queens Park Rangers manager, if Joey Barton wasn't the person he is, if he didn't have "other things" about him, then as one of the best midfielders in the country he wouldn't be at a relatively small, newly promoted club like his, would he?
Naturally, Warnock continued, he would have told Barton to do his talking with the ball, something that along with his team-mates, the former Manchester City and Newcastle United player had just spent 90 minutes doing to such devastating effect that Wolves had been not so much beaten as humiliated. It was time-added-on that was the problem.
Badly fouled by Karl Henry, a player with whom Barton has had previous run-ins, and refused even the consolation of a free-kick, Barton began a frank exchange of views which continued well after the final whistle and, as far as Barton was concerned, via Twitter well into the evening. "I bet u Kelvin [sic] Henry feels like an idiot today. He should just keep his trap firmly shut. #sundayleague player" was Barton's first missive from the coach back to west London. It was shortly followed by "Wasn't happy another player tried to cause an injury when the game nearly over. Just cos he's inferior in every way #mug".
The Wolves manager, Mick McCarthy, was also a target, for apparently suggesting he had decided not to pursue an opportunity to take Barton from Newcastle. As my colleague Marina Hyde pointed out in these pages last week, it would be a crying shame if, having finally found a medium for candour, footballers were to be prevented from expressing themselves by clubs fearful of bad publicity.
Nor, happily, is there any indication Rangers are inclined to try and prevent Barton's remarkable, if occasionally naive, flow of words. The pity of it is that what he had to say will inevitably overshadow as enchanting a performance from a newly promoted side as you could wish to see.
To a man, Rangers were outstanding. The defence, the centre-backs Anton Ferdinand and Danny Gabbidon in particular, prevented Wolves from having more than one or two attempts on goal. Their total dominance allowed the full‑backs Luke Young and the genuinely exciting Armand Traoré to "bomb on", as managers like to put it, and with Barton and the brilliant Alejandro Faurlin pulling the strings in midfield, and Shaun Wright‑Phillips and Adel Taarabt constantly on the move ahead of them in search of space, the home team were simply overrun.
It is true, as McCarthy pointed out, that Rangers were "aided and abetted" by Wolves, who by the time they started to apply themselves were already two down to goals by Barton and Faurlin. The cushion enabled the visitors to relax, and they should have been five or six to the good before DJ Campbell's late third, but from the neutral point of view, their movement and passing throughout the game was a joy to watch. And this from a Warnock side, too. Perhaps it is time to reassess the much-maligned Yorkshireman.
"I had a vision in my own mind where the new lads would play without disrupting things too much, and they have done what I expected them to do, after all, most of them are experienced," said Warnock. "I don't think there's a better right-back in the country than Young, I think Ferdinand is as good as anyone in the country when he plays like he does, Traoré too – I don't see many better left‑backs. Barton, if he hadn't other things about him, would be at one of the top-four clubs. Shaun Wright‑Phillips has a lot of people now in front of him international-wise, but I don't see many better. Faurlin is as good as anyone in the country.
"But I think the main thing for all of them is, whilst they may have things to prove, they're all enjoying it – it's a great time to be here. We're going to get beat every now and then, but so what, we're going to try and win every game, home and away, and try and entertain and to hell with it."
Entertain they did, so much so that for the new Rangers owner, Tony Fernandes, it was "just like watching Brazil". And even Barton ended on what might just about be regarded as a conciliatory note, by tweeting the Friedrich Nietzsche aphorism: "Love your enemies, because they bring out the best in you."
Guardian
MAIL - Faurlin hails impact of new arrivals as Argentine shines in QPR's triumph
By Alex Kay
QPR midfielder Alejandro Faurlin believes Neil Warnock's late summer signings have made all the difference to the promoted club.
The Argentine was outstanding in his side's 3-0 win at Wolves on Saturday, scoring the second and barely misplacing a pass.
And Faurlin, whose arrival was at the centre of the controversy surrounding the club last season, believes Joey Barton, Shaun Wright-Phillips and Anton Ferdinand have helped Neil Warnock's side turn a corner.
'The club feels different since they arrived,' said the 25-year-old, who scored Rangers' second with a tidy volley. 'They've made a huge difference, particularly off the field.
'They've lifted everyone, made us realise that we can do better and you've seen the results today on the pitch. They're nice people and they come with the experience of having played at this level for a long time. The group is working well together now.'
Faurlin's transfer – which saw part of the £3.5million deal paid illegally to a third party rather than his club in Argentina Instituto de Cordoba – almost cost Rangers points and possibly promotion. They were instead fined and Faurlin is delighted to have put the saga behind him.
Pure delight: Faurlin takes the acclaim of the crowd after his strike
Pure delight: Faurlin takes the acclaim of the crowd after his strike
'It was tough having all that stuff in the press, so much negativity,' he added. 'But I kept focused, working hard on the pitch and now things are better – they've changed. I'm happy with the way I'm playing. I got forward well too today. If the team plays well, I'll play well and that makes me happy.
'It was a great performance. We played some fantastic football in the first half, dominated and could have had a couple more. In the second half, we were very solid, got another goal and an important win.'
Faurlin has looked very much at home in the Premier League, passing intelligently in a holding role in midfield and getting forward to good effect too. It is a big leap for someone who was playing at such a lower level so recently.
New boys: Faurlin hailed the impact of QPR's signings, including Joey Barton
New boys: Faurlin hailed the impact of QPR's signings, including Joey Barton
'Two years ago I was playing in the second division in Argentina and now I'm playing in the Premier League – the best league in the world. I've got to enjoy it as much as possible.
'Yes I have dreams but now it's about making sure I'm in the starting XI so I can get more experienced in the Premier League. Football's crazy – you never know what is going to happen to you next.'
And Faurlin partly puts his good form down to finally getting a grip with the language.
'I wouldn't want to be put in front of a camera quite yet but I can talk to people. Neil's accent was really difficult for me to understand at first but now I can more or less understand all my team-mates.'
Daily Mail