-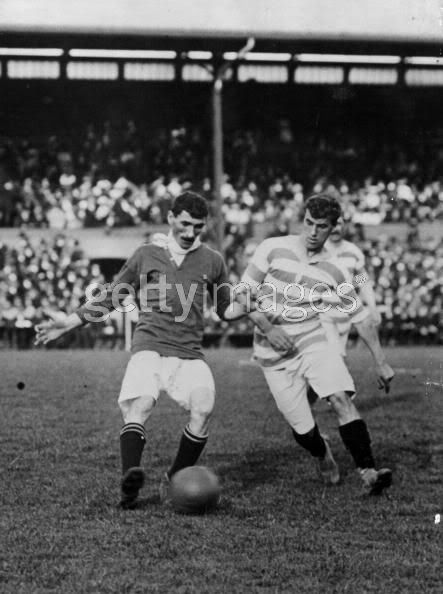 See "On This Day, QPR Games" Including QPR in the Charity Shield against Manchester United!
-
-
Play "Spot The Ball"
-
-
Throughout the day, the QPR Report Messageboard has news updates, comments and perspectives - even links to other board comments of interest re QPR matters (on and off the field) along with football (and ONLY football) topics in general....Also Follow: QPR REPORT ON TWITTER
_____________________________________________________________________________________
-
-
Ron Phillips: QPR Club Secretary of the 1960s, 1970s, and early 1980s - and the man who designed the Checkered QPR Programme (and removed the apostrophe from Queen's Park Rangers!) Looks back
TRANSFER WINDOW CLOSES AT 11:00 PM WEDNESDAY
- Just to avoid any possible misunderstandings or errors: A reminder that the Transfer Window on Wednesday, August 31st, closes at 11:00 pm (Eleven O'clock) in the evening. NOT Midnight.
- See Premier League: "...The transfer window shuts at 23:00 (BST) on Wednesday 31st August..."
Premier League
(As Neil Warnock said on Saturday:
"I'm disappointed Luke [Young] wasn't playing today," said Warnock. "I worked three days to try and get it done only to find out we don't know the rules and regulations at the club just yet.
)
-
Malaysian Players to QPR?
-
Video: QPR Fan Interview With Neil Warnock: Subject: npower's What's Your Goal winner - Luke Harris
-
Reminder: September 3rd is "Non-League Day"
-
Wigan Match Reports and Comments
-
Wigan's Goals vs QPR
DAILY MAIL/SAMI MOKBEL -QPR lead chase for Dann after Liverpool and Arsenal pull back from Blues defender
-
Scott Dann has been offered to QPR after Liverpool and Arsenal declined to follow up their interest.
Liverpool are set to seal an £8million move for Uruguay international Sebastian Coates, while Dann is only viewed as a contingency plan by Wenger should moves for Phil Jagielka, Gary Cahill, Chris Samba and Per Mertesacker fail to materialise.
QPR now have the financial backing of Tony Fernandes while Birmingham are desperate to offload high earner Dann before the transfer window closes. Daily Mail
MIRROR - Warnock hands trial to Burkina Faso striker
"QPR boss Neil Warnock is giving a trial to Burkina Faso striker Habib Bamogo"
Mirror
Guardian/Alam Kham

QPR need Joey Barton to deliver after Wigan defeat, says Neil Warnock

• QPR hope to sign 'old pal' Shaun Wright-Phillips
• Franco Di Santo hits double for Latics
Many deemed it too much of a risk but Neil Warnock, the Queens Park Rangers manager, had no hesitation in signing Joseph Anthony Barton. Four years ago Warnock planned to spend £4m on the midfield player if Sheffield United had not controversially lost their place in the Premier League.
And despite Barton's "baggage" – past indiscretions that include a six-month jail sentence for assault and affray – Warnock has already noticed him trying to help QPR while yet to kick a ball for them.
Having also signed Luke Young, the Aston Villa full-back, QPR are now trying to land Shaun Wright-Phillips. A fee has been agreed with Manchester City for the winger and Warnock said: "I think the big draw for Shaun is going back to London and we have to try to convince him. I think Joey has spoken to him – they were room-mates when they were at Man City so that might help.
"I want to go everywhere in the Premier League and know that my team has got a chance. To get four or five quality players in an already decent squad – we know we will have [a chance]."
QPR's cause will be helped by Young and Barton, who Warnock is convinced would have been an England regular and at a top-four club but for his off-field problems. He added: "I think when he looks back a lot of what's happened, he will regret. But I've said and done a few things and when I look back, it was a bit silly. You have to learn from that. Joey wouldn't be signing for us if he hadn't got some baggage, but I don't worry about that."
The acquisition of Barton on a free transfer from Newcastle may even prove to be the bargain of the season, according to Paddy Kenny. The QPR goalkeeper said: "People have to give him a chance. You know what you are going to get from Joey, a 110% every week, and that's what we need."
Yet keeping Barton out of trouble may prove to be an equally challenging task for Warnock as keeping QPR in the Premier League; that task highlighted by Saturday's disappointing defeat against the perennial strugglers of Wigan. Two goals from Franco Di Santo settled the outcome but Rangers struck the woodwork three times, twice through Adel Taarabt, before Bruno Perone headed against the crossbar.
Roberto Martínez, the Wigan manager, was relieved, in more ways than one. While Argentinian players have generally flourished at neighbouring clubs, the Spaniard has not been as fortunate.
Mauro Boselli arrived for £6m from Estudiantes and returned to them on loan in the summer with a sole Carling Cup goal to his name for the Latics. And Di Santo has been similarly profligate, but mention of his goalscoring record – now four in three years – irks Martínez.
"I have seen articles that judge him on his scoring records at previous clubs and I think that is unfair. We know the potential Franco has," he said. "He has good decision-making, he knows when to bring players into the game, when to use his strength, when to take people on – his decisions were really mature [against QPR]. Now it's about being consistent."
Guardian
TELEGRAPH/Ian Whittell
Franco Di Santo set about correcting his embarrassing career goals return tally although even his two efforts, and three points for Wigan Athletic, could do little to dampen the unbridled enthusiasm currently coursing throughout Queens Park Rangers.
Manager Neil Warnock praised the efforts of his depleted team while simultaneously criticising his club's administrative department for failing to push through the registration of Aston Villa full-back Luke Young in time for him to make his debut at the DW Stadium.
However, it was the pending arrival of Newcastle midfielder Joey Barton, watching from the stands as his side lost for the second time in three games to date this season, that filled Warnock with most optimism.
"I'm disappointed Luke wasn't playing today," said Warnock. "I worked three days to try and get it done only to find out we don't know the rules and regulations at the club just yet.
"I didn't think we'd get Joey. I'm amazed one of the bigger clubs hasn't had a gamble on him. If he concentrates on his football, I don't think there is much better around in this country. At 1-0 today, you needed somebody to grab people by the throat – in a nice way! – and say, 'Let's go'."
Warnock was also swift to point out that Di Santo's two goals had taken deflections, adding: "If you were Di Santo, you'd fill in a lottery ticket tonight, wouldn't you?"
He also alluded to the fact that his side hit the woodwork three times. Twice, they hit the post via amazing pieces of skill from Adel Taarabt before a Bruno Perone header was kept out by the bar.
Unfortunately, they also encountered a Di Santo who finally found the route to the goal after scoring just once in a little under a calendar year with the club. In the 40th minute, he exchanged passes with Hugo Rodallega before teeing up the ball to volley into the right-hand corner of the goal.
Then, midway through the second half, as Perone half-cleared Emmerson Boyce's cross directly to him on the edge of the area, Di Santo was allowed to take his time before curling a perfect finish into the top corner of the goal via a deflection off the unfortunate Perone.
"Sometimes I feel we have been a bit unfair to assess Franco," said Wigan manager Roberto Martinez. "He came to Wigan at a young age, he is still only 22 and has had very few experiences. The way he works, the way he understands the game, now he has the rewards he deserves. He has a long way to go to fulfil his potential but he has everything. This could be a springboard for him. To see him smiling and celebrating his goals was a worthwhile feeling."
Telegraph