-
-
-
Photos from QPR-Rochdale
-
Throughout the day, the QPR Report Messageboard has news updates, comments and perspectives - even links to other board comments of interest re QPR matters (on and off the field) along with football (and ONLY football) topics in general....Also Follow: QPR REPORT ON TWITTER
_____________________________________________________________________________________
-
And the Official Site has posted one of its "Be the First to Know" re its SMS Subscription Service. Often a harbinger of a transfer announcement. (Although this time, of course, could be "just" the expected announcement today regarding a reduction in ticket prices.
-
Next: Wigan - QPR-Wigan Stats
-
Six Years Ago Today: The "Shock" Boardroom Coup as Gianni Paladini, Dunga and Caliendo ("Consultant") Overthree Chairman Bill Power & Axed CEO Mark Devlin.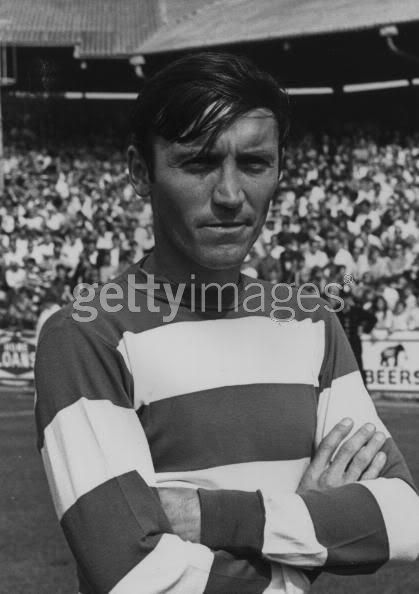 -
43 Year Flashback: Barry Bridges Makes his QPR Debut!
-
"Spot The Ball!"
-
QPR Report Q&A: The Rochdale Perspective of Rochdale and QPR (Interview Conducted by QPR Report Correspondent, Maudesfishnchips)
Reading Evening Post/Jonny Fordham - Reading FC chase QPR and Latvia defender Gorkšs
- Reading have been linked with a £900,000 move for Queens Park Rangers defender Kaspars Gorkšs.
The Latvia international is deemed surplus to requirements at Loftus Road, despite being an almost ever-present in their Championship winning season.
Gorkšs is also wanted by Southampton and a possible swap deal with their winger Jason Puncheon is also still up in the air.
The 29-year-old would be a welcome addition to Brian McDermott's squad who need a boost following their three defeats on the spin.
Royals failed with a £700,000 bid for Millwall centre-back Paul Robinson on Monday and are desperate for an experienced centre-back to command their back four sooner rather than late
Reading Evening Post
QPR ROCHDALE REPORTS & COMMENTS
-
Last game for the Hoops?
QPR Official Site - WARNOCK: 'GOOD EXERCISE'
Posted on: Tue 23 Aug 2011
Despite the disappointing result, Manager Neil Warnock looked at the positives that emerged from the R's early Carling Cup exit.
Speaking exclusively to www.qpr.co.uk, the Rangers gaffer said: "I'm obviously disappointed, but I'm not surprised.
"It's been a good exercise for the squad this evening.
"I thought the young lads did well and I'm pleased with the attitudes of Bothroyd and Taarabt.
"Taarabt does need games, but he looked good on Saturday. If we can get another game out of him before the international break, then I think he will be back to his best.
"It's obvious we haven't got the depth amongst the squad, but we're working on that."
With just over a week before the transfer window closes, Warnock added: "We are looking to bring good players into QPR, but it's not easy even if you've got money.
"Tony is really trying his hardest. He rang me tonight and is as excited as I am.
"He wants me to sign them yesterday and you don't get many chairmen like that."
Warnock continued: "I'm quite hopeful that we will get one in before the weekend, but it won't be the end of the world if we don't.
"Next week is going to be busy.
"I'm hoping to get four or five in before the deadline."
http://www.qpr.co.uk/page/TheGaffer/0,,10373~2429884,00.html
York Press
Eyre rejects Warnock's cup stance
Wednesday 24th August 2011
© Press Association 2011
Rochdale manager Steve Eyre has refuted Neil Warnock's claim that he was pleased QPR had been dumped out of the Carling Cup.
Npower League One club Rochdale departed Loftus Road with a surprise 2-0 victory through goals by Jean-Louis Akpa Akpro and Gary Jones in each half. Warnock, frustrated by the groin injury sustained by Bradley Orr, responded by saying he had was happy they were no longer in the competition and that it should be revamped.
"Neil didn't say before the game that he doesn't take it seriously," Ayre said. "To field a front line that has Adel Taarabt and Jay Bothroyd tells me it was taken quite seriously."
He added: "It's still a fantastic competition. Wembley is an amazing place to play football.
"We're not going to start saying we're going to the Carling Cup final, but I can't believe a player wouldn't want to play at Wembley. I spoke to Neil after the game and we shook hands. I think he's a fantastic man. I know he's someone I can call on and respect.
"What he says goes because he's done plenty more than I have. I'm very proud of my players and we're delighted to be in the next round."
Warnock showed his regard for the competition by making eight changes to the side that won at Everton and was frustrated to see one of survivors, Orr, depart injured in the first half.
QPR supporters seemed to share their manager's low opinion of the Carling Cup as only 4,775 turned up.
"I don't think people do care about the competition and you've got to look at why," said Warnock.
"We've lost an influential player who played really well on Saturday in Bradley Orr. For what? We're not going to win the cup."
York Press
David McIntyre - West London Press
Rangers dumped out by Dale
QPR yet again made an early exit from the League Cup, this time at the hands of Rochdale, who are in the third round for the first time since 1962.
Rangers have now failed to reach that stage of the competition in six of the last eight seasons, and the writing was on the wall once John-Louis Akpa Akpro put the League One side ahead after only four minutes.
Gary Jones' late strike sealed a great win for Dale, who defended resolutely and were always dangerous on the counter attack.
Neil Warnock is no fan of the tournament and the R's boss will not have to worry about it for another year after his team fell meekly at the first hurdle for the second successive season.
He made a number of changes and they included a full debut for teenage winger Bruno Andrade as well as starting places for outcasts Martin Rowlands and Lee Cook.
There were also QPR debuts for summer signings Bruno Perone and Brian Murphy.
And goalkeeper Murphy quickly found himself picking the ball out of the net.
The Irishman produced a fine save to deny Ashley Grimes but the loose ball ran straight to Akpa Akpro, who had the simple task of scoring from close range.
Rangers received another setback when Bradley Orr limped off on the half-hour mark, paving the way for right-back Michael Harriman to come on for his first senior appearance.
Dan Shittu had a header cleared off the line, while Andrade and Matt Connolly had efforts saved by Dale keeper David Lucas as Warnock's men tried in vain to find an equaliser before half-time.
Jay Bothroyd did find the net with a header seven minutes after the restart, but an offside flag denied him his first QPR goal.
With Rangers having plenty of possession but failing to seriously trouble the Rochdale defence, Warnock sent on Troy Hewitt for his debut – six months after the striker's move from Harrow Borough.
Hewitt and Shaun Derry replaced Cook and Rowlands, but any prospect of a fightback was crushed by Jones' excellent finish nine minutes from time.
Jones latched onto Nicky Adams' pass and superbly chipped Murphy from the edge of the penalty area.
Akpa Akpro should then have made it three, but spared Rangers even more embarrassment when he dragged his shot wide of the target.
http://www.westlondonsport.com/qpr/rangers-dumped-out-by-dale/
Paul Warburton/Fulham Chronicle
QPR get two bad injuries as well as cup humiliation
QPR boss Neil Warnock was counting the cost of first-round elimination in the Carling Cup - and not just the embarassment of a defeat by Rochdale.
Bradley Orr (pic) is a major doubt for Wigan on Saturday after limping off with a first-half groin injury. And any chance of selling Martin Rowlands in the transfer window also appears dead after the midfielder suffered a hamstring strain.
Warnock had hoped to put both Rowlands and Lee Cook in the shop window - but a 2-0 reverse to a League One outfit blew an ill wind down Loftus Road on Tuesday night.
The manager reckoned he was forced to use six of the team that beat Everton on Saturday to make up the squad for this one - such was the scarcity of numbers. And with Keiron Dyer facing another week on the sidelines, Warnock now has no recognised right back.
He said: "I didn't want to play the ones I did - but we've got no one else, which shows the depth we've got -and Orr's injury is what you get."
That's my cover you saw tonight, and you can make your own assumptions. That's why we need five or six new players in the window to supplement what we've got."
Rangers famously won the League Cup in 1967 and reached the final in 1986, but their current manager was glad he was done with it for another year.
Warnock said: "The competition needs revamping. Am I pleased we're out? Yes - it's sad but there it is. But I do want to give the FA Cup a go."
www.fulhamchronicle.co.uk/london-sport/london-qpr/2011/08/23/qpr-get-two-bad-injuries-as-well-as-cup-humiliation-820 29-29291634/#ixzz1VvtxxxSF
Rochdale Official Site
Rochdale eased their way through to the third round of the Carling Cup beating Premiership outfit QPR by two goals to nil at Loftus Road.
It's the first time Rochdale have reached the third round of the competition since the last time back in 1962, the year Dale went on to become finalists.
Rochdale boss Steve Eyre made three changes to his side, two enforced and one tactical. On loan goalkeeper James Kean without cup clearance by his Blackburn side was replaced by David Lucas while Neal Ttrotman was banned after his sending off on Saturday at Boundary Park.
Article continues
Advertisement
Jason Kennedy was preferred in midfield with Joe Thompson sidelined as a change in formation called for a sturdy look to the centre of midfield.
QPR manager Neil Warnock made eight changes to the side that beat Everton 1-0 on Saturday but even so it was a strong side as though called into play were on the bench at Goodison on Saturday.
It couldn't have started any better for Steve Eyres side as they took the lead with four minutes played. Rochdale edged their way forward down the left wing with Captain Gary Jones and Joe Widdowsoninstrumental in the move.The ball arrived at the feet of Ashley Grimes and his shot from just inside the box was parried by 'Keeper Murphy into the path of Akpa Akpro and he made no mistake from just inside the six yard box.
The goal rocked the home side who seemed shell-shocked and Dale went on to enjoy plenty of the ball without much risk on David Lucas' goal.It took another 20 minutes before the stand-in 'keeper was called into action.Lucas made a comfortable save from a right sided shot by Bothroydd before Rochdale went down the other end just two minutes later looking to extend their lead.
It was an excellent break down the right as Dale and Jean Louis Akpa Akpro looked to double their lead after a good break down the right.Skipper Gary Jones popped the ball out to the Frenchman who cut inside but his low shot was weak and Brian Murphy wasn't going to be beaten again.
The pressure perhaps expected from the first whistle by the Premiership side arrived with ten minutes to go before the break.Warnock's side had Dale on the back foot as they searched for the equaliser and went close to finding it in the final minute of the half.An excellent move forward by QPR ended with a fierce shot by Lee Cook bringing a save from Lucas who threw himself to his right to parry.The loose ball dropped in the box and anxious times for Dale fans were ended as the ball was hooked clear by Balkestein.
Judging by the start to the second period made by Warnocks men it looked as though the manager had his words of advice still ringing in their ears. The home side certainly meant business but Rochdale's defence stood firm repelling the London side's advances.
QPR's Adel Taarabt was busy in the first five minutes since the restart trying his luck at every opportunity.Shots rained in but to be honest none troubled Lucas in the Dale goal.
Eyre's side soaked up the pressure extremely well and the frustration of failing to break through the Rochdale rearguard led to a quiet spell in terms of chances as both sides cancelled each other out for a time.
That was until Ashley Grimes saw a shot saved by Murphy and that seemed to spark a flurry of good attacking from both sides.QPR's Jay Boothroyd managed to head the ball past Lucas into the back of the net, but a linesman's flag ended the home side's celebrations.
With 64 minutes played a long ball forward that found the run of Ashley Grimes and his appeal for a penalty after Shittu held him back fell on deaf ears.
QPR substitute Michael Harriman almost capitalised on a weak defensive header by Balkestein but his half volley just inside the penalty area found the hands of Lucas.
With 15 minutes to go Rochdale looked to double their lead after a good ball by Grimes found Akpa Akpro down the left flank.The Frenchman centred only to see his cross flash across the box just ahead of the on rushing Nicky Adams.
With nine minutes to go Rochdale doubled their lead after soaking lots of pressure from the home side.Dale broke through Gary Jones chipped Murphy to send Rochdale supporters mental and QPR fans heading for the exit.
QPR continued to press and a fantastic double save from Lucas put the cherry on his performance towards the end.After four minutes of added time the official put the home side out of their misery and Eyre's side celebrated an excellent win.
http://www.rochdaleafc.co.uk/page/MatchReport/0,,10441~61014,00.html
QPR Official Site
Rochdale knocked QPR out of the Carling Cup with a 2-0 victory in a lacklustre affair in W12.
R's boss Neil Warnock made sweeping changes to his side that clinched a memorable weekend victory at Everton - and that ultimately told on the night.
Indeed, with the focus firmly on the Premier League and this Saturday's trip to Wigan, the Dale knocked Rangers out at the second round stage thanks to goals either side of the break, with Jean-Louis Akpa Akpro and Gary Jones both on target for the visitors.
Warnock made wholesale changes for the visit of Rochdale. There were starts for summer signings Brian Murphy and Bruno Perone, with the pair making their full R's debuts.
Under-18s boss Steve Gallen would no doubt have been the proudest man in W12 tonight (Tuesday), with no less than four players that have come up through the ranks at QPR included.
Of that quartet, Bruno Andrade was named in the starting XI, while Jordan Gibbons, Michael Harriman and Antonio German began from the bench.
Murphy was in goal for the R's in a 4-2-3-1 formation, behind a back four of Bradley Orr, Danny Shittu, Perone and Matt Connolly.
Hogan Ephraim and Martin Rowlands patrolled the defensive midfield area, with Andrade, Adel Taarabt and Lee Cook deployed just behind lone striker Bothroyd.
On a rainsoaked evening in the capital, the R's enjoyed the majority of possession in the opening exchanges but would find themselves behind on five minutes.
Ashley Grimes found space on the left-hand side of the box and, when his fizzed effort was palmed by Murphy back in the direction of Akpa Akpro, he muscled past his marker to slide the ball home into bottom right-hand corner from six-yards out.
Undeterred, the R's responded on 11 minutes when Ephraim's corner from the right was headed goalwards by Orr, who saw his effort cleared off the line by a Dale man.
Two minutes later, Rowlands found Shittu on 35 yards before the big defender let fly with an effort that sailed past the right-hand post.
The tie entered into a period of lull midway into the first period, with only an Andrade effort - that went handsomely wide of the target - the only opportunity of any note.
Rangers created arguably their chance of the half yet on 24 minutes.
Ephraim, Bothroyd, Taarabt and Connolly all combined and, when the latter's effort from 20 yards skipped across the lush surface, David Lucas scurried towards his right-hand post to excellently tip the ball wide.
QPR were forced into a change on 31 minutes, after Orr made his way over the near touchline with a limp.
The defender's injury didn't look serious although the R's gaffer Warnock took no chances, bringing on Harriman at the expense of Orr in what appeared to be a precautionary switch.
The remainder of the half never really got going, although Andrade did provide some threat when in possession.
Indeed, the lively winger cut in from the right on the stroke of half-time before unleashing a powerful drive that forced a smart stop from Lucas, who parried the effort away before the ball was cleared from danger.
The R's started the second period strongly. Taarabt's free-kick from the right raced agonisingly across the six-yard box without a touch, before the Moroccan attacker was again involved, with his curling effort from distance going just inches wide of goal.
Moments later, Bothroyd had an effort chalked off for offside, after powering home Taarabt's centre from the right.
The story of the second half was almost symmetrical to that of the first, with hardly anything to note in terms of clear-cut opportunities around the midway point.
Substitute Harriman would force Lucas into a smart take on 67 minutes, blasting a stinging drive on the half volley straight at the Rochdale keeper following Connolly's in-swinging centre from the left.
Warnock was forced into another switch in the 71st minute, bringing on Shaun Derry for Rowlands - who appeared to have taken a knock - before former Troy Hewitt replaced Cook two minutes later.
Rangers threw bodies forward at every possible opportunity in the closing stages.
And that would ultimately cost them, as the R's were undone on the counter attack when Rochdale added a second on 81 minutes.
A ball from deep sparked a chase between Harriman and Grimes and, when the latter held play up and laid a pass back to Jones, he executed a delightful lob to put the Dale in the hat for round three.
QPR: Murphy, Orr (Harriman 31), Taarabt, Bothroyd, Perone, Connolly, Ephraim, Shittu, Andrade, Cook (Hewitt 73), Rowlands (Derry 71).
Subs: Cerny, Buzsaky, Gibbons, German.
Rochdale: Lucas, Darby, Grimes (Thompson 82), Kennedy, Widdowson, Tutte, Jones, Akpa Akpro, Balkestien, Adams, Holness.
Subs: Edwards, Gray, Marshall, Twaddle.
Goals: Apka Akpro (5), Jones (81)
Bookings: Widdowson (79)
Referee: Mr O Langford
ATT: 4, 755
http://www.qpr.co.uk/page/MatchReport/0,,10373~61014,00.html
-
Next: Wigan - Stats, Past Encounters
-
QPR Display Their Championship Trophy to the Kids
-
Manchester United Sponsorship for TRAINING Kit...Plus Total Premiership Shirt Sponsorship
-
Wrong Premierhip Factoid re QPR!
-
Flashback Couple Years: Jimmy Greaves FINALLY confesses that wasn't a goal vs QPR!
-
Past QPR-Malaysia Connections: Allan Harris
-
QPR Youth Win on Saturday
-
West Ham Fans Discussing Fernandes Takeover
-
QPR Documentary "Four Year Plan" - To Marbella Festival in October
-
A Statistical Guide to Points Needed to Stay Up
-
"Spot The Ball!"