-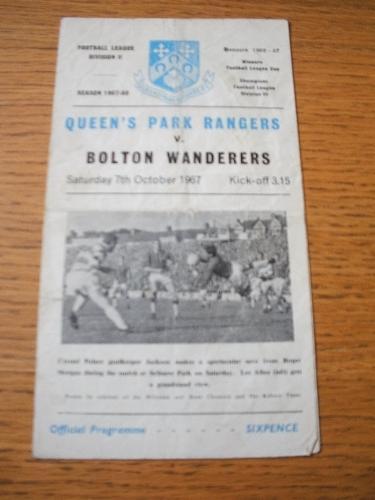 -
-
Throughout the day, the QPR Report Messageboard has news updates, comments and perspectives - even links to other board comments of interest re QPR matters (on and off the field) along with football (and ONLY football) topics in general....Also Follow: QPR REPORT ON TWITTER
_____________________________________________________________________________________
-
-
Ten Years Ago Today: QPR's First Game back in Division Three (renamed as "Division Two) after our relegation (QPR won!)
-
Decision on whether Saturday's games will be played will be made either today (Thursday), or even possibly Friday
-
Bernie Ecclestone has made very clear the games should be played
-
Premiership Bloggers League Predictions
-
Gabbidon's Wales Lose to Australia
-
Two Year Flashback: Exeter 0 QPR 5

INDEPENDENT - Warnock: 'I don't think any team will be fitter than us this season'
As QPR prepare for life in the top-flight, Glenn Moore goes behind the scenes to discover pre-season is no longer cross-country and dune-running but sprints, heart monitors and body-fat ratios
Thursday, 11 August 2011
Neil Warnock still vividly remembers the pre-season training he underwent at Hartlepool 40 seasons ago under the fearsome former Royal Marine Tony Toms. One night he'll never forget was spent on the Yorkshire Moors. Toms gave each player a chocolate bar and a sheet of polythene, and sent them to sit on their own in the dark. He then crept up on them one by one, scaring the wits out of them with a tap on the shoulder. Once together, the squad competed for an extra ration of food – the loser was thrown in a river. Warnock narrowly avoided that fate, but the player who went in was left shivering by the camp fire under his polythene. Come morning the players, without any cash, were told to find their way home (Warnock reversed charges from a phone box and got a lift).
The QPR manager's other memory is of Toms' day-to-day training. "All my career I'd had to do cross-country runs and jog up sand dunes. Under Tony we never ran more than 400 yards and we'd do that over hurdles to break our stride and think about things while running. It was all short sprints."
Fortunately, for QPR's players, it was the second practice Warnock went on to adopt when he became a manager. "It was the best pre-season I ever had," he recalled when we met at Rangers' Heathrow training ground this week. "I was a winger and I had never felt as sharp. That season I won my only playing honour, Hartlepool player of the year.
"When I went into management I remembered that feeling. I've changed a few things, I do circuits and more work with the ball, but I've pretty much stuck to the same routine. I know you have these young coaches with their clipboards and everything, and we do use heart monitors and other technological aids, but I think an experienced manager knows when a player is right, and when he needs a bit more. I certainly don't think any team will be fitter than us this season."
This is how that fitness is achieved:
Off-season
Before the players went away at the end of last season, they were each given a programme to follow over the summer by Carl Serrant, the club's strength and conditioning coach. Serrant, who won an England B cap in a career spent primarily at Oldham, said: "They had an eight-week break, that gave them time for active recovery, then four weeks in preparation for pre-season."
The programmes reflect a player's position on the pitch, his body shape, and any lingering injuries. "Several players will go through the season carrying an injury," said Serrant. "The off-season is a good opportunity to recover and then prepare for the new season, making sure they are strong in those areas."
Return to work
When they come back for pre-season the players are tested, weighed and measured. "We do a lot of testing pre-season so we know where the baseline is for their fitness," said head physiotherapist Nigel Cox, who started working with Warnock at Sheffield United. Cox added: "We can use that as a comparison for when they are not fit throughout the season." This is not just a matter of checking heartbeats, body-fat ratios and blood counts. Other tests include musculoskeletal screening and muscle group comparisons. There is also regular massage.
"We use a lot of IT," says Warnock. "We can compare players from one season to the next once they've been here a while. It is more about prevention than cure, identifying weak areas so players can do strengthening programmes. It is amazing how a hamstring or something can be improved with the right work."
Pre-season: fitness
Some managers still send their players up mountains. Tony Pulis took Stoke City to Austria for six days of intensive training with one morning's work consisting of a 4km run followed by a dozen back-to-back runs up a steep hill. "Tony's team is in Europe," noted Warnock, "so it obviously works for him."
It is not, though, for Warnock. The longest run any Rangers player made in pre-season was 400m. "We do a lot of exercises that relate to players' positions," said Serrant. "We work to exercise certain muscle groups. There is a phase of pure running, to give the guys a base, but after those four or five days we do everything with a ball."
Whatever a manager's philosophy, pre-season is now about honing fitness, not losing pounds of summer excess. "That's been the big change over the years," said Cox. "The boys can no longer let themselves go over the summer. They know how important it is to come back in similar condition to how they left." Warnock added: "Some come back lighter. They know if they're not at the top of their fitness they might not get into the team. With the money at this level it's worth dedicating yourself for a few years."
Players are constantly monitored for heart rate, sweat loss and body composition, with training adapted accordingly.
Pre-season: football
As last season, when they went on to win the Championship, Rangers took pre-season tours to Cornwall and Italy. In the West Country they worked on their fitness at Duchy College and played three games in five days. They then had six days in Italy where they played one full match, and two 45-minute matches on the same night. Tour opposition varied from Europa League finalists Sporting Braga to Tavistock. There were also matches at Crawley and Luton.
"I always tell the players results are not important, it is about fitness and getting used to playing together," said Warnock. "We train every day when we go away, even when we have matches, so it is quite intensive, but at Duchy College the lads can relax by playing golf, while in Italy we got some sunshine on our backs.
"We then come back to our training ground and from about seven to nine days before the season starts we focus on team shape, bedding in new signings. I need them to know how I want them to play, and especially how to play with Adel [Taarabt]."
Diet
Although the players tend to come back from their break in good shape, pre-season tours are, said Serrant, perfect for reminding players of good eating habits.
"At home we provide breakfast and lunch but on tour we have full control, three main meals a day, snacks in between. The diet depends on what the players have been doing. It's not all pasta and fruit. If they haven't done much running they don't need carbs, instead they might need protein to support strength training, helping with muscle growth and repair."
And what about alcohol? "There's not so much of that these days. If the opportunity is there, the manager likes to foster team spirit and allow the players a night to enjoy themselves here and there, but the guys are really professional. They are aware they are in a period of high-intensity training and know how to manage that."
Injuries
One senior player missed out on Italy, Jamie Mackie. The striker suffered a bad leg-break in January and stayed behind to continue his recuperation. Mackie, who is close to a return, said in between sessions in the weights room: "It's been a long slog but I'm fit now and just waiting for the all-clear to resume playing. When the cast came off I had to work on building up the muscles, then it was a case of regaining all-round fitness. It was better for me to stay here working than going on tour."
Aside from Mackie, Rangers have only one injury doubt for the opening match, at home to Bolton Wanderers on Saturday, Rob Hulse. There is an element of luck in that. As Bolton have found, with Lee Chung-yong and Tyrone Mears suffering broken legs, players can be injured in friendlies. But the absence of muscle problems, Warnock, Cox and Serrant would argue, is nothing to do with fortune and all to do with good planning and practice. As QPR prepare for their first season back in the top flight in 15 years, they know they need players as fit as possible.
He's back: Read Neil Warnock's weekly column – only in 'The Independent', starting Saturday
Independent
Warnock reveals frustration over failure to land Swansea's Danny Graham
* by Phil Blanche, Western Mail
* Aug 11 2011
QUEENS PARK RANGERS boss Neil Warnock has revealed how his move for record Swansea City signing Danny Graham came to nothing.
Graham was the first player recruited by boss Brendan Rodgers following Swansea's promotion to the Premier League, the 25-year-old striker joining from Watford in a £3.5m deal.
But Warnock, who masterminded QPR's march into the top flight last season, has now disclosed that Graham was top of his summer wish-list.
"I spoke to Danny Graham for a number of weeks," said Warnock.
"We looked at Danny and Wayne Routledge, but it was never meant to be and we had to move onto other targets, wages-wise and transfer fee-wise.
"I might be disappointed that I haven't got Danny, Wayne or one or two others, but I'm not worrying about that."
Warnock's future at QPR has come under scrutiny despite the Londoners' march to the Championship title last season.
The Yorkshireman has had to deal mainly in free transfers this summer – picking up the likes of Jay Bothroyd from Cardiff City and Wales defender Danny Gabbidon from West Ham – and also missed out on Routledge.
The pacy 26-year-old winger was influential in Rangers' title success after joining on loan from Newcastle in the second half of the season – but completed a £1.8m deal to Swansea this summer.
"He did very well for me last season. He's a good player and if we hadn't had him we wouldn't have gone up," said Warnock.
" He came in at a time when Jamie Mackie broke his leg.
"He didn't feel he got a great opportunity at Newcastle and I could sense that when he came with us.
"He gives you something else because when he picks the ball up everyone gets excited."
" He'll be a major player for Brendan in the Premier League because he's got something to prove."
Rodgers said he has tracked Routledge's career since spotting his potential as a teenager around the London area.
"I've known Wayne since he was 13 years of age," said Rodgers, the former Reading youth and reserve-team chief.
"As a young coach I saw him develop and he was one of the best young players I'd seen throughout Europe.
"When I went to Chelsea, looking at club talents, I followed his career.
"He's a player that's got that X-Factor, brilliant in the duel and how we play in the 4-3-3. It's a perfect style for him to play in.
"He's a player that's really exciting and he's really hungry to prove that he can be an established player in the Premier League.
"He's a boy who loves his football, and broke onto the scene at 17 at Palace.
"He's been around a few clubs and hasn't established himself, but now he's got the chance to show all the qualities he has for us."
Meanwhile, Warnock believes he can bring the best out of Bothroyd for the former Cardiff striker to break back into the England fold.
Bothroyd won his solitary cap in the 2-1 friendly defeat against France at Wembley last November.
"We've taken DJ Campbell and Jay Bothroyd and I don't think I could have got anyone any better than those two lads," said Warnock.
"Both have got things to prove, Campbell did it at Blackpool last year – scored 12 or 13 goals – and Bothroyd's got so much ability.
"People forget that he played for England last year and he's got all the attributes that a top-class striker needs.
"He's at the stage of his career that if he gets his head right this year then he could get back in the England team."
Western Mail
Read more: http://qprreport.proboards.com/index.cgi?board=general&action=display&thread=25136#ixzz1Uha29YpW
Daily Mail/Sami Mokbel -EXCLUSIVE: My talent was going to waste... I had to change my life, says Bothroyd
- Jay Bothroyd calls it his Jerry Maguire moment. The moment he knew he had to change.
After being booted out of Arsenal for throwing his shirt at the highly respected Don Howe after being substituted in a youth-team match against West Ham, Bothroyd was facing up to life on the football scrapheap.
- Following his bust-up with Howe, Bothroyd was shipped off to Coventry before moving on to Perugia, Blackburn, Charlton, Wolves and Stoke — all this before his 26th birthday.
Bothroyd admits his career was going nowhere — fast. Howe, Gordon Strachan and Mick McCarthy all failed in trying to unlock the potential that led Arsene Wenger to say he regrets the centre forward leaving north London when he did.
But then came that moment, the moment his agent made him see the error of his ways.
For those of you who have not seen Jerry Maguire, the movie tells the tale of how Maguire, a sports agent played by Tom Cruise, revives the career of down-on- his-luck American footballer Rod Tidwell, played by Cuba Gooding Jnr.
-
For Cruise read agent Sky Andrew and for Gooding Jnr read Bothroyd.
'The turning point in my career was my agent sat me down and really let me have it,' said Bothroyd. 'This is the first time I've ever spoken about this — but he sat me down and really embarrassed me.
'He said that with the ability I have I was wasting my career. He made me feel really small and made me feel like I'd achieved nothing — he was right.
'It all happened in my front room, he spoke to me — in front of my wife — for about two hours, it was really harsh. When he left I was just gutted about what he said. But I remember lying in bed that night thinking to myself, "He's actually right".
'So I knew I had to turn my life around. Otherwise it would be like having all the ability in the world but not doing anything with it. I don't want to be that person.
'It's like someone who is addicted to cigarettes. They are only going to quit for themselves. I wanted to turn my life round for myself, but Sky was the one who made me see that the way I was living my life was wrong.
'We laugh about it now — we call it our Jerry Maguire moment. What I remember the most was that he said I'd got to love the game and play for myself, not for the lifestyle.
'You need to live, eat, sleep football. I did that. I changed my eating habits, I don't go out. I rest when I need to rest. I train as I play and hopefully things have turned round for me.'
- It looks as if that rollicking did the trick. Now instead of dreading turning up to training at Wolves every day, the 28-year-old is gearing up for the new Premier League season with Queens Park Rangers, who face Bolton at Loftus Road on Saturday.
He also arrives in the top flight as a full England international, having won his only cap in the 2-1 defeat by France in November after catching the eye of boss Fabio Capello playing in the Championship for Cardiff last season.
But Bothroyd does not forget the people at Arsenal who he says helped him get there. The striker says he owes a lot to Wenger, Howe and Pat Rice, still assistant boss, and Neil Banfield, the reserve-team manager.
'When I was 17 or 18 I was a cocky lad from north London,' admits Bothroyd. 'I suppose when you're young you don't realise what you've got until you lose it. The circumstances in which I left Arsenal were a massive mistake in my life. But I've turned it round. Obviously I'm not playing for Arsenal again, but I'm playing at the top level and playing international football.
'I had to do it the hard way. But I have to say thank you to Arsenal for the education they gave me. The way I play is all down to Don Howe, Arsene Wenger, Pat Rice and Neil Banfield — but I know I went a step too far with what I did.
'When I hear Wenger say it's one of his regrets letting me go, you think what might have been. But I have to move forward.
- 'I didn't have the best of times at Wolves. Mick McCarthy is a really nice guy but for whatever reason we didn't see eye to eye. At Wolves, I didn't enjoy going to training. People say, "How can you not enjoy playing football?"
'But it's like someone who feels they are in a dead-end job and dreads going into the office every day. So I went to Cardiff and knew I had to make myself indispensable. I did that and I really enjoyed it. It was a special time for me at Cardiff. But now I've got a different mind-set from when I last played in the Premier League.
'I've gone full circle and it really is full circle. If you had said to me five years ago I would be playing for England, then I wouldn't be agreeing with you, put it that way.'
- Meanwhile Air Asia tycoon Tony Fernandes will jet into London in the next 24 hours to tie up a deal for Queens Park Rangers.
- The Malaysian held talks with the club's key shareholder Bernie Ecclestone and his business partner Flavio Briatore over acquiring a majority stake in the club last month.
Mail
QPR-Bolton PREVIEW/INTERVIEW - The Bolton Perspective

Many thanks to Maudesfishnchips for conducting this interview on behalf of QPR Report.
Many thanks to Lofthouse Lower from
http://the-wanderer.co.uk/
How long have you supported Bolton?
Too long. First game was vs Brighton in 1992, aged 9yrs
How long have you been involved with your Website? How did you get to your site?
Not too long. Got on via a recommendation from a close chum
Who's Bolton's biggest Rival (or Rivals)?
Bury or Tranmere, though I could give you a valid reason for having an enmity with most other football clubs
Are you happy with your team and how things are? – What are your opinions on Owen Coyle's spending this summer?
Very pleased with the outgoings, some real deadwood has gone - as for incomings well am very pleased with Coker and Pratley - Mears and Eagles less so but will always have faith in the manager.
What do you think of the current - and previous- Owners? WHY are they involved? WHO ARE THEY?! What do you expect? Could they realistically have done more to boost your chances?
Eddie Davies - kettle element magnate and not-very-rich-by-Mittal-standards old chap. Wouldn't be in the top flight without him, though if you listen to some of our more uneducated supporters you'd think he was some miserly old scrooge holding us back
How do you think Bolton treats its fans? Appreciates them? Listens to them? Screws them?
No-one is ever happy with how their club is run, but I think we get a better deal than some. You wouldn't find our lot suddenly ramping up ticket prices in an attempt to turn us into some kind of *** boutique football club. (edit by maudesfishnchips )
Who are you Dangermen/Most valued/most overrated/most underrated players?
Dangerman - Petrov
Most valued - Cahill
Most overrated - Cahill
Most underrated - Holden
Are you happy with your youth set up? Is your club doing enough to bring young/local talent through the ranks?
Getting better of late. Not brought anyone through since Hunt and Nolan - though I would caution that things look on the up - we invested in the youth setup 4/5 years ago and we're starting to see the fruits of that.
Josh Vela was on the bench for the final game of last season, he's the Academy Player of the Year and a really good midfield prospect.
We paid £250,000 to Oldham for Tom Eaves after he scored a hattrick against us last pre-season, he took time to settle but has since gone on to score 10 in 10 at the arse-end of last year for the reserves. He's going to be a good'un.
Adam Blakeman is a young left back/left winger who we signed after his release from Liverpool - has a really nice left peg and scores plenty of goals. He was on the cusp of the first team too.
Mark Connolly was signed from Wolves for £1m as a 16yr old, he captains the reserves and will be in the first team squad this season.
Rhys Bennett is a classy ball-playing centre half, who is on loan to Falkirk at the moment getting rave reviews and is gaining useful experience. This lad will go far.
Jay Lynch is a 16yr old goalkeeper and the best prospect of the lot. He'll go far.
One we lost is Kyle Bartley at Arsenal, swiped away for £1.5m about two years ago and seems to be progressing well.
Things are looking up for our youngsters.............for once.
Who would you say was the greatest Bolton player that you yourself personally saw? (You can name more than one if it's that close!)
Fernando Hierro - class
Your prediction for Bolton this season?
Mid-table would suffice, anything above would be great, below wouldn't be a shock
Are you aware of any player or manager links between our two clubs past and present?
Les Ferdinand played for us - that's about it from the top of my head
What is your view and the general Bolton view of QPR (If we even feature in your consciousness) or of Neil Warnock?
Love him. Work with a Blade who never shuts up about his love for him. Any man who has a chapter in his autobiography devoted to how much he hates Megson is fine by me.
What are your past Encounter Memories - Best Memory/Worst Memory of Past QPR- Encounters? Who is your memorable QPR Player over the years?
I remember Kevin Gallen well, but only through Championship Manager. My match memory comes from the first game of our then-record breaking season when we won 1-2 with goals from SJM and Tomo, if memory serves. Don't like your ground
What do you think of our owners? Have our ticket prices affected your travelling support?
W****rs. Yes we've got a little boycott going - sold about 200 tickets as a result. Feel sorry for your regular supporters but from the outside in it just smacks of greed and short-termism.
Your score prediction for QPR v Bolton?
0-5
What, realistically, do you think Bolton are capable of achieving in the next five years?
Getting back into regular European football would be a delight, realistically to still be in the league would be a massive achievement.
What one or two questions do you wish I had asked you (and how would you have responded?!)
You haven't asked if I'm single or not.......I'm not

Again many thanks to Many thanks to Lofthouse Lower from http://the-wanderer.co.uk/
-
See Also HarlowRanger's QPR-Bolton Stats

-
Premiership Attendance Stats: With QPR's Stadium Capacity - QPR will be near or at the bottom.
-
Bushman's QPR History: QPR in the Southern League, 1911/12
METRO/QPR REPORT
QPR transfer news 2011/12: Mid-window report card and grade
At the halfway stage of the summer transfer window, Queens Park Rangers blog QPR Report gives Metro Sport his views on all the ins and outs at Loftus Road so far.
Queens Park Rangers Team: Queens Park Rangers line-up before their match against Braga (Getty Images)
How do you rate your signings so far?
Attempting to assess Neil Warnock's transfer activities unfortunately doesn't have a great deal of relevance to what is occurring (or not occurring) at QPR these days!
It is not the manager who is the problem.
It is the billionaire owners Bernie Ecclestone, and especially Flavio Briatore, who have ensured that Warnock has to prepare to fight for Premier League survival with one hand tied behind his back.
QPR's incoming transfers have consisted of Jay Bothroyd from Cardiff City, and two, over-thirty players, with problematic injury records in the form of Kieron Dyer and Danny Gabbidon.
There seems a fair possibility that a couple of other 'cheap' signings will be made. But nothing on the scale of what is reasonable given the influx of Premier League money to the club.
How do you rate your player sales so far?
We have a lot of deadwood in our squad that we've had for some time.
Unfortunately several players, signed by several managers before Warnock, arrived at QPR and were given lengthy, well paid contracts with salaries that they could not match elsewhere.
Has your confidence in your manager's ability in the transfer market increased or decreased since the summer window opened?
Fan confidence in the manager remains absolute.
With his free transfer signings, he's hopefully making bricks out of straws.
But fans views about the Premier League prospects have steadily declined since the end of last season.
The expectations is that Warnock will either walk or be axed.
Probably very few expect him to be in charge of QPR by the end of the season.
Metro
-
QPR Report Poll Question: Will QPR's Promised "Pre-Season Celebration" Be Held?
-
Still No QPR Offical Site Update re the Status of the Official Supporters Club (OSC). Despite Committee Resignations.
-
Bookies and Pundits Favour QPR for Relegation
-
Press Versus Football Clubs Dispute. Lock Out
-
A Statistical Guide to Points Needed to Stay Up
-
Seventy Years of Supporting QPR: A Longtime QPR Supporter Remembers
-
"Spot The Ball"