-
-
This Week's "Spot The Ball"
-
Throughout the day, the QPR Report Messageboard has news updates, comments and perspectives - even links to other board comments of interest re QPR matters (on and off the field) along with football (and ONLY football) topics in general....Also Follow: QPR REPORT ON TWITTER
_____________________________________________________________________________________
-
Recent Tony Fernandes Interest in Investing in West Ham and Norwich
-
Australian Youth Goalie Seems to have joined QPR
-
Update: Leon Clarke will NOT be Joining Swindon Town
-
On This Day: QPR's 1975/76 "Championship" Season started (Video)
-
Also on this day: QPR's First Away Game after First Division Relegation...and Tommy Docherty's QPR (without a sold Allen and Goddard) lost on Opening Day
-
QPR-Rochdale: Tickets On Sale From Today
-
Four Year Flashback: Chairman Paladini Warns of QPR Administration
-
Birthday for QPR Coach John Gorman
-
Brief, Sobering Look at Portsmouth Finances
-
Official Site on the New Shirt "A Modern Classic"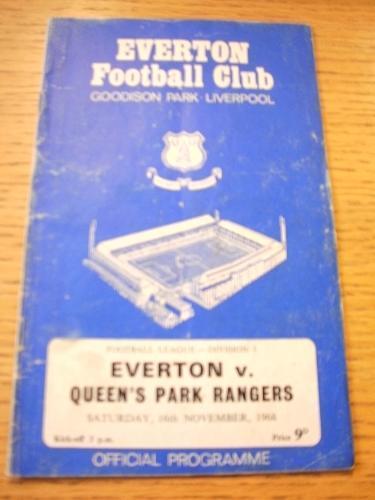 -
Everton Match Preview/ Everton-QPR Stats and Past Encounters. (Past Everton-QPR Video)
Jacob Murtagh/Fulham Chronicle - QPR plan loan swoop for Southampton winger
- NEIL Warnock is planning a loan swoop for wantaway Southampton winger Jason Puncheon.
- Warnock wants to bring in three more players before the transfer window slams shut at the end of the month, with a wide man one of his targets.
- QPR had been linked with a permanent move for the 25-year-old, who spent a spell on loan at Blackpool last season, only to be put off by his £1million price tag.
- But Warnock is ready to end his nightmare spell on the south coast with a loan switch to Loftus Road.
Fulham Chronicle
Wall Street Journal/James Hookway - * SOCCER * AUGUST 16, 2011,

Malaysian Airline Chief Seeks London Soccer Team
Malaysia's Tony Fernandes might soon join the list of Asian tycoons to dabble in the glamour of the world's most-watched soccer league if his efforts to buy a majority stake in London's Queens Park Rangers succeed.
Queens Park Rangers' Tommy Smith chased the ball against Bolton Wanderers during their English Premier League soccer match at Loftus Road in London on Saturday.
People familiar with the situation say Mr. Fernandes, the 47-year-old chief executive of budget airline AirAsia Bhd., hopes to secure a 51% stake in the English Premier League club by buying entrepreneur Bernie Ecclestone's 62% holding along with Lakshmi Mittal, the London-based global steel tycoon who already owns a third of QPR.
An announcement could come as soon as Tuesday, these people said, though they cautioned that talks could still fall apart. The value of the stake is unclear. Mr. Fernandes couldn't immediately be reached for comment, nor could Messrs. Ecclestone or Mittal.
If he succeeds, Mr. Fernandes could join the growing number of Asian bosses who own or have owned English Premier League clubs. Thailand's ousted leader Thaksin Shinawatra bought Manchester City and encouraged fans to call him "Frank" before he agreed in 2008 to sell it to a private equity group led by a member of Abu Dhabi's royal family. Hong Kong's Carson Yeung bought Birmingham City only to see it relegated last season to a lower league, while Indian poultry firm Venky's Ltd. bought Blackburn Rovers in November.
Mr. Fernandes in June said he made an offer to buy West Ham United, but the board rejected his offer.
English soccer is widely watched across the world, especially in Asia, where it is commonplace to see people dressing themselves up in the colors of top teams such as Manchester United, Chelsea and Arsenal on weekends. Many clubs have foreign owners, including Russian oil billionaire Roman Abramovich, who used his fortune to reinvigorate Chelsea, and the Glazer family of the U.S., which controls Manchester United.
A fan of the league's West Ham, Mr. Fernandes attended QPR's first game of the season Saturday, at which it lost on its home field to Bolton Wanderers. In an interview with Sky Sports, he said he would offer his full support to manager Neil Warnock and his immediate goal would be to ensure that the club avoids relegation to a lower league this year before strengthening the team for the future.
Analysts say Mr. Fernandes's move for QPR could buy more exposure back home and abroad as it unrolls more long-haul routes through its AirAsia X brand. In previous years, the airline has sponsored sports teams such as Manchester United and the Oakland Raiders U.S. football team to help boost its profile in the quickly expanding budget airline market.
Mr. Fernandes, meanwhile, has plowed his own money into the Lotus F1 racing team, which he has used to aggressively promote AirAsia.
This former music industry executive has turned AirAsia into one of Southeast Asia's best-known brands. Last week he gained effective control of Malaysia's state-owned Malaysian Airline System Bhd by acquiring a 20.5% through his privately held Tune Group. Mr. Fernandes gave the Malaysian government a 10% stake in AirAsia and a similar stake in Air Asia X.
Still, buying an English soccer club isn't always a quick route to commercial success. Birmingham City's Mr. Yeung was arrested in June by Hong Kong police on charges of money laundering involving over $93 million. A Hong Kong court denied him permission to travel to see Birmingham's first game of the new season. Mr. Yeung, who hasn't yet entered a plea, couldn't be reached for comment.
—Polly Hui in Hong Kong contributed to this article.
Wall Street Journal
QPR Official Site - HOOPS' A SMASH HIT!
- 'Hoops' - the Club's official matchday programme - proved to be a smash-hit on the opening day of the new Barclays Premier League campaign.
- Over 35 per-cent of supporters who attended our home fixture against Bolton Wanderers purchased the new-look publication - and the feedback we received from Programme Editor Ian Taylor's Twitter followers made for pretty reading!
- Here's some of your tweets ...
- @Bradders138 ... @IJTaylor81 read the programme in full today! Absolutely brilliant! I like the new look of it! Great job! Well done to the media guys at QPR
- @AidenQPR ... @IJTaylor81 Nice looking programme as well as the content. #QPR
@superhoops10 ... @IJTaylor81 well worth it to see the photo-shopped images of players in the new kit.
- @DaveHoops79 ... @IJTaylor81 I know we all give ya a bit of stick now and again, but really good work on the prog mate looks great #QPR
- @GaryThePhone ... @IJTaylor81 Programme was s**t hot mate, good work ... Shame about the game though.
- We don't want to rest on our laurels over the coming weeks and months though, so keep your feedback coming. Whether you're positive or negative about the new product, let us know your thoughts! E-mail iant@qpr.co.uk or tweet @OfficialQPR or @IJTaylor81 -
QPR
-
Flashback 18 Months: Club Desire to Funnel Communications via the Official Supporters Club (OSC)
-
Still No QPR Offical Site Update (and apparently nothing in the first programme) re the Status of the Official Supporters Club (OSC). Despite Committee Resignations.
-
Still Waiting!
"[
P]lans are already afoot for a pre-season celebration, once the players return to training in July.
"
QPR May 11, 2011 Statement
However, the Official Site does offer: "HAVE A PIC WITH THE TROPHY!
- Have you ever wanted a picture with the npower Championship trophy lifted by Adel Taarabt and co. on the final day of last season? Well now is your chance! QPR's Superstore will be opening its doors for R's fans to have official images taken with the trophy on Saturday 3rd September, between 10am and 4.30pm. Rangers fans can then purchase their 9x6 picture in an A4 printed folder for just £12, with the opportunity to buy a second copy for just £6. Make sure you don't miss out on your opportunity to buy one of these fantastic mementos!
QPR
-
Audio: QPR Report Comments on the BBC World Service
-
QPR Documentary "Four Year Plan" - To Marbella Festival in October
-
Alec Stock's Daughter Offers some Memories of Her Father
-
Six Year Flashback: QPR vs Sheffield United and Alleged Gun/Boardroom "Incident"
-
Wigan Game, August 27th: Change of Time
-
Social Media/Facebook/Twitter - Most Popular Clubs...QPR Stats re Social Media: Facebook & Twitter
-
QPR Get Rochdale at Loftus Road in the League Cup (Carling Cup) - week of August 22)
-
Premiership Attendance Stats: With QPR's Stadium Capacity - QPR will be near or at the bottom.
-
A Statistical Guide to Points Needed to Stay Up
-
"Spot The Ball: Last Week's Answer"
-
Suggest A Caption!
-
Further Zimbio Photos from QPR-Bolton