-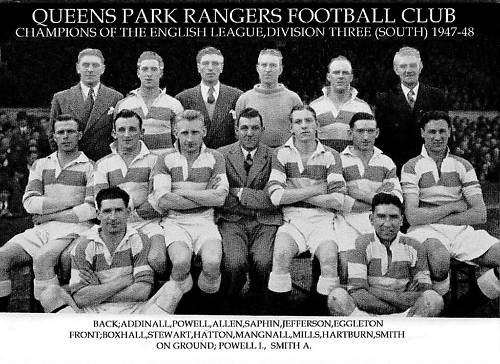 -
-
Throughout the day, the QPR Report Messageboard has news updates, comments and perspectives - even links to other board comments of interest re QPR matters (on and off the field) along with football (and ONLY football) topics in general....Also Follow: QPR REPORT ON TWITTER
_____________________________________________________________________________________
-
QPR Report Q&A: The Rochdale Perspective of Rochdale and QPR (Interview Conducted by QPR Report Correspondent, Maudesfishnchips)
UPDATE:
Talksport/Alex Varney -Exclusive - Warnock admits QPR in race against time to make new signings
CLICK to Listen
- QPR boss Neil Warnock admits he's in a race against time to bring in any new signings.
Warnock had been working on a tight budget following the club's promotion to the Premier League but is now free to splash the cash following Tony Fernandes' takeover.
However, the 62-year-old has warned supporters it won't be easy to land the players he wants, with the transfer window set to close shut next week."
- We've just got to try to grasp this opportunity and strengthen the squad to give us a chance up to Christmas
"Neil Warnock - "It's alright having money and making offers but getting them to sign and move on with you is a different ball game," he told the Sports Breakfast. "In ten days, I've got to do 12 weeks work.
- "In an ideal world, we've always done it early, as soon as you've got promotion and gradually done it through the summer. It wasn't possible and we've just got to try to grasp this opportunity and strengthen the squad to give us a chance up to Christmas."
- Scott Parker is one the names being linked with a move to Loftus Road and Warnock admits he has a number of targets in mind.
- "We've made enquiries about a number of players and I'm hoping we can get four or five of the targets," he added.
- "You've got to have ten, 12 targets to get four or five. We've just got to see who we can secure. I'm looking at different areas and different players."
Talksport
-
Rochdale Previews
-
On This Day: The Amazing 5-1 Win at Derby County...Kevin Gallen Received THE Injury....25 Years Ago, David Seaman's QPR Debut
-
"Spot The Ball!"
-
Next: Wigan - Stats, Past Encounters
-
QPR Display Their Championship Trophy to the Kids
-
Manchester United Sponsorship for TRAINING Kit...Plus Total Premiership Shirt Sponsorship
-
Wrong Premierhip Factoid re QPR!
-
Flashback Couple Years: Jimmy Greaves FINALLY confesses that wasn't a goal vs QPR!
Ticket Prices Coming Down
Daily Mail/Sami Mokbel - New QPR owner Tony is just the ticket as he plans to slash Loftus Road prices
22nd August 2011
Tony Fernandes will make slashing ticket prices one of his first acts as Queens Park Rangers supremo.
The Air Asia owner is ready to rubberstamp a range of cuts and, although they have yet to be finalised, it is understood some prices could fall by as
much as 25 per cent.
The move will appease fans disgruntled at the previous regime's decision to introduce a hefty price hike after QPR's promotion to the Barclays Premier League.
Fans faced the prospect of forking out up to £72 for a seat at Loftus Road this season — an increase of 106 per cent — after Bernie Ecclestone and his business partner Flavio Briatore decided to cash in on the club's top-flight status.
The controversial move caused Amit Bhatia, son-in-law of the other major shareholder Lakshmi Mittal, to step down from his role as vice-chairman in protest.
As Sportsmail predicted in July, Fernandes completed his takeover last Thursday — buying out Ecclestone's 66 per cent share — and Bhatia returned to his vice-chairman role.
Rangers hope to have the new prices in place for their home Premier League clash against Newcastle on September 12.
Fernandes continued his QPR shake-up by appointing Phil Beard,
who was part of the successful London 2012 bid, as the club's chief executive officer.
Mail
QPR-Malaysia
Malay Mail
"....KEMAMAN: Players leaving the Badminton Association of Malaysia (BAM) will only make it more difficult to find new talent of the calibre of Datuk Lee Chong Wei, said Youth and Sports Minister Datuk Seri Ahmad Shabery Cheek.
...On another matter, Ahmad Shabery said his ministry was willing to work with English Premier League club Queens Park Rangers which is now majority-owned by Malaysian tycoon Tan Sri Tony Fernandes for the development of Malaysian football if the club had a good soccer training academy.
He said this was because EPL clubs having very good players did not necessarily have very good training academies.
"I will personally follow up on this," he said.
He was asked to comment on the call by FA of Malaysia deputy president Tengku Abdullah Sultan Ahmad Shah to Tony not to forget development of Malaysian football now that he was calling the shots at QPR.
Malay Mail
New Straight Times -: M-League the only entry to EPL
2011/08/23 Ajitpal Singh
FOR Malaysian fans, it was music to their ears when it was revealed that Tan Sri Tony Fernandes had gained ownership of Queens Park Rangers (QPR).
Now, there are talks of local footballers getting to play for QPR in the English Premier League (EPL) but of course, through the backdoor.
It is not going to be easy though for a Malaysian to play in the EPL, as there are certain rules to be adhered in signing players from countries outside the European Union (EU).
The rules -- implemented in 1999 -- state a non-EU work permit applicant must play for his country in at least 75 percent of its competitive 'A' matches and that his country must have averaged at least 70th place in the Fifa world rankings.
If a player does not meet these criteria, the club wishing to sign him may appeal if they believe that he is a special talent and able to contribute significantly to the development of the game at the top level in the United Kingdom.
These rules were outlined to protect the interest of British players but most Malaysian fans are unaware about this.
Fans have even created pages on social networking site Facebook, calling for QPR to sign national striker Safee Sali.
It has proven to be a popular page, with more than thousand hits a day.
Safee, who plays for Indonesian Super League club Pelita Jaya FC, is the nation's most popular player after his exploits in last December's AFF Cup, where his five goals helped Malaysia win the regional competition for the first time.
It is also learnt that the 27-year-old has captured the attention of several Bundesliga teams, who are said to be monitoring his progress in Indonesia.
But Safee's talent may never get him to QPR, even if he is good enough, due to the Premier League's player registration rules.
The only way for a Malaysian to play in the EPL is for the national team to improve their world ranking.
Malaysia at 146th are 76 notches above the permitted ranking for locals to be considered by teams in the EPL.
Malaysia, however, should forget about trying to get our local footballers play in top leagues in Europe through the backdoor.
The FA of Malaysia (FAM) and relevant parties must work closely to improve the M-League so that quality players are produced in the long run.
Malaysian football has improved over the past two years, but not to the level that is enough to earn international recognition.
Asian ownership in the EPL has increased over the past few years but none of them have used their influence to get players from their respective countries to play for their English clubs.
If our players want to play in England, they must earn it on merit.
As for QPR, the most Malaysia can expect at this moment is training stints and friendly matches for the national footballers."
New Straights Times
-
Past QPR-Malaysia Connections: Allan Harris
QPR Official Site - NEW CEO ANNOUNCED
Posted on: Mon 22 Aug 2011
Philip Beard has been appointed Chief Executive Officer of Queens Park Rangers Football Club, subject to Premier League approval.
His appointment follows the recent takeover of the Club by Tony Fernandes, the R's new majority shareholder and Chairman.
Beard has worked in the sports and leisure industry for over thirty years, most recently for American music and sports giant, AEG.
Whilst at AEG, he spent two years as Chief Executive of The O2, where he led the team in transforming the venue from the Millennium Dome into the world's most popular music and sports venue.
Latterly, he was Chairman of AEG Sport and Sponsorship where he was charged with developing the company's sporting interests across Europe.
Prior to this, Beard was a senior member of the successful London 2012 Olympic and Paralympic bid team.
Speaking exclusively to www.qpr.co.uk about Beard's arrival, Fernandes commented: "Philip brings a long history of success in the sports industry with him to QPR.
"His track record in leading teams and achieving commercial success is exemplary and I am delighted to have him on board."
Beard added: "I am utterly thrilled to be joining QPR in this hugely exciting chapter in the Club's history.
"I will be focusing on helping it become the very best Club it can be, both on and off the pitch.
"I want to ensure the best possible experience for the people who support us day in and day out - our loyal supporters." http://www.qpr.co.uk/page/NewsDetail/0,,10373~2425705,00.html
QPR Staff Directory updated
Contacts
QPR Holdings Ltd Chairman - Tony Fernandes
QPR Holdings Ltd Vice-Chairman - Amit Bhatia
Board members - Tony Fernandes, Amit Bhatia, Kamarudin Bin Meranun
CEO - Philip Beard
QPR FC Chairman - Gianni Paladini
Finance Director - Rebecca Caplehorn
http://www.qpr.co.uk/page/StaffDirectory/0,,10373,00.html
Fulham Chronicle Alcohol clampdown launched on QPR matchdays after trouble * By Adam Courtney
An alcohol clampdown has been launched in Shepherd's Bush to stop trouble flaring on Queen's Park Rangers matchdays.
Stricter licencing conditions have been imposed on two premises after police raised concerns.
The Springbok pub near Loftus Road stadium must now not allow drinkers in the garden two hours before and one hour after kick-off, while it is also now required to employ bouncer,
And the City Supermarket in South Africa Road has been banned from selling booze in the lead-up and aftermath to matches and must install CCTV.
The measures were introduced after several incidences of trouble at both venues last season.
At The Springbok, which is for home fans only, violence caused by the proximity of the garden to the road flared on five separate occasions.
It faces directly on to the street and when away supporters walk past, disorder can occur.
In his report that went before the Hammersmith and Fulham Council licencing committee, Sergeant Stuart Ratcliffe wrote: "The garden has caused considerable problems for the policing operation... and has regularly resulted in bottles being thrown, abusive language and aggressive behaviour."
As part of the new conditions, security cameras will me installed, three bouncers must be employed from three hours before kick-off and an hour after the match, and the first-floor balcony cannot be used until an hour after the match either.
The City Supermarket had previously been able to sell alcohol on matchdays but, with drinking on the street banned in Shepherd's Bush and supporters unable to take alcohol into Loftus Road stadium, enforcing the rules was causing police problems.
More than a hundred alcohol seizures were made from drink bought there, while there was also violence involving drunken rival fans.
The shop will now no longer be able to sell booze two hours before and one hour after kick-off, in line with off-licences surrounding Chelsea's ground, Stamford Bridge.
Both premises have 21 days to appeal from the date of the committee's decision on August 15."
Fulham Chronicle
-
QPR Youth Win on Saturday
-
West Ham Fans Discussing Fernandes Takeover
-
QPR Documentary "Four Year Plan" - To Marbella Festival in October
-
A Statistical Guide to Points Needed to Stay Up
-
"Spot The Ball!"