-
-
-
From the Bushman QPR Photo Archives
-
-
Follow QPR REPORT on TWITTER!
-
QPR REPORT MESSAGEBOARD - Visit the cutting-edge, football-only, QPR Report messageboard (and see items you won't usually read elsewhere
-
-
Visit the truly-fascinating Bushman QPR Photo Archives
___________________________________________________________________________________________________________________________
-
RIP: Ex-QPR Youngster, William (Billy) Beggs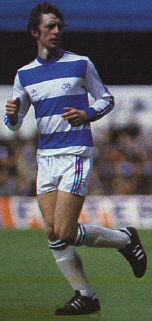 On This Day in Football: March 21...Gary Micklewhite Turns 51
-
Congratulations to Messi: Breaks Barcelona Goal-Scoring Record
-
On This Day in Football and QPR: March 20...In 1966: World Cup Stolen
-
Next: Liverpool - Past Shared Players & Results
-
Video Flashback: QPR Players Watching Liverpool "STEAL" Their 1975/76 Championship
-
HIGH PRAISE FOR GIANNI PALADINI FROM EX-QPR KEITH CURLE
-
Flashback: Eight Years Ago Yesterday, Gianni Paladini Sees His First QPR Game and then Buys into The Club. (Comment & Match Report)
MAIL - The masterplan is out of the window! Hughes admits QPR could go down

Mark Hughes has admitted throwing his Barclays Premier League survival masterplan 'out the window' as he looks to kick-start QPR's revival with victory over Liverpool on Wednesday.
Rangers boss Hughes revealed he had tried to predict the results of all of the bottom five for the rest of the season at the start of the month and joked he had his side surviving 'by a million miles'.
But the controversial defeat at Bolton 10 days ago, which saw QPR denied a goal despite the ball crossing the line, forced Hughes to go back to the drawing board.
Blow: Mark Hughes was dismayed by Clint Hill's goal that never was
'I think that got thrown out the window when the assistant referee didn't give our goal!' he said.
'You do that and try and pre-empt who will win against whom, but it doesn't always run true to form.'
The Bolton defeat saw QPR slide into the bottom three with 10 games to go and Hughes admitted the prospect of relegation had been discussed at Loftus Road.
'We're not skirting around the subject, certainly,' he said.
'We've made it really clear that we need to perform and we understand the consequences if we don't.
'You can use it as a motivating factor, I'm sure.'
Not given: Hill's header had gone over the line before Adam Bogdan clawed it out
Not given: Hill's header had gone over the line before Adam Bogdan clawed it out
After an initial lift following Hughes' January appointment, Rangers have now lost five and drawn two of their last seven games in all competitions.
That is despite boasting arguably a stronger squad than all their relegation rivals.
'We understand very clearly that we're in a scrap and we need to start putting points on the board,' Hughes said.
'We understand that very, very clearly.
'There's no complacency in terms of what we have to do to ensure that we stay in the Premier League this year.
'We're fully in tune, fully focused.'
Stumble: The loss to Bolton has left QPR in severe trouble
Stumble: The loss to Bolton has left QPR in severe trouble
Asked if it was time his big-name players stepped up, he added: 'Everybody has to step up. It's important that we get big performances from everyone in the team, everyone who's selected.
'If we have that then we've got a chance because we can't afford to go into games with one, two, three, four players not quite at the level they need to be.'
QPR's biggest advantage over Blackburn, Bolton, Wigan and Wolves is arguably their goal threat following the January arrivals of Djibril Cisse and Bobby Zamora.
Hughes said: 'We've got to exploit the qualities that they have.
'On occasions, we haven't done it to the best effect we can.
'The more we play together and the more those two play in the same side and the team gets used to the kind of runs and the kind of balls that they want then the better they'll become.
'In fairness, they've both scored a couple of goals each in very few appearances. So I'm pleased with what they've done so far.
Hi again: Djibril Cisse could kick-start QPR's survival bid against former club Liverpool
Hi again: Djibril Cisse could kick-start QPR's survival bid against former club Liverpool
'But we know that if we're going to score the goals that are going to keep us in the league then we have to release them in good areas.'
Cisse could be particularly motivated tomorrow against his former club, who jettisoned him despite the Frenchman helping them to Champions League and FA Cup glory.
Hughes said: 'Every player when they go up against their former clubs want to make a good impression.
'Maybe we might gain from a little bit of an extra edge to his general play.
'Given that it's Liverpool and one of the top clubs in the Premier League, there'll be an extra spark from Djib.'
Mail
GUARDIAN/Sachin Nakrani - HUGHES REMAINS CONFIDENT

Mark Hughes remains confident QPR's season will have a happy ending.
Mark Hughes, the QPR manager, is certain that his side will avoid relegation from the Premier League.
The sequel, as film history shows, is rarely as good as the original. But as this Premier League season heads towards its climax Queens Park Rangers supporters can only hope the drama that is to unfold in front of them proves to be even more gripping and glorious in its conclusion than The Four Year Plan, Matt Hodgson's gasp-inducing documentary that aired on British television this month and charts how the club survived the chaotic ownership of, among others, Flavio Briatore, to rise to the Premier League.
For QPR it is now about the 10-match mission, the opening scene of which plays out on Wednesday evening when they take on Liverpool at Loftus Road. The visitors pose a stern challenge but for Mark Hughes's side defeat is almost unthinkable given they sit 18th, a point from safety but facing a run-in from hell between now and the end of the season. After Wednesday night come trips to Sunderland, Manchester United, West Bromwich Albion, Chelsea and Manchester City alongside playing Arsenal, Swansea, Tottenham and Stoke at Loftus Road.
Hughes is refusing, however, to be pessimistic. "We've got to make sure we get a run of form and a little bit of luck. If we get that we'll be fine," he said. "It won't be easy because of the position we face. But we're ready for the challenge and I feel sure we have the players to stay in this division."
For all his confidence, the Welshman could not have envisaged becoming engrossed in such a fraught fight for survival when he replaced Neil Warnock as QPR's manager two months ago. The signs were there – the team were in 17th place having gone eight games without a win when Warnock, who had got them promoted the previous season as Championship champions, was dismissed – but Hughes knew he would be allowed to add to a squad hardly lacking in quality. Tony Fernandes, the Malaysian tycoon who became QPR chairman last August after buying out Briatore and Bernie Ecclestone's 66% stake in the club, duly gave him the funds to sign Nedum Onuoha, Bobby Zamora and Djibril Cissé.
Hardened in Premier League experience, they were expected to steer QPR into calmer waters. Instead the club has continued to sink, winning once in eight league games under Hughes and exiting the FA Cup at the hands of Chelsea.
The 48-year-old can point to mitigating circumstances, most notably the long-term injuries suffered by key performers such as Alejandro Faurlín and Heidar Helguson, as well as the potentially season-defining bad luck endured in the recent 2-1 defeat by fellow strugglers Bolton when Clint Hill's clear goal was missed by the officials. But, overall, QPR's malaise reflects badly on a manager who walked out on Fulham last June because he felt they could not match his ambitions.
Hughes continues to look at the bigger picture, however, insisting that through its plans to build a new training ground and stadium, as well as a commitment to invest in new players, QPR have the potential to become a domestic and European force if they avoid relegation and the huge financial losses and erosion in status that come with that.
"We're trying to build a new professionalism in terms of our thinking," he said. "That was the attraction of coming here and I know that if we can get through this tough period we'll be a hell of a lot stronger next year. For now, though, we're in a scrap, there's no complacency in terms of what we have to do to stay in this league. We're focused and everyone has to step up."
Hughes has been here before, having rescued Blackburn from relegation after taking over there in 2004. He has drawn on his experiences at Ewood Park to guide him through this battle and believes no club will have to reach the traditional 40-point mark to guarantee their safety this season.
"Fewer [points] will almost certainly be enough," Hughes said, before admitting he has worked out how many points he reckons all the main relegation contenders will get from their remaining fixtures. Asked if QPR, who currently have 22 points, escape relegation through his calculations, he replied: "Absolutely, by a million miles."
Liverpool await, then, and the chance for Cissé to score his third goal in four appearances for QPR against the team he signed for almost eight years ago. "I've been impressed with his technical abilities, it's of a higher standard than I expected," said Hughes of the Frenchman who is flamboyant enough not to look out of place in Hollywood and is required now to help provide his latest club with another blockbuster ending.
Guardian
PREMIERSHIP WANTS FERDINAND-TERRY HANDSHAKE BEFORE CHELSEA-QPR GAME

AP
The English Premier League wants a handshake between John Terry and Anton Ferdinand before the Chelsea and Queens Park Rangers match in April.
Ferdinand was allegedly racially abused by Terry during a last league match in October. The Football Association allowed the sides to forgo the traditional handshake when the two teams met in January.
Terry will stand trial in July on a charge of racially abusing Ferdinand. The league announced Tuesday it will not scrap the handshake before Chelsea-QPR on April 29.
Chief executive Richard Scudamore says the handshake ''should continue - period.''
AP

QPR OFFICIAL SITE - RESERVES LOSE TO READING
IN RESERVE: QPR 2, READING 3
Posted on: Tue 20 Mar 2012
QPR Reserves went down 3-2 to Reading at the Harlington training ground this afternoon, with the visitors grabbing a winner with virtually the last kick of the game.
The Royals stormed into a 2-0 lead with first-half goals from Shaun Cummings and Gosling, but Rangers fought back in the second half with Mo Shariff (pictured) and one of two trialists on show netting before a late Tomasz Cywka strike grabbed victory for the visitors.
Rangers started brightly and had the ball in the back of the net through Rowan Vine on 11 minutes but his effort was ruled out for offside.
Two minutes later Frankie Sutherland's long-range effort was easily gathered while Shariff saw his strike from the edge of the area flash wide.
But on the half-hour mark, with their first real attack of note, Reading took the lead.
Some good play down the left flank involving Andy griffin and Gosling eventually saw the latter pull the ball across from the byline for right-back Cummings to smash into the roof of the net from 15 yards.
R's stopper Brian Murphy did well to get a hand to the shot but was unable to keep it out.
And just before the half-time whistle, Reading doubled their advantage.
After the Royals won a free-kick in their own area, a long ball was pumped into the Rangers box and it fell invitingly for Gosling who found the bottom corner from just inside the area.
Andrade was introduced at the break and wasted little time having an impact on proceedings, standing up a perfect centre from the left for Shariff to head home at the far post on 52 minutes.
And in the 88th minute it seemed Rangers had grabbed a deserved draw from the game when both trialists combined, with one crossing for the other to head home.
But the Royals sealed victory with seconds left. A neat one-two released Cywka and he coolly clipped the ball into the corner of the net from 12 yards.
QPR
-
QPR Chairman Tony Fernandes View of Israel - Fernandes one the VIP Endorsers of the forthcoming "Global March to Jerusalem"
-
Statement and Signatories
-
About the Global March to Jerusalem
-
QPR CEO Philip Beard Speaks at the Soccerex European Forum, in Manchester at the end of the Month on "The Financial Management of Clubs"
-
Annual QPR Player of the Year Dinner? No Date Announced as of Yet?
-
"Pernicious" Barcelona! - Claimed Plot Against Syrian President Assad!
-
Almost FIVE Years Since QPR Held a Fan Forum!
-
Reminder: May 20 at Loftus Road 'former greats from Manchester United, Chelsea, Arsenal and QPR take part in a four-team tournament"
-
QPR's http://www.blogger.com/img/blank.gifLatestAccounts:
-
Various QPR Managerial Stats
-
QPR's Official Supporters Club (OSC) - Minutes of (Relatively) Recent Meeting