-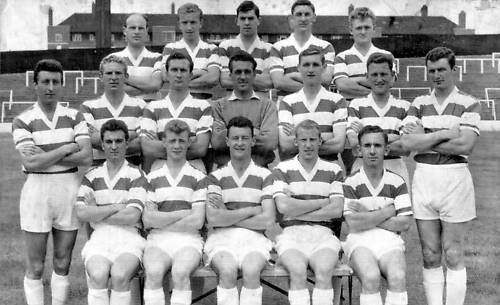 52 Years Ago: QPR's Record Win - QPR 9 Tranmere 2
Less than 5,000 were there to see the game -
Drinkwater - Woods Rutter Angel Ingham - Andrews Keen
Lazarus Bedford Evans Clark
Scorers - Bedford 2 Clark 2 Lazarus 2 Evans 2 Andrews
_____________________________________________________
DAILY MAIL/Sami Mokbel - EXCLUSIVE: Old Rs Ferdinand and Allen called in to help Redknapp's rescue mission

Harry Redknapp is considering handing Les Ferdinand and Clive Allen places on his Queens Park Rangers backroom team.

The duo worked with the QPR manager at Tottenham and the 65-year-old boss is plotting a reunion at Loftus Road as he continues to put his stamp on the relegation-threatened club.

Redknapp has already added Kevin Bond and Joe Jordan to his staff, though their appointments will not be officially confirmed until Mark Bowen and Eddie Niedzwiecki's departures are approved.
Sign them up: Harry Redknapp is piecing together his backroom staff at QPR

Sign them up: Harry Redknapp is piecing together his backroom staff at QPR

Should Ferdinand and Allen join Redknapp, it would signal returns to the club for the two former favourites.

Ferdinand spent 12 years at Loftus Road, scoring 80 goals, while fellow striker Allen hit the net 40 times in 87 games for Rangers.

If Redknapp was under any illusion about the enormity of the task facing him in trying to keep QPR in the Premier League, a biblical message from Joe Royle quickly reminded him.

'Joe Royle sent me a text saying keeping us up would be like turning water into wine or feeding the 5,000 or something,' said Redknapp. 'I have never read the Bible but he meant it would be a miracle. We will try but it is going to be hard.'

Royle was speaking from a position of experience, having fought top-flight relegation battles with Oldham in the early Nineties.

QPR are still waiting for their first win of the season after Saturday's 1-1 draw against Aston Villa, when Jamie Mackie cancelled out an early effort by Brett Holman.
Incoming: Les Ferdinand
Incoming: Les Ferdinand and Clive Allen have been approached by Redknapp

Incoming: Les Ferdinand and Clive Allen have been approached

Redknapp said: 'Not winning causes anxiety, it always does when you are bottom of the league.

'Football is like life — it is about confidence. When things are going well, you win games and you come off and think, "We were rubbish today but we won again".

'Sometimes, like us at the moment, you play well and come off and can't get a win.'

http://www.dailymail.co.uk/sport/footbal....l#ixzz2DyCqayGv
[Note on Saturday: QPR Officially Announced: KEVIN BOND Assistant Manager...JOE JORDAN: First Team Coach and on the Staff Page

- Bowen and Niedzwiecki: Removed from Staff Page/No Mention and No Thanks - Maybe they haven't yet officially departed?
QPR OFFICIAL SITE - DUO JOIN BACKROOM TEAM
Bond and Jordan follow Harry to Loftus Road …


THE CLUB can confirm Kevin Bond and Joe Jordan have agreed to join Harry Redknapp's new-look backroom team at QPR, subject to final paperwork being completed.
The duo worked with Redknapp during his last job at Tottenham Hotspur.
Bond has been named as assistant manager, whilst Jordan joins the club as first team coach. QPR
Saffordshire News

Redknapp: Survival would be my greatest feat

Harry Redknapp says helping QPR stave off relegation would be the greatest achievement of his long career.
The 65-year-old was appointed at the Loftus Road helm a week-and-a-half ago with the remit of keeping the Hoops in the Premier League. The west Londoners languishing bottom of the table, while their winless start to the season extended to 15 matches with Saturday's 1-1 home draw with Aston Villa.

Asked if keeping QPR up would be his biggest achievement, he said: "Of course, absolutely from where we are. We will try. It is going to be hard. I've taken a big task on here. I know what I've taken on, I'm not a fool. It's going to be difficult but you can only give it your best."
Redknapp is not new to such a situation and has masterminded several previous relegation escapes, although he failed to do so with Southampton seven years ago. "It always creates anxiety when you're bottom of the league and can't get a win," the QPR boss said.
"Football is like life - it is about confidence. When things are going well, you win games and you don't know how you won. You come off thinking 'we were rubbish today but we won again'.
"Sometimes, like we are at the moment, you play well but you can't get the win and that's how it goes. They have shown a good attitude. They've trained hard, worked hard.
"They've all been good, they're good lads. We just need a win, don't we? We could have got that win on Saturday with a bit of luck. Clint Hill's header I thought was dropping in and if that goes in it's a different game.

"We would be back in there, chasing the pack, but we couldn't quite get those three points."
Shaun Wright-Phillips was recalled to the starting line-up against Villa and produced a far better display than many previously seen in a QPR shirt. "I think confidence is the key for him," Redknapp said. "He has to play with confidence.
"He made some good runs and great ones in the first half, where he should have scored and then hit the post. But he bent his runs in off the line and looked lively. He has done well in training and I gave him a chance." Staffordshire News
GUARDIAN

Aston Villa's merited point leaves QPR with more questions than answers

• Striker-lite QPR still short of confidence
• Benteke and Agbonlahor strike up rapport

Amy Lawrence at Loftus Road
The Guardian, Sunday 2 December 2012 18.01 EST

Watch match highlights from Loftus Road

Harry Redknapp's deflated expression spoke volumes as he faced the music without that precious win that everyone had been pinning their hopes on. QPR's new manager did not attempt to sugarcoat or put on a brave face. He was cheesed off and he looked it.

"Was this the kind of game you were itching to get back to during your five months off, Harry?" The question coaxed a smile, a chuckle even, from Redknapp. Welcome back to the harsh reality of life at the sharp end, where not everything turns out like your best-laid plans.

It was obvious that Redknapp – and everyone concerned with QPR, for that matter – had pinpointed this match against Aston Villa as a potential turning point. The fact the season's course stayed on its fragile track in some ways intensified the pressure that has been bearing down since the opening day of the season, an unexpected 5-0 abomination at Loftus Road inflicted by Swansea City.

Redknapp acknowledged that the players are feeling the tension. "Of course," he said. "It always creates anxiety when you are bottom of the league. Football is like life, it's about confidence. When things are going well you win games you don't know how you won. You think: 'We were rubbish today but we keep winning?' Sometimes you come off and you've played well but you can't get a win. That's how it goes."

Recovering confidence is a tricky business, and Redknapp realises that task is all the harder as Rangers are finding goals tough to come by. Jamie Mackie, whose flicked header got his team back on an even keel after an early wobble, was his usual enthusiastic self, selected at the expense of the rather more turbulent Djibril Cissé. Out wide, Shaun Wright-Phillips got into a couple of encouraging positions. But two of the most promising chances fell to their centre-halves, Ryan Nelsen and Clint Hill. Injuries in midfield cut Redknapp's options for substitutes and Cissé stayed on the bench, brooding in his big blue coat.

"It's a problem," Redknapp admitted. "We are short of goals. We are not overloaded with goalscorers at the club – that's obvious." QPR have scored only 11 goals from 15 Premier League games this season, and they have the worst goal difference in the division. They have managed the same number of league goals at Loftus Road in four months as Swansea managed in a single game.
redknapp QPR's new manager Harry Redknapp is introduced to the crowd before the 1–1 draw with Aston Villa. Photograph: Jed Leicester/Action Images

All the signs point to Redknapp bringing in more firepower in January, despite his protestations that it would not be fair on the owners to pour more money into the squad if they are not in with a reasonable chance of survival by then.

It felt poignant to lurch from QPR's need for quick fixes to Paul Lambert's more organic approach to team building. The Aston Villa manager is enjoying the challenge of developing a team based around a young, homegrown core, and assisted by some astute signings.

Their goalscorer Brett Holman is becoming increasingly influential, alongside the weekly impressions being made by Christian Benteke, and the manager is encouraged by the mix. "They are all feeding off each other, which is good," he enthused. "The youngsters train the way they play and that's important. I don't think you can go from the training pitch and think you can turn it on and off like a switch. They have been excellent."

Again Benteke was singled out for praise, and Gabriel Agbonlahor's work around the young Belgian showed signs of a promising partnership. Benteke might be catching the eye of wealthier clubs gearing up in January, but Lambert tutted at the idea he might be allowed to leave. "He's going nowhere," he insisted, before praising what he brings as a player and a person. "He's his own man with his own character. A strong lad, but I don't think that should deflect from his ability. He's a really humble guy and it he keeps that up he'll go far. He can be anything he wants."

Brad Guzan also earned the plaudits for a commanding display behind Villa's three-man backline. His interventions ensured Redknapp left his home debut with more questions than answers as he tries to forge a winning team.

The QPR manager already feels he needs a miracle. "Joe Royle sent me a message … was it turning fishes into …" he said, searching for the right religious analogy. "Turning water into wine? The feeding of the 5000? Something like that." Or possibly even both, if QPR don't pick up that desperately needed win soon.

Man of the match Brad Guzan (Aston Villa)
QPR and the Ealing Community
"All people & organisations in West & NW London who have a shared interest in being part of a special club, making a positive difference to their neighbourhood."

Football and Sports Development – True Community and family club

Community and Health – Best Practise Model

Education Training and Employment – Guidance for Young People

Social Inclusion and Diversity – high profile vehicle for tackling social issues

Community Hub and Facility Development - True community partner

Strategic Development – Ambitions and future aspirations in Ealing
Sports Trust priorities and our Ealing community specific programme

Football and Sports Development – 3 core areas specific to Ealing
 Activities for people with a disability
 Teenage Girls and Women's activities
 Older Adults and Health
Community and Health –
 Ealing Healthy Lifestyles / Falls
 Extra Time Activities for Older Adults
 Check Your Health, Save Your Life
Education Training and Employment –
 Adult Learning
 Volunteer Programme
 Coach Education Programmes
 Schools Programme
Sports Trust priorities and our Ealing community specific programme
 Asian Community Football Project
 Princes Trust Team programme
 Youth Offenders Project & Sport 4 Change
Multi Sport Provision –

Premier League 4 Sport
Cricket
Hockey
Netball
Summary

Experienced team in place across 3 core areas – business, community & project delivery

Training ground core element for professional club

QPR Community Trust – existing structure and track record

Community infrastructure and programme not secondary

Revenue and capital funding in place to move swiftly
QPR 3rd Highest Spending on Agents Fees (Almost 7 Million pounds - as compared to almost 2.5 Million a Year G
Premier League: Friday 30 November 2012 -
Premier League release agents' fees -
Statement on Club's payments to agents during past year
The Premier League has published details of its clubs' payments to agents from the period 1 October 2011 to 30 September 2012....
| | |
| --- | --- |
| Arsenal | £5,580,873 |
| Aston Villa | £2,730,539 |
| Chelsea | £6,490,382 |
| Everton | £3,092,891 |
| Fulham | £2,581,208 |
| Liverpool | £8,600,444 |
| Manchester City | £10,537,982 |
| Manchester United | £3,681,580 |
| Newcastle United | £3,485,503 |
| Norwich City | £1,248,725 |
| Queens Park Rangers | £6,818,688 |
| Reading | £2,167,833 |
| Southampton | £646,106 |
| Stoke City | £1,717,266 |
| Sunderland | £2,173,762 |
| Swansea City | £1,100,845 |
| Tottenham Hotspur | £6,595,905 |
| West Bromwich Albion | £1,341,301 |
| West Ham United | £4,436,992 |
| Wigan Athletic | £1,974,305 |
| TOTAL | £77,003,130 |