-
-
Bushman's Photo Memories of 1975-76
-
-
Throughout the day, the QPR Report Messageboard has news updates, comments and perspectives - even links to other board comments of interest re QPR matters (on and off the field) along with football (and ONLY football) topics in general....Also Follow: QPR REPORT ON TWITTER
_____________________________________________________________________________________
-
Not yet announced by QPR: But Supposedly QPR Play Parma August 5
-
John Gregory to Manage in Kazakstan
-
Three Year Flashback: QPR's Reported Illegal Approach Claimed
-
Birthday for Bob Hazell
-
Four Year Flashback: Paladini and Caliendo Prepared to Sell QPR
-
Four Years Ago: Gianni Paladini: The Situation Under Control
-
Reported Big (Non-QPR/Personal) Spending by the Ecclestone Family
Really The Words of Neil Warnock?
QPR Official Site - GAFFER SEEKS HOME COMFORT
- Tue 14 Jun 2011
- R's boss Neil Warnock has admitted he would 'like a home fixture' on the opening weekend of the 2011/12 Barclays Premier League campaign.
- Rangers will find out their fate when the fixtures for the new season are released at 9.00am on Friday morning and an excited Warnock told www.qpr.co.uk: "I'd probably quite like a home fixture, but wherever we are and whoever we play, it's sure to be an exciting prospect.
- "I'm really looking forward to Friday to learn who we'll come up against on the opening day, and when we'll be visiting the likes of Old Trafford, Stamford Bridge, The Emirates and all the other great stadiums."
QPR
Football Press- ENGLAND/ QPR, Interest for Legrottaglie
22:20| Eddy Akoglu
- Italian central defender [b]Nicola Legrottaglie, [/b]whose contract with Juventus is about to expire, has revealed to Sportitalia on Monday night that he is tracked by Queens Park Rangers. Preliminary talks between the English club and the 34-year-old are in progress.
Football Press
Football Italia - Tuesday 14 June, 2011 - QPR to decide on Legrottaglie
- Former Juventus and Milan defender Nicola Legrottaglie has confirmed talks with Queens Park Rangers.
- "I have had a meeting with QPR and it is now up to them to decide," the 34-year-old free agent told Sportitalia.
- "It would be a dream for me to have an experience abroad and playing in London would be the maximum."
- The former Italian international is available on a Bosman after his six-month contract at Milan, whom he joined in January from Juve, expired.
- "I was really happy at Milan and it was disappointing that I had to leave," he continued. "I'd recommend that club to anyone."
- Legrottaglie, who started his career at Bari before making his name at Chievo, is a central defender."
Football Italia
[Note: Past Italian players signed by QPR include, Rossi, Pellicori, Alberti, Tommasi, Di Carmine and Millanese]
Josepmir Ballón for QPR?
- Queens Park Rangers may make a shock move for Peruvian young starlet Josepmir Ballón, who currently plays in Argentina with River Plate.
- eyefootball.com received word that Ballon, highly rated by many in South America, has been scouted by several Premiership clubs and has been recommended to QPR by an agent.
- Ballon, who currently has 8 caps to his name for Peru, is valued in the region of £3 million and should have no problem securing a work permit in England.
EyeFootball
Mirror/Alan Nixon - Palace's Ambrose set for Premier League switch
- QPR boss Neil Warnock is raiding his old club Crystal Palace with a shock £1.2million bid to sign goal-scoring midfielder Darren Ambrose.
- Palace, who have also had interest from fellow Championship sides, do not want to lose Ambrose but boss Dougie Freedman may green-light the sale if it lets him bring in new faces.
Mirror
South London Press/Richard Cawley - Exclusive: QPR make approach for Palace's Ambrose
- Tuesday, 14 June 2011
- QUEENS Park Rangers have made contact with Crystal Palace about signing Darren Ambrose.
- The South London Press understands that the Premier League new boys have made contact with the Eagles to see if a deal can be done for the 27-year-old.
- Ambrose's career was revitalised under Neil Warnock during his time in charge at Selhurst Park - scoring 20 goals after a free transfer from Charlton in 2009.
- And Warnock was close to sealing a move for the ex-Ipswich and Newcastle man last summer. A deal had been agreed only for CPFC2010, then in the process of buying Palace and bringing them out of administration, persuading Ambrose to sign a new long-term contract.
- But last season was a frustrating one for the set-piece specialist, a succession of niggling injuries preventing him from making a major impact.
- Now QPR, quiet in the transfer market this summer, have Ambrose in their sights as they look to add quality to their squad.
South London Press
Fulham Chronicle/Paul Warburton - Keeper set to sign QPR deal
- RADEK Cerny was so keen to add a year to his current contract with QPR – the 37-year-old keeper was even willing to fly back to west London from holiday this week to sign the new deal. - But manager Neil Warnock assured the former Spurs gloveman it would still be waiting for him when he reported back for training at the beginning of July. - Warnock said: "Radek's been great back-up for Rangers – and he deserves this extension to his contract. - "It says something he was willing to come all the way back here to sort it now. But I've told him he needs to enjoy the break, and he can sign when he gets back." - However, after Heidar Helguson's extension last week, Cerny is the last of the current squad to get new terms. - Warnock added: "All player business now will focus on new signings. Everyone here already has existing contracts that will take care of them for next season."
Fulham Chronicle
QPR AMULYA LOAN UPDATE - SHAREHOLDERS LETTER
-
Originally posted by IsleworthRanger on WATRB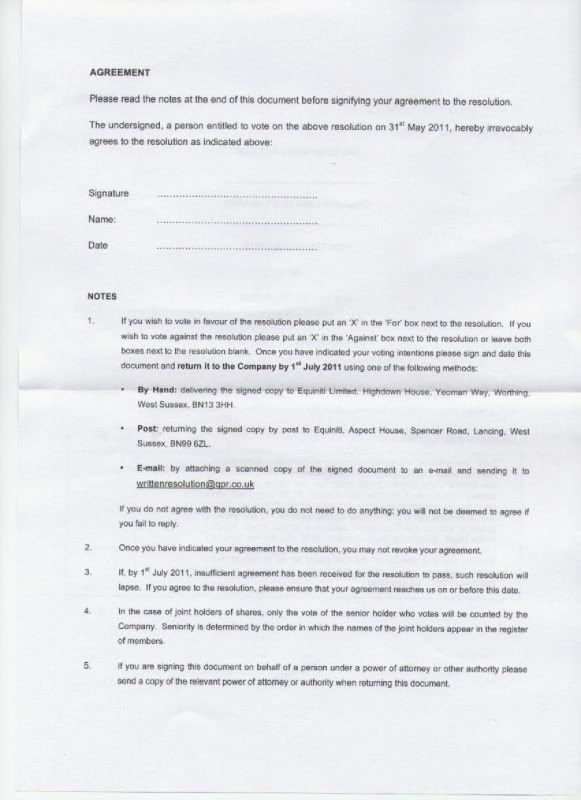 -
Supporters Direct in Trouble
-
Rushden and Diamonds Expelled from Conference -Update
-
Any Views of the QPR Player Pre-Game Show?
-
Changes in Championship Spending Rules (which may affect QPR a year or two from now!)
-
Following Port Vale Developments!
-
The Andersred Blog "Huge price rises for QPR's fans are small potatoes for the club and its owners
-
Deloitte 2011 Report on Football Released
-"...Bristol City, Queens Park Rangers, Ipswich and Preston all paid out at least 108 per cent of revenue on wages.""
Belfast Telegraph
[
Flashabck to 2010 Deloitte Report on Football Finance
-
A club-by-club Look at Premiership Finances
-
The Premiership League Rules
-
QPR Ladies Seek Financial Support
-
Prestige International Youth Tournament: Again No QPR Involvement
-
Message From Don Masson
-
Reminder: Running in Memory of QPR's Neil Roberts (Sunday)