-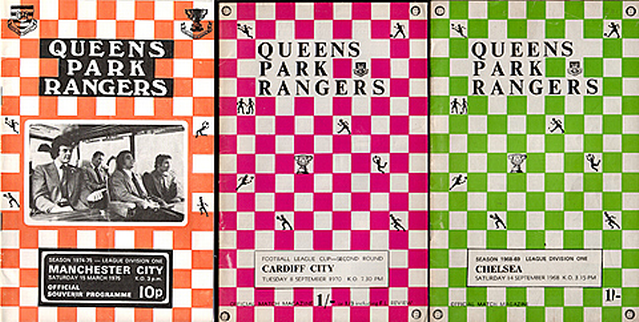 -
Two Year Flashback: The Mirror remembers the QPR Programme of the late 1960s
-

-
-
Throughout the day, the QPR Report Messageboard has news updates, comments and perspectives - even links to other board comments of interest re QPR matters (on and off the field) along with football (and ONLY football) topics in general....Also Follow: QPR REPORT ON TWITTER
_____________________________________________________________________________________
-
"FOUND" - The QPR-supporting American from the Vietnam War!
-
Next: Blackburn - Stats/Players who played for both clubs
-
Birthday for Ian Gillard (Played for QPR 1968-1982
-
QPR in the Community Helping Older People
-
Flashback Video: Kevin Gallen Compilation
-
Flashback: 43 Years Ago (Yesterday): QPR FINALLY achieved their first win of the season (and their first-ever) win in the Old Division One
-
Marking Forty Years of John Motson and "Match of the Day"
Tony Fernandes Blog - October 4, 2011
What a dream come true. Was a poor result on Sunday but that does not deter me . I love it.
- When you lose a class player like Traore and then his back up Connoley, it's going to hurt. Then you bring Orr out and move Luke Young to the left side. And at warm up,Yiu – the third choice centre back pulls a hamstring. Total disruption.
- Anyway we get Gabiddon, and Traore back for Blackburn. Let's see.
- Think we have a good squad, though it needs to be strengthened in the January transfer window. But this is a long road; we should be attacking more at home, maybe play with two strikers. it's good to have Mackie back.
- But I'm thrilled. This year is about avoiding relegation, sorting out our future home, building a good squad, build new training facilities and a new academy and growing new commercial opportunities.
- I'm loving it! Going to be some tough weeks ahead but I love it when my back is against the wall. See you at Loftus Road Oct. 15.
Tony Fernandes Blog
QPR Thriving on Facebook
The UK Sports Network - Social Media and Sports - Dan McLaren
The most 'engaging' EPL football club on Facebook is……Norwich City!08 October 2011
- After looking at who the most talked about clubs were following the new function that Facebook enabled last week, where Manchester United (unsurprisingly) came out top.
- For this next one I dug a little deeper and this time took a look at how engaged the pages audiences are. F
resh Networks, a social media agency, recently came out with the Top 100 most engaged brands on Facebook. This threw up a number of surprises with Oreo India coming out top with a 9.44% engagement rate (worked out by: number of 'whos talking about this'/number of fans*100).
- This number can be skewed by a promotion that may have been going on that week. It will be interesting to see over a period of time how this works out. For this football specific post I used the same equation to work out the final positions. There is less chance of getting false positions because clubs dont tend to use any Facebook adverts, it is mainly derived from natural engagement and follower drivers.
- The top spot went to Norwich City with an astonishing 13.20%!! This was well ahead of the next club and shows how interested in the content the fans are and are active with showing this through likes, comments, shares, photo uploads, etc.
- Something that can also be taken from this is that the larger your fan base on your page the harder it is to keep them as engaged. We have seen that as pages grow then the % will always go down. This can be down to many just wanted the club badge on their profile, thus only visiting once, or that they have more casual fans than hardcore fans.
- T
he 'smaller' clubs such as QPR, Norwich, WBA and Fulham score really well and this has to do with their small but passionate following
. More will be local people who go to the games whereas your Man Utd's will have lots more fans from abroad than in England. Yes, some clubs can grow a massive following but what does it mean in the end? They have a large audience yes but is it achieving what its objectives are?
- A positive for the smaller clubs is that this could mean that their fans are more likely to also do other things on the page. Could f-commerce be a realistic option, do fans want something diferent on here than other clubs are expected to deliver, are there extra revenue and enegement opportunities here? It throws up some interesting thoughts.
- The likes of Newcastle, Swansea and Wolves have less to smile about though. They dont have the issues of scale as the global branded clubs do and yet dont make the same inroads with their fans as Norwich, etc do. Hopefully this can act as a wake up call and show them that have a reasonably large fan count isnt enough anymore.
- The majority of people are passive in their participation. This is where the 90-9-1 rule comes in – roughly 90% of all participants are passive and will just read posts, 9% will interact with comments/likes, whilst only 1% will actually curate their own content and will tend to be the 'super fans'.
- Below you can see smaller teams come out really well, whilst the big boys are in the bottom half. It is a surpise to see Liverpool down at the bottom with the amount of work they put into social media and their community on Facebook. It also shows what a great job the likes of Tottenham and Everton do, which often goes unnoticed.
- We'll wait to see what learnings can come from this metric. It has certainly thrown up some new challenges to those who administer the pages and a new figure to be measured against. Is this a good thing or making things more complicated now?
- As always, love to hear you thoughts on this.
Club Who's Talking About This Fan Count Engagement Rate (%)
1 Norwich City 1,479 11,203 13.20
2 QPR 2,607 26,715 9.76 3
Fulham 4,235 49,863 8.49
4 West Bromwich Albion 739 10,313 7.17
5 Tottenham Hotspur 49,046 819,904 5.98
6 Everton 9,272 182,650 5.08
7 Sunderland 1,430 29,732 4.81
8 Aston Villa 12,016 255,760 4.70
9 Wigan Athletic 205 4,749 4.32
10 Manchester City 46,543 1,089,755 4.27
11 Blackburn Rovers 986 23,498 4.20
12 Stoke City 1,290 36,021 3.58
13 Wolverhampton Wanderers 768 23,337 3.29
14 Manchester United 630,133 19,775,283 3.19
15 Swansea City 556 21,201 2.62
16 Arsenal 181,294 7,690,063 2.36
17 Newcastle 4,437 191,894 2.31
18 Chelsea 155,661 7,339,036 2.12
19 Liverpool 116,880 7,184,251 1.63
20 Bolton Wanderers n/a n/a n/a -
Sports Network