-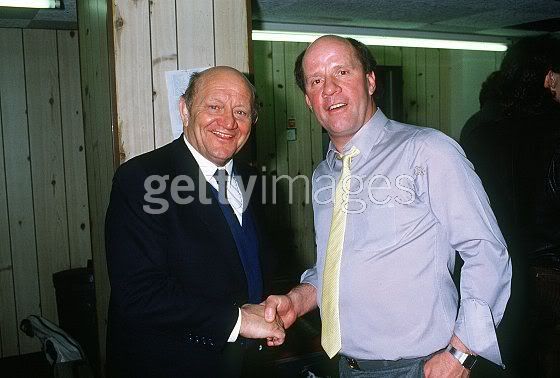 -
Happy Seventy-First Birthday to Jim Smith!
-
-
Throughout the day, the QPR Report Messageboard has news updates, comments and perspectives - even links to other board comments of interest re QPR matters (on and off the field) along with football (and ONLY football) topics in general....Also Follow: QPR REPORT ON TWITTER
_____________________________________________________________________________________
-
The Leak"
Reverberations continue to be heavily discussed on the QPR Messageboards (including of course,
QPR Report
) - but no club-Fan "interactivty" on this matter by various Club officials who tweet (other than perhaps the Club Media Director retweeting a Tweet by the person and co-owner of the Fan Site that provided the club with the fan's email address. Perhaps raising a question: "What's the real change resulting all this club involvement in the "New Social Media")
-
Year Flashback: Briatore Stalls QPR Sale
-
"Play at Loftus Road: Football Aid 2012"
-
Supposedly Foreign Football Owners of Premiership Clubs want to End Relegation (As if English owners would have very different perspectives, if they could)
-
Cardiff Set to "Intrude" on QPR's Malaysian Turf!
-
Chelsea New Stadium/Buying Back From Fans Update
-
MAIL - The Four Year Plan: Loftus Road, or more like Animal House - first night review

By Neil Ashton
In the final scenes of the film The Four Year Plan, Queens Park Rangers players celebrate with the Championship trophy and dance on a podium with medals around their necks.
After putting up with co-owner Flavio Briatore and chairman Gianni Paladini during the making of this tempestuous 96-minute documentary about life at Loftus Road, they certainly deserved them.
Briatore and Paladini brought a whole new meaning to the term 'boardroom interference' in this belter, with their barmy, scandalous behaviour at QPR. They pick on players, pick fights with their managers and pick the team during combustible scenes that make this an absolute must-see.
For anyone wondering how Briatore and his boardroom accomplices chewed their way through nine full-time and caretaker managers during the making of this fearless fly-on-the-wall film, look no further. Paladini routinely refers to their managers as 'idiots'.
Some of the scenes are baffling and even QPR's players stare in disbelief, their jaws dropping to the floor during frequent interruptions from the top.
It is impossible not to sympathise with the players, especially when winger Hogan Ephraim stands up for his team-mates in front of Briatore. Sadly, none of his fellow pros offer much support.
For Paladini, chairman when QPR were sanctioned by the FA over the Alejandro Faurlin dispute, the trawl through the past four seasons in west London is embarrassing and illuminating.
Paladini tells his managers: 'No-one will break your b***s at QPR — so long as you win', and refers to Rangers legend Gareth Ainsworth as 'that pr*** who is trying to get himself sacked'.
When Jim Magilton's future as manager is being discussed at a finance meeting, Paladini chimes in to say: 'If you force the issue, maybe you will p*** him off enough and he will leave.'
Weeks later they get their wish when Magilton is suspended after an altercation with his own player Akos Buzsaky at Vicarage Road.
Magilton has always denied wrongdoing, but Paladini puts people in the picture during yet another heated scene: 'You cannot headbutt players — after a while they lose their marbles.'
He loses the plot with Paulo Sousa's assistant Bruno Oliveira at half-time when he passes on a message from Briatore to bring on strikers during the second half.
At least Amit Bhatia, vice-chairman at Rangers, comes across as a voice of reason, adding a touch of class to the chaotic scenes.
The film is a beauty, winning Best Documentary at the four-day Marbella Film Festival over the weekend, and will soon be released in England. When it is, prepare for uproar.
Mail
PORTING LIFE - BARTON WAS OUT OF ORDER - WARNOCK
QPR manager Neil Warnock believes Joey Barton's comments about team-mate Adel Taarabt were a "little bit out of order".
After Saturday's 1-1 draw with Blackburn, Barton told Absolute Radio that the Morocco international needed to buck up his ideas.
The former Newcastle midfielder also admitted he has yet to see Taarabt's so-called "genius", all of which Warnock feels was a bit harsh.
"What he is saying about Adel I think is a little bit out of order," he told ESPN's Between the Lines.
"I think there is one or two lads in the team at the moment that could do better so sometimes you look elsewhere.
"If he wants Adel to chase about and tackle and run, he is never going to be able to do that."
Asked if it was Barton's place to make such comments, Warnock retorted: "I've not spoken to him. You're just telling me what has been said.
"I'll probably have a chat with him (on Tuesday) and see what he actually said."
QPR face a tough run of fixtures starting with a west London derby against Chelsea at Loftus Road this Sunday.
The R's then face a trip to Tottenham before welcoming Manchester City, against whom Warnock believes Taarabt could prove the difference.
"If you looked at what Adel is not good at, you wouldn't touch him with a barge pole," he said.
"You've got to look at what he is good at and we would not be where we are now without him, without me looking at what he is good at.
"Yes, he might not be able to crack in the Premier League. Even Adel doesn't know that yet.
"He is only a young lad. You forget he is a young kid really.
"I think he is trying very, very hard at the moment and the next few games will be interesting.
"I think when you're playing the top clubs you need that something special to win you games.
"We've missed his contribution goal-wise and hopefully, if Joey plays really well and some of the other lads play really well, the opportunities for Adel will come."
He added: "If Adel gets an opportunity and plays well he is an asset to anybody in that league.
"Yes, he has not scored in the Premier League yet, he has not set the world alight but he has had opportunities and I think [he will continue to do so] S
porting Life
- Buzsaky Knee Operation

THE SUN - Akos Buzsaky faces surgery
AKOS BUZSAKY faces surgery on his long-term knee problem.
The QPR midfielder, 29, has been playing with a cyst for the past two months and hoped to delay the op until the summer.
But the Hungarian will now go under the knife in next month's international break.
http://www.thesun.co.uk/sol/homepage/sport/football/3878033/Akos-Buzsaky-faces-surgery.html