-
From the Bushman Photo Archives
-
Next: Norwich vs QPR - Players who played for both Clubs
-
-
Throughout the day, the QPR Report Messageboard has news updates, comments and perspectives - even links to other board comments of interest re QPR matters (on and off the field) along with football (and ONLY football) topics in general....Also Follow: QPR REPORT ON TWITTER
__________________________________________________________________________________
- Remembering Kiyan Prince

- Scary Headline: "Borrowdale is Back"

- Three Year Flashback: QPR Axe Long-Serving Club Secretary Sheila Marson

- Three Year Flashback: Journalist Defends Flavio Briatore re QPR Stories

- Five Year Flashback: Ugo Ukah Back on the QPR Programme

- Chelsea Move to Battersea?
-
Interesting Article: Football and the 1936 Olympics
-
The Four Year Plan: Dutch Review of the Film (Translated into English)
-
Ask Vinnie Jones: Call-in
-
The Soccerex Global Convention Set to Begin in Brazil
-
Update: Poppy Shirts Coming Soon! The QPR Poppy Shirts for Charity:
-
The QPR Official Supporters Club (OSC): Is that still in "limbo'?
DAILY MAIL/SAMI MOKBEL - QPR run out of patience and offer wantaway Taarabt a way out in January
-
Adel Taarabt's days at Queens Park Rangers look numbered, with the club trying to sell him in January. Rangers have instructed third parties to find a buyer for the Morocco midfielder.
Manager Neil Warnock will be handed in the region of £15million to spend to strengthen his squad by co-owners Tony Fernandes and Amit Bhatia and he is keen to supplement that by offloading Taarabt after being given the green light to do so.
No longer A-delight: Taarabt has been angling for a move away from QPR
QPR want £15m for the player, as they would be obliged to hand over 40 per cent of Taarabt's next transfer fee to his former club Tottenham. The high asking price is proving a stumbling block to a move — he was close to signing for Paris Saint-Germain in the summer but they were eventually put off by the price.
Fulham's Andy Johnson and Tottenham duo Jermain Defoe and Sebastien Bassong are among Warnock's targets
http://www.dailymail.co.uk/sport/football/article-2065868/Adel-Taarabt-leave-QPR.html#ixzz1effXv8Zv

- Lee Cook Joins Orient on Loan
Dave McIntyre/West London Sport - QPR assistant boss pays tribute to Cook
QPR assistant manager Mick Jones has paid tribute to Lee Cook following his loan move to Leyton Orient.
Cook, 29, has struggled with knee problems in recent seasons and as a result did not make a single competitive appearance for Fulham after they signed him from the R's in 2008.
The popular winger returned to Loftus Road the following year but has been unable to rediscover his fitness and form, and has been out of the first-team picture for some time.
He has joined League One side Orient for an initial month with a view to extending his spell there if he performs well.
"He'd have liked to have played higher up, but at this stage I think the important thing for him is just to play games," Jones told West London Sport.
"The lad has been a great servant to QPR and it's a tragedy that he's had the injury problems he has.
"What I love about the guy is that he's not bitter and doesn't feel sorry for himself like you get with some footballers. He doesn't go around saying 'Life's dealt me a bad hand' or any of that.
"He's a great person, he really is, and I really hope that in the next stage of his career he can play some games and enjoy his football."
Cook is expected to make his O's debut in Saturday's match at Sheffield Wednesday.
Rangers spent much of Thursday trying to find takers for Rob Hulse and other fringe players in a bid to get them out on loan before the deadline.
Hulse recently turned down a temporary move to Doncaster because he did not want to be away from his family, who live in the south.
West London Sport

SPORTING INTELLIGENCE
QPR, Norwich and Swansea's starts give them at least 76% survival chance
By Brian Sears
24 November 2011
As Swansea City's manager Brendan Rodgers starts talks about a new contract, analysis by Sportingintelligence shows that Swansea and their fellow promoted teams in the Premier League – QPR and Norwich – each have at least a 76 per cent chance of survival this season, based on their decent starts.
Even before a ball was kicked, history suggests the promoted trio each had a 53.6 per cent chance of survival. This is based on 56 teams previous being promoted to the Premier League since 1992, and 30 of those 56 teams (or 53.6 per cent) surviving their first season. That means 26 of the 56 immediately went down.
This season, all three promoted teams have made promising starts and have gained a total of 41 points, having played 12 games each, with QPR on 15 points, and Norwich and Swansea on 13 points each.
Among the 56 promoted teams in the past 19 seasons, 34 of them amassed 13 or more points from their first dozen games, and of those 34, eight were relegated (or 23.5 per cent), meaning the survival rate for 13 points after a dozen games is 76.5 per cent. (Details of the eight who went down are in the table below).
On this basis, Norwich and Swansea, with 13 points after 12 games, each have a 76 per cent survival chance.
QPR's chances with 15 points after 13 games, are even better. Among promoted teams, only 24 have amassed as many points from the first 12 games, and only four of those, or 16.7 per cent, ended up relegated. So that means 83.3 per cent survived – and that's QPR's survival chance now.
The highest tally for a promoted side after 12 games was amassed by Nottingham Forest in 1994-95 (with 27 points) followed by Wigan (25 points in 2005-06) and Blackburn (25 points in 1992-93).
The lowest tallies were amassed by Swindon (five points from first 12 games 1993-94) and Sunderland (five points in 2005-06), then Derby (six points in 2007-08).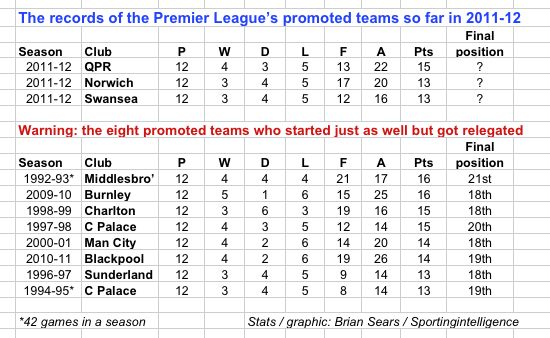 Sporting Intelligence

.
-
Third Round of the FA Youth Cup: QPR Will Play Huddersfield at Loftus Road
-
Ten Year Flashback: Brentford 0 QPR 0
-
Video - Behind the Scenes of QPR in the Community
-
Arrest Warrant for Portsmouth Owner!
The Independent - Correction - Jim Magilton
Tuesday 22 November 2011
Independent
-
Behind the Scenes at QPR in the Community
-
The QPR Book By Gramps