-
-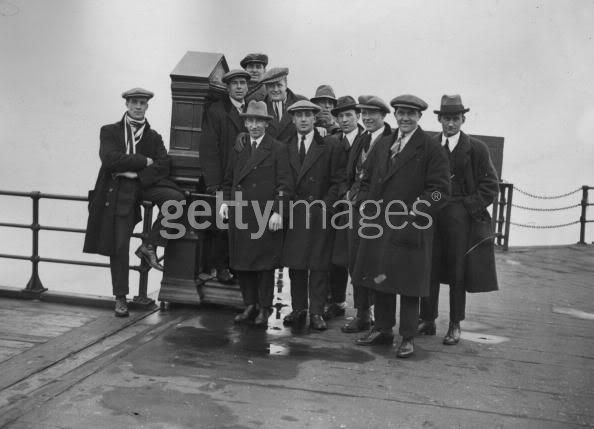 ""11th January 1924: Queens Park Rangers FC soccer players on the pier at Southend, Essex"
-
-
Throughout the day, the QPR Report Messageboard has news updates, comments and perspectives - even links to other board comments of interest re QPR matters (on and off the field) along with football (and ONLY football) topics in general....Also Follow: QPR REPORT ON TWITTER
__________________________________________________________________________________
-
"The Four Year Plan" Being shown at the Amsterdam Film Festival This week
-
Set to Pass the 1,000 Pound Mark for Money raised for QPR in the Community! Congratulations to John Clifford (Gramps): A NEW BOOK ABOUT QPR: Just out: a new personal account by a QPR fan, John "gramps" Clifford of what it was like following QPR in the old days (The late 1930s, 1940s, 1950s and 1960s.) The Book's title is "Queen's Park Rangers: The Old Days (1939-1970)" and includes a forword by former QPR (Three-time) player, Mark Lazarus, and former longtime QPR Club Secretary, Ron Phillips
-
Foreward by Mark Lazarus. Introduction by Ron Phillips - BOOK ORDER DETAILS
-
Hogan Joins Charlton on Loan
-
Dean Parrett Turns 20...Four Years Ago, Bob Malcolm Joined QPR on Loan...Nine Years Ago: Vauxhall Motors (Part I!)
-
Eight Year Flashback: Ian Holloway Talking about QPR in a Q&A
-
Asian Football Awards: Nominees include Lakshmi Mittal and Tony Fernandes.
-
Next: STOKE City- Past Results...Played for Both Clubs
Gerry Francis - Stoke Official Site - No Room For Sentiment
GERRY Francis admits there will be no room for sentiment as he carries out his Stoke City duties when they host Queens Park Rangers at the Britannia Stadium this weekend.
City's First Team Coach served the Londoners for the best part of 20 years as both a player and manager from the 1970s through to the 1990s, whilst both of his sons, Adam and Jake, are currently plying their trade at Loftus Road.
Francis, a former England captain, is still held in high regard by the Rangers faithful for his exploits both on and off the field during his time in Shepherds Bush, but despite that he admits his loyalties now well and truly lie with Stoke.
"It's a Club close to my heart for sure, but I will undoubtedly be committed to doing whatever I can to help Tony Pulis and the players pick up three points on Saturday," he told Potters Matchday Magazine.
"As much as I look for QPR's results, this game is for real, so we're going to be looking to bounce back from the Bolton defeat with a win.
"You can probably count on one hand the really poor performances that we've had since I've been here. We let ourselves and the fans down a bit against Bolton.
He added: "I think there are circumstances that didn't help us, obviously before the game and leading up to the game, but you can't use them as excuses.
"You have to learn to handle the European fixtures and then come back and play well in the Premier League. I think we needed the international break.
"Kenny Dalglish was moaning about two games in the space of three days, but we had three in six which included a trip to Israel! I think the break helped us recuperate, and hopefully that will show on Saturday."
To read the full interview with Gerry Francis then make sure you pick up your copy of the latest edition of Potters Matchday Magazine this weekend.
Rammed full of interviews and features with the likes of Danny Higginbotham, Tony Pulis, Ryan Shawcross and Francis, it's a publication no supporter should be without on matchday.
Priced at just £3.00, make sure you don't miss out and pick up your copy from one of the Matchday Magazine sellers around the Stadium http://www.stokecityfc.com/page/NewsDetail/0,,10310~2516802,00.html
QPR OFFICIAL SITE - INJURY UPDATE
NJURY UPDATE: BOOT-IFUL FOR DJ
Posted on: Wed 16 Nov 2011
DJ Campbell has his protective boot removed on Monday afternoon and in doing so moved a step closer to a QPR return.
The 30 year-old striker has not featured for the R's since coming on as a substitute in our defeat at Fulham in October after fracturing the fifth metatarsal in his left foot in training.
After a frustrating spell on the sidelines, Campbell is now eyeing up a return to action before the end of the year, as Head Physio Nigel Cox revealed.
"DJ had a pin put into the toe on October 20th, and he is coming along very well," Cox told www.qpr.co.uk
"He is out of the boot after three weeks and now we will gradually increase his activity.
"We could see him back and available to the Manager in the next three to four weeks."
With Kieron Dyer, Matt Connolly, Fitz Hall, Akos Buzsaky and Bradley Orr all in the treatment room in recent weeks, Cox provided a full update.
"Kieron Dyer is doing really well at the moment," he said.
"He suffered a ligament sprain to the forefoot in our opening game of the season against Bolton.
"It was a very delicate injury and we have had to take our time with it, but he is now finally free of his controlling boot and is able to do some running.
"Matt Connolly has been out with an ankle sprain he suffered in training. He is now back running and doing functional movements, so we are hopeful he will be returning to the squad in the not-too-distant future.
"Fitz Hall suffered a hamstring injury in our game at Tottenham. He has been working hard to overcome that and he could be in line to feature in the squad for this weekend's trip to Stoke.
"Akos Buzsaky missed our game against Manchester City owing to an Achilles problem. He has had an anti-inflammatory injection into the area to calm that down and returned to full training this week. Now we will see how he reacts.
"Bradley Orr has had a similar problem, and he had an injection last week as we took advantage of the international break.
"The pair returned to full training this week and have been flying. All being well, they could both be in contention for Saturday."
QPR

Daily Star/Mike McGrath - SHAUN DERRY: RACE ROW MAKES QPR STRONGER
16th November 2011
SHAUN DERRY claims the John Terry race row has just brought QPR closer together.
On Monday, England captain Terry ­insisted he had worldwide support over ­allegations he racially abused Rangers ­defender Anton Ferdinand.
But 33-year-old midfielder Derry says the QPR ­dressing room has united behind ­Ferdinand – and gained strength from it.
He said: "Everyone has an opinion, that is what makes it so interesting. What we do is come together as a team when we play.
"For that situation alone, somebody might have a different view than the ­person sat right next to them in the changing room. But automatically we're a team, he's our player and we're together.
"He's our team-mate. What we can't do is voice opinions in the media because you're on a loser in that situation.
"But, for us, Anton is our player and we're right behind him, just as John Terry is a Chelsea player and his team-mates are right behind him. That's how it's got to be in that dressing room."
The incident took place during QPR's win against Chelsea at Loftus Road last month.
That victory was part of an impressive start to their Premier League campaign for the newly-promoted west London club.
But Derry, speaking on talkSPORT radio, puts it all down to inspirational Hoops boss Neil Warnock.
Derry said: "He comes to life on matchday, that hour-and-a-half before kick-off.
"His team talks leading into the battle, that is when he really shows his colours.
"We lost 4-0 on the opening day and it was disastrous. But he flipped it on its head and said he would rather lose 4-0 in the Premier League than play in the Championship. It got the lads thinking in a positive way.
"Before the big boys arrived, survival was what we were looking at and rightly so.
"Now we have signed these new players and everyone has lifted their standards. I'm hoping we're not going to be in the nitty-gritty battle at the bottom."
As well as Ferdinand and Shaun Wright-Phillips, Rangers also signed Joey Barton ­during some frantic transfer activity.
Derry said: "Joey has been great. The ­standard has been lifted – he's demanded that instantly in training.
"That is the kind of guy he is. He is very forward with everything he does."
Daily Star
DAILY MAIL/Sami Mokbel
Bassong and Johnson on QPR wish list as Warnock gets £15m survival war chest
Neil Warnock will be handed up to £15million to keep Queens Park Rangers in the Barclays Premier League.
And the west London club are pressing ahead with plans to tap into the lucrative Asian market with a pre-season tour of Malaysia.
The Loftus Road boss flew to Abu Dhabi on Friday ahead of critical talks with co-owner Tony Fernandes on Sunday night regarding the club's January transfer plans.
In demand: Fulham's Andrew Johnson
Wanted: Tottenham defender Sebastien BassongWanted: Tottenham defender Sebastien Bassong
Top targets: QPR are keen to land Fulham's Johnson (L) and Spurs star Bassong
And the Malaysian businessman will hand the veteran manager - who says he wants 'four or five new players' - between £10m-£15m to bolster his squad in January.
Top of Warnock's shopping list is a new striker and central defender, with Fulham forward Andy Johnson and Tottenham's Sebastien Bassong prominent on Warnock's shopping list.
Meanwhile, the club are lining up a tour of Malaysia next summer as they step up their effort to break the Asian football market.
War chest: Neil Warnock will be handed transfer funds to ensure QPR's Premier League survival
War chest: Neil Warnock will be handed transfer funds to ensure QPR's Premier League survival
Fernandes, who owns Air Asia, is a leading businessman in the Far East region and has identified south-east Asia as a key aspect of the club's marketing strategy.
Sportsmail revealed last month how QPR are planning to open an Asian HQ to lead their attempts to cash in on the Premier League's popularity in Asia.
Manchester United, Arsenal, Chelsea and Liverpool have all been on lucrative tours of Asia in recent summer's and QPR are keen to follow suit.
http://www.dailymail.co.uk/sport/football/article-2061748/Andy-Johnson-Sebastien-Bassong-QPR-wish-list.html#ixzz1drESsbdV

Lewis PR

Chelsea net title of Premier League social media champions
Chelsea have come top of a table of Premier League clubs for the way they engage with fans across the internet, according to a new study released today.
The Blues finished ahead of Liverpool, Arsenal and Spurs and trounced League leaders Manchester United who were ranked eighth overall. Blackburn, Bolton and newly-promoted Swansea occupied the bottom three places in the league.
The study by technology consultants LEWIS Communications examined a range of factors such as the number of Twitter and Facebook followers, level of interaction with fans, ease of online access and app development and attached a score to each.
The research found that despite having the highest number of Facebook fans – 19 million - Manchester United were using the popular social networking site mainly to broadcast messages and doing little to engage with followers. There was also little interaction with the club's 20,000 Twitter followers.
The Old Trafford side's Facebook following is nearly three times that of Arsenal in second place on 7.5 million, Liverpool and Chelsea both on seven million each and Manchester City on one million. The Big Five's combined Facebook audience dwarfs the other 15 clubs in the division which muster just over 1.6 million between them.
United were one of just three teams along with Fulham and Norwich not to have an iPhone app although none of the Premier League clubs have an official Android app.
The table will make welcome reading for Chelsea fans who saw their team well beaten by their Manchester rivals in the title race last season. The Stamford Bridge club post daily Facebook and Twitter updates and they are the only team with a press area on their website along with Wolves. They also have interactive spaces on their website for supporters and are present on YouTube and the photo-sharing site Flickr.
Out of the 20 teams, only Bolton don't have an official Facebook presence and Aston Villa and West Brom are the only sides with an official LinkedIn page. Swansea is the only club without a Twitter page.
The report found that Manchester United striker Wayne Rooney was the Premier League's top tweeter with 1,567,967 followers, taking over from team-mate Rio Ferdinand on 1,516,559. Other players with big Twitter audiences include Manchester City's Sergio Aguero on 1,023,159 and Arsenal's Jack Wilshire on 893,424.
"Social media has fundamentally reshaped the way people interact with the world around them and this is no more apparent than within the field of sport," said Alex Clough, digital strategist at LEWIS Communications. "Platforms such as Facebook and Twitter have allowed a new generation of fans to connect with their football idols and teams in ways that they haven't been able to within the modern game and clubs need to embrace this.
"It's important that clubs do not just use these social channels to broadcast their messages but also to open up an authentic dialogue with fans to answer queries and complaints as promptly and efficiently as possible."
A lot has been made in recent times of the relationship between footballers and social networking. In January, Ryan Babel, then of Liverpool, was fined £10,000 by the Football Association after he posted a mocked-up picture of referee Howard Webb in a Manchester United shirt.
Other players like Joey Barton, Carlton Cole and Danny Gabbidon have also been in trouble with the FA over their use of social networks. Newcastle manager Alan Pardew has called on the Premier League to issue guidelines on acceptable social media use in the wake of the furore over Barton's tweets about his relationship with the Geordie club before he moved to QPR.
Clough said: 'It's critically important for clubs to have a clear strategy for social media and guidelines for players and staff about what's acceptable and what isn't.
"With the global appeal of the Premier League, fans from around the world will increasingly look to engage with clubs and players via social networks.
"Those that don't get a handle on it risk scoring a huge own goal online."
An infographic with the results can be found below.
Click on the images
to see larger versions.
Lewis PR
PREMIER SOCIAL MEDIA LEAGUE
PREMIER SOCIAL MEDIA LEAGUE
1
CHELSEA
2
LIVERPOOL
3
ARSENAL
4
MAN CITY
5
SPURS
6
ASTON VILLA
7
EVERTON
8
MAN UNITED
9
NEWCASTLE
10
SUNDERLAND
11
WOLVES
12
STOKE
13
NORWICH
14
WBA
15
FULHAM
16
WIGAN
17
QPR
18
BLACKBURN
19
BOLTON
20
SWANSEA
TWITTER DREAM TEAM
Wayne Rooney: 1,647,609
Rio Ferdinand: 1,535,811
Sergio Aguero: 1,047,599
Jack Wilshere: 911,172
Michael Owen: 709,232
Robin Van Persie: 625,915
Nani: 611,247
Joey Barton: 591,184
Samir Nasri: 473,870
Lucas Suarez: 364,833
David De Gea: 296,775
(Stats taken at 12pm on 10/10/11)
Lewis PR
-
The QPR Poppy Shirts for Charity: When are they/will they be put on sale
-
The QPR Official Supporters Club (OSC): Is that still in "limbo' almost six months later?
-
John Terry and Chelsea "Matter" Goes on and on
-
Pellicori and Alberti Updates
-
Recalling QPR's 1976-77 Season: Photos and Articles from the Bushman Archives
-
New Official QPR App for Iphone
- Trial get underway for Former QPR Director, Kevin Steele (on Non-QPR Related matter)

London 24/Tom Moore -Poll: Which out-of-contract QPR player would you keep?
Vote in our poll
and we will reveal the results next week.
London 24