-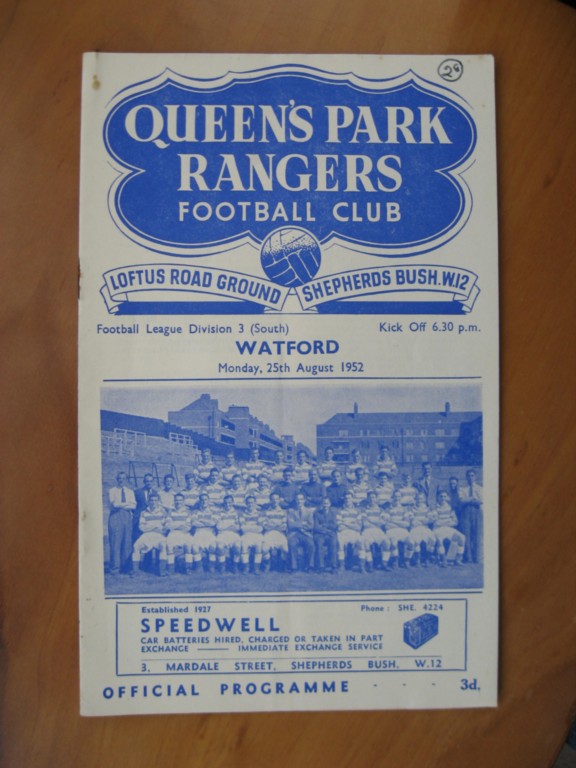 -
-
For QPR and Football Updates throughout the day, also check the QPR Report Messageboard/quasi-blog. Join in or just read the various QPR and football-only discussions!
-
An invitation to QPR Supporters across the globe! Whatever country. Whatever continent. Whatever age. Whatever Perspective: Come post on the growing, truly-International, QPR and football-only QPR Report Messageboard
_____________________________________________________________________________________
-
Saracens Set to Leave Watford. Loftus Road Possible New Home
-
On This Day in 1968: QPR's Very First Away Game in the First Division: Against Champions-to-be, Leeds United Away
-
Several Ex-QPR Birthdays (Ready, Allen, King, Metchick)
-
Three Year Flashback: QPR Chairman Antonio Caliendo: The Club Not for Sale
-
Today Sheffield United
and
Additional Sheffield United vs QPR Previews
-
Chris Charles Weekly Blog
-
Ex-QPR Director in Court Again
-
Too Fat. Lose Weight. Or Get Fined!
-
Liverpool's Raheem Sterling in England U-17 Squad
-
Helping Pakistan Victims
-
On This Day in Football History: August 13
-
QPR Season Tickets Sold: Updated Number 6,993
-
Ipswich Jon Waters (A reported QPR Target) Supposedly Stripped of Captaincy and possibly Dropped
-
What Premiership Clubs Got Paid for Shirt Sponsorships
Neil Warnock/The Independent - Saturday, August 14, 2010

Neil Warnock: To Bramall Lane via Liberec, Rabat and Reykjavik. It is not exactly perfect preparation
What I Learnt This Week
Our season has barely begun but some of my players were involved in really big games this week.
Kaspars Gorkss had to travel to Liberec in the Czech Republic to get beat 4-1 for Latvia. That will do my centre-half's confidence a world of good. Heider Helguson jetted off to Iceland to play in the much-awaited top-class fixture against Liechtenstein. They managed to claw out an excellent 1-1 draw against the team ranked 5,473rd in the world. Finally, Adel Taarabt flew off to Rabat to play for Morocco in their eagerly anticipated fixture against those household names from Equatorial Guinea. Morocco won 2-1 and Adel got back yesterday.
Am I dreaming all this? What have these countries got out of these games? It is ridiculous that a club the size of QPR loses three players (it would have been four, but Akos Buzsaky had to withdraw from Hungary's squad to play England) at this stage of the season, travelling around the world. No wonder Harry Redknapp and the Premier League boys commented about the needlessness of it all, but at least they have a big squad to choose from. QPR and a lot of Championship clubs do not have that luxury. We even had to put an injured player on the bench last weekend.
I was not surprised to see so many Championship clubs knocked out of the Carling Cup this week. Saying that, I'm taking nothing away from Port Vale, who beat us. They were worthy winners and now look forward to an attractive tie at Fulham.
Our preparation for today's game against my old club Sheffield United, who themselves went out against Hartlepool, was further disrupted yesterday when the train north was late, then made unscheduled stops, before terminating unexpectedly at Derby. That meant another train ride, to Chesterfield, to be met by the team bus, which had already gone up to Sheffield with the kit.
2. It's alway a relief to get that first victory under your belt
It was a relief to get a win in our opening game against Barnsley last weekend. Even though the 4-0 scoreline flattered us, any manager will tell you how important it is to get a win under the belt. I remember at Sheffield United once going six or seven matches before the first win and the pressure to get one was unrelenting.
The results last weekend underlined how wide open the division is this season. The two results that most caught my eye were Ipswich winning at Middlesbrough and Scunthorpe at Reading. Two great away wins.
The shocks started on Friday night, with Watford winning at Norwich in the first game of the season. I have to say I was delighted for Malky Mackay. Paul Lambert will not appreciate that, but everybody's written off Malky's team as relegation fodder and it was not just the result but the performance that Malky deserved to enjoy. He has had a lot to put up with since taking over but I have a lot of time for him and Watford fans have got to be grateful at this moment, when money is in short supply, to have someone as enthusiastic and dedicated as Malky in charge. He was the same as a player and nothing has changed. If you wanted anyone in the trenches with you when the going gets tough, he'd be one of the first I'd have. I think Norwich will bounce back over the next few months and enjoy a good season. It is another good club, and Paul will soon adapt to Championship football.
Another surprising result was Millwall's fantastic result at Bristol City. That obviously helped Steve Coppell towards a feeling of calling it a day. I know how he felt, and you have to appreciate if you can't get yourself motivated you are better off out of management because it is horrible if you are not enjoying it.
3. Say sorry for winning? Fat chance of that happening
I played tennis on Wednesday, at the very impressive Queen's Club in London. Our chairman, Gianni Paladini, and his friend Antonio played against myself and Ishan Saksena, the chairman of QPR Holdings.
It was my first game for two-and-a-half years. Until I had my hip done, I was not able to play. I certainly made up for lost time as we played on three different courts, each with a different surface. We began on a synthetic, then they said there had been a cancellation so we had the second set on grass. It was like velvet. The final set was on clay.
There is one thing about tennis I can't understand. In one set, it was very close, and I won a crucial point with a shot that hit the net, rolled along it, then finally dropped on opposite side. As I was walking back for the next point, Ishan said to me: "You should say you are sorry when that happens". I said: "I can't be a hypocrite, I'm from Sheffield. I'm not sorry, I'm delighted." But even the pros do it. How do people apologise like that?
The best thing is we won and, unbeknown to me during the game, that meant Antonio took us to eat at his own restaurant. We were still in our whites, not even showered, and it was one of the best meals I have ever had. I said to Antonio: "I don't know where we will take you if you ever beat us." Let's hope they don't.
4. It's time for Capello to give England's new faces a chance
It was good to see Phil Jagielka back in the England squad after the horrific injury that cost him a place in the FA Cup final – that's the 2009 final, it was so long ago – and a chance of making a run for a World Cup place. Players like him and the other new faces now have to be persevered with and given a chance when the real matches arrive, the qualifiers. I do hope Fabio Capello plays Jack Wilshere with Gerrard. Wilshere reminds me of a young Alan Ball and that combination will give us more drive. Things off the pitch were less well handled, especially the Beckham situation. Fabio can usually get away with saying there was a language problem, but not this time.
Then there was the fiasco over Paul Robinson and Wes Brown retiring. All that followed the failure to speak personally to Paul Scholes . Someone at the FA should be covering Fabio's back. One other point: what a fantastic crowd, 72,000!
5. Beware of deals that seem to good to be true
I was driving with the kids this week and Amy blurted out: "Look at that!" There was a doctor's surgery, and outside were three people smoking. She said: "Is it any wonder they are at the doctors?"
Then my eldest, Natalie, told us she had these flights "ever so cheap" to Thailand. I asked her when she was flying and she said next Friday... then I realised why they were cheap. Yes, Friday the 13th, yesterday – she's on her way now. I said to her: "Should be plenty of space on the plane."
6. Start of the Premier League season's got me talking on air
I've really enjoyed doing some radio work in the past six months and now I have been asked to do a slot with Talksport on as many Sunday afternoons as I can make. I am looking forward to starting tomorrow with Alan Brazil. We go on air at noon, which should be late enough for Alan to make it.
I find it quite relaxing, a break from management, so please don't phone in if you are going to be abusive. I am leaving myself open if we lose but the main thrust is the Premier League so, tomorrow, we'll be looking forward to Liverpool v Arsenal. It should be a cracker.
7. Sad news puts everything into perspective
When you are shouting at the ref, or the manager, at the end of today's game, just spare a moment to think about Adam Stansfield, the Exeter City player who passed away with bowel Cancer this week at 31 years of age. He only found out about it in March. He was married with three boys. They have my deepest sympathies. Never mind a bad result, if you have health and happiness you have everything.
Independent
Sheffield Star - PADDY KENNY RUNS SHEFFIELD UNITED'S GAUNTLET OF HATE
- By Jeremy Cross
PADDY KENNY returns to Sheffield United today as Bramall Lane's Public Enemy No.1.
The Republic of Ireland keeper, 32, has become a hate figure for Blades fans who will never forgive him for deserting the club that loyally stood by him through his drugs shame.
The Blades kept faith with Kenny when he was banned for nine months after failing a routine drugs test after his side's promotion play-off semi-final showdown against Preston in May last year.
But Kenny threw the loyalty back in their faces by walking out on the Blades in a £750,000 switch to QPR earlier this summer.
He will be forced to run a gauntlet of hate from fans who once idolised him when he trots out at his old stamping ground.
And Blades boss Kevin Blackwell said: "From the feedback I am getting, I think it is safe to say that Paddy is in for a fairly hot reception from our fans.
"And I hope it affects him because he is the enemy now. I think there will be a few people here looking for him to throw one in."
And Blackwell piled the pressure on his old mate and Loftus Road boss Neil Warnock by declaring anything short of automatic promotion for big-spending Rangers would have to be regarded as a failure.
"Wealth like theirs does not guarantee success, but when you look at what they have splashed out then anything less than a top-two finish would be a failure," he said.
Daily Star
QPR Official Site - FRANKIE [Sutherland] CALLED UP
- Posted on: Fri 13 Aug 2010
- Frankie Sutherland has been named in the Republic of Ireland U18 squad for this month's International Tournament in the Czech Republic.
- The Republic of Ireland face the host nation on Tuesday 24th August, before taking on Ukraine two days later in their second Group B Match.
- They are also scheduled to play on Saturday 28th August, opponents to be confirmed.
- Turkey, Slovakia and Hungary make up Group A.
QPR
-
Maidenhead Advertizer -Mo SHARIF JOINS QPR
Slough Town starlet Mo Sharif has signed a one-year contract with Championship side Queens Park Rangers following a successful trial.
Maidenhead Advertiser
-
See Earlier Sharif/QPR Stories
-
Five Years ago yesterday, QPR defeated Sheffield United. Off the field, assertions were made...Arrests were made...and ultimately: All Charged were found NOT Guilty
.
-
A few Warm Memories from an Ex-QPR Staffer