-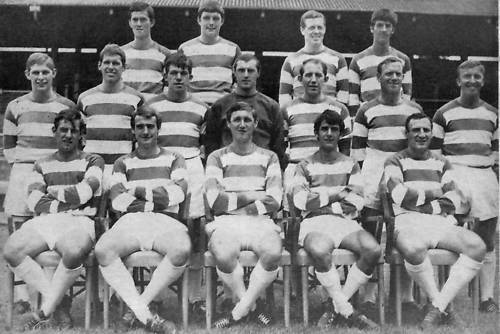 -
Forty-Five Years Ago Today: QPR Now Under Jim Gregory and Starting a Relationship with the Allen Family, started their 1965/66 Season Disastrously!
-
-
For QPR and Football Updates throughout the day, also check the QPR Report Messageboard/quasi-blog. Join in or just read the various QPR and football-only discussions!
-
An invitation to QPR Supporters across the globe! Whatever country. Whatever continent. Whatever age. Whatever Perspective: Come post on the growing, truly-International, QPR and football-only QPR Report Messageboard
_____________________________________________________________________________________
-
Scunthorpe at Loftus Road
-
QPR Closed Door Friendly/Scrimmage With West Ham Will Reportedly be This Coming Tuesday (Not this past Week)
-
Ex-QPR Youth Goalie, Liam O'Brien Set to Go Out On Loan From Portsmouth
-
Second (unamed) Club probably in the Championship, interested in Bournemouth's Brett Pittman who turned down Blackpool
-
Jamie Mackie Ranked #1 in the Championship (Seven QPR player ranked in top 40 of Championship)
-
Twelve Years Ago Today: Nigel Quashie Left QPR (for the first time!)
-
Thirty-Four Years Ago: QPR's Disatrous Home Start to the Season
-
2009/10 VIDEO: Chelsea Reserves Defeating QPR Reserves
-
Putting Everything in Perspective: Wigan Minute of Silence Before Chelsea Game for Serviceman killed in Afghanistan
-
Paul The Pscyhic Octopus Supports England 2018 World Cup Bid!
-
As Part of "Non League Day" - Come Support Harrow
-
World Blind Football Championships: It's England vs Brazil in the Semi-Final
-
Premier League at Hysteria Pitch - The Mad World of the Premier League
-
Stephen Ireland Blasts Manchester City
-
Finding The Next FA Chairman: FA Playing Dangerous Game
-
JNet Radio Monday night
(August 23) from 9:00 Pm: "First QPR fans forum, with ex Chief Executive and fan Mark Devlin , Mark Flack and Pete Davies" - Call 020 89067777and emails studio@jnetradio.com -
www.jnetradio.com
Independent - Neil Warnock: Cipriani is training with us – he has a great left foot, but I hope he doesn't tackle my lads too hard
- What I Learnt This WeekYou may have heard that Danny Cipriani has been training with us.
He's looking to keep fit for his new job in Australia, and I think he also fancies seeing just how good his football skills are these days – apparently he was on our books for a while as a teenager. He's a nice lad with a good attitude. You can see why he has done well in rugby, he has great enthusiasm and a winning temperament.
He's fitted in quickly with the lads. They have even sorted him out with his own hairdryer. I know he's quite high-profile but footballers are usually pretty relaxed about that sort of thing – though it might have been different if it was David Beckham coming in.
He's got a good left peg and he will play a couple of reserve games before he goes off to Melbourne – Mick Jones said he can play all of them if he brings down one of his celebrity girlfriends to watch.
He doesn't hold back. Some of his tackles are like watching Clint Hill but he does come from a very physical sport. Contrary to what people have said, when he shoots it does not always go over the bar.
2. Day at Test is perfect cure for my transfer window blues
I suffered the worst part of management this week: failing to land players I had spent weeks chasing. My training ground office is OK, but it is not somewhere you want to spend your life. Yet on Monday I was in there for eight hours, non-stop telephoning. On Tuesday I was in there for 14 hours, leaving only to go to the toilet. I usually keep the blinds shut, but I had to open them to see if it was still light. It left me knackered mentally. I'd liked to have been tired physically but every time I decided to go for a workout the phone rang.

In my early period as a manager if I spent weeks, sometimes months, chasing a player and lost him at the last minute I would have been cutting my throat, but as you get older you think what will be, will be. I am a big believer in fate and sometimes these things turn out for the best. It might mean I sign someone else, or a player we already have comes good.

So although for 24 hours I am disconsolate, I just start all over again
. This time I refreshed myself by going to The Oval for the first day of the Test. I'd been invited by one of my old Crystal Palace friends and I thought, "That is just what I need", so I toddled off and really enjoyed it. There is nothing like watching sport live. I was astounded how fast the Pakistani bowlers were. I couldn't see the ball. Nor, it seemed, could most of the England batsmen.
I can't believe how much people drink at cricket, yet there does not seem to be much bother. I didn't have a glass of wine till one, by then some were past their sixth pint.
3. I may be mad but chatting to two old deers is so therapeutic
I left The Oval shortly after tea. With the family in Cornwall I had a couple of hours cycling round Richmond Park and felt much better for it.
I don't understand all these boy racers who come flying past, they don't look at anything. When I see deer I stop and admire what a beautiful sight they are. You can get really close to them. On Wednesday I found myself confronted by two stags in one of the wilder parts of the park. I couldn't have been more than six or seven metres away. They just looked at me and I found myself talking to them. I said, "I tried to sign them, what more could I do?" One stag seemed to shake his head. We chatted on, then eventually I said, "Cheerio, see you next week".
When I finished my conversation I thought I better look round to make sure there was no one looking at me. They'd have thought I had a brick loose.
4. Why plastic is not fantastic in the Champions League
I came in from my bike ride to find Spurs 3-1 down in Switzerland. It was only when I watched the tape I appreciated why they had begun so badly. They were clearly not confident with their movement and footing. Teams should not be allowed to play on plastic in the Champions League. It is such an advantage to the home team. I can recall taking sides to Oldham and QPR when they had plastic pitches and I hated it. I bet at three-nil Harry was thinking, "All that work last year, 38 games, to get kicked out on a plastic pitch in half an hour". Then Pavlyuchenko scores a fantastic goal that probably tips the tie in their favour. Not that they should be complacent, not when Young Boys won at Fenerbahce.
5. I once got a real mouthful from that great pro 'Bellers'
The transfer of the week has to be Craig Bellamy going to Cardiff. I'm one who says good luck to Dave Jones, the lucky so-and-so. You can't tell me he wasn't in City's best XI last year. I just wish we had a few footballers' families living next to Shepherd's Bush.
He is a far better pro than people give him credit for – people will be surprised to hear he has only been sent off once in the last eight years. He is very demanding, of himself and everyone else, which might make training interesting. He will take some handling, though. I remember when we played City last year at Palace. We were down to 10 and I was trying to get a sub on. He came running down the line with the ball. I shouted out jokingly, "Kick it out will you, Bellers, we are trying to get a sub on." He gave me a right mouthful. I was just glad I hadn't said anything rude.
It is a real coup for Cardiff, but from a football point of view it would be nice if they paid their bills first. I do sympathise with Motherwell having to digest Bellamy's arrival when they are still owed.
6. It's no coincidence Blackwell went after my win at Blades
The week started with a great win at my old club Sheffield United. Obviously, the euphoria of getting such a great result was tempered when, within a few minutes of the final whistle, their manager Kevin Blackwell, my old assistant, lost his job.
I find it incredible that a manager can lose his job after two games, especially as I thought they did well in the first one at Cardiff. I can only think the presence of myself, as a former Sheffield United manager, did not help, but I am sure Kevin will have learnt a lot and he will not be out of work long. When he sees all his staff staying on I know how hurt he will feel as the same thing has happened to me, but life goes on and he'll be better for it in the long term.
Gary Speed has taken over. He'll be surprised how different it is now his title is changed to manager. You can't turn an opportunity like that down but I am a big believer in young coaches starting at a lower level than the Championship. The time I spent at Gainsborough, Burton Albion and Scarborough didn't do me any harm.
7. The gap between Newcastle and Man U was staggering
As a Championship manager you follow the fortunes of the clubs promoted into the Premier League and there were wildly contrasting ones on the opening weekend. Blackpool surprised everybody – though Ian will fear the worst at the Emirates today – Newcastle and West Brom found it tough.
Newcastle were by far the best team in the Championship but they were so far behind Man U it was untrue. Chris Hughton could not have asked any more from his players, they gave everything, yet apart from Carroll's two chances they were chasing shadows. When you play the top three or four clubs away from home it is really about keeping the goal difference down – as West Brom will have thought ruefully after the Chelsea juggernaut scored six against them.
8. Great fun at talkSport, shame about the sandwiches
I really enjoyed my debut on talkSport last weekend. If you get bored on a Sunday afternoon...Last week Alan Brazil (he likes the 12 o'clock start – it means he can come straight from his night out), Ray Parlour and Tony Cascarino were in the studio with me and we discussed a lot. The time flew past. It should go even quicker this week, they have live commentary on Fulham v Newcastle from half-one so we'll just sit back and listen.
That'll be when I unpack my sandwiches. I didn't realise last week that you had to bring your own. By four o'clock I was starving. I'll pack up this week and bring some coffee as well.
9. Elvis helps stop me feeling lonesome while family is away
It's strange not having the family here. When they are here you are always looking for somewhere you can have some quiet time, like the end of the garden, where they can't pester you. Then the house just feels so empty, and far too quiet, when they are away. I'm almost lost. I've never been closer to Elvis (our chameleon, remember?).
Independent
Ealing Gazette Ealing kids meet QPR star Josh Parker
Aug 20 2010 By Paloma Kubiak
- LUCKY youngsters got to meet footballer Josh Parker at a West Ealing sports centre on Wednesday afternoon.
- The 40 children had a question and answer session with the QPR player and were taught some of his football skills before he signed autographs and awarded prizes to the star players.
- Josh Parker who took a break from training to spend the afternoon with the children at Trailfinders Sports Club in Vallis Way, as part of a QPR and Texaco partnership of summer activities, said: "Days like this are always fun to be involved in and it's very rewarding passing on some of my knowledge and tips to these kids.
- "I remember being their age and days like this will inspire them and hopefully keep them out of trouble and away from their computers. I was very impressed by the standard, let's hope that some of them make it into QPR's Academy in a few years time."
- Stuart McBride, Brand Specialist at Chevron, owners of the Texaco brand, said "As an official partner to the npower Championship, the Texaco brand wants to ensure it is giving something back to grassroots football and days like these can only benefit the club and the children involved.
- "We are delighted to be involved with QPR this summer."
Ealing Gazette
-
QPR Payments of £465,240 to Agents from July 1, 2009 to June 30 2010 went for: 8 New Registrations/Transfers. 12 Updated Contracts. 3 Cancelled Contract. 16 Loans. Total: 39 Transactions- American Youth Tries Out With QPR
Orlando Sentinel/Steve Ruiz - Oviedo soccer player trains with English youth team
-Oviedo soccer player Nick May, who plays for the Florida Rush club team, has been training and trying out for the Queens Park Rangers, an English youth team. The stint originally was set to end after one week, but May, 17, was asked to stay for another week after impressing officials. He played well in central defense in the Rangers' 2-1 loss to Crystal Palace.
Orlando Sentinel
-
QPR Youth Players: Great Bio Details (From Last Season, But Still Mostly Valid)
-
Three Year Flashback: QPR Directors Nico De Marco, Kevin Steele and James Ferrary as Precursor to Briatore/Ecclestone Takeover
-
QPR Season Ticket Sales Now Up to 6,941