-
-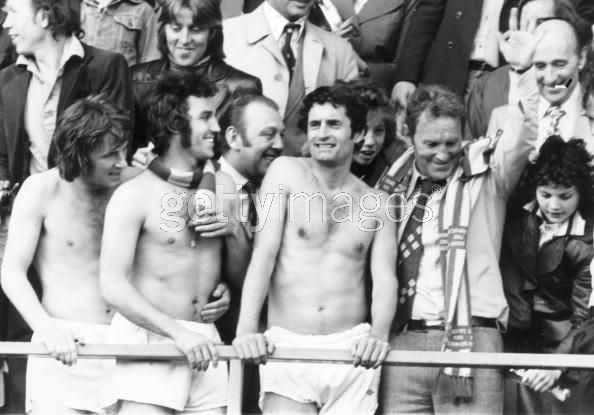 -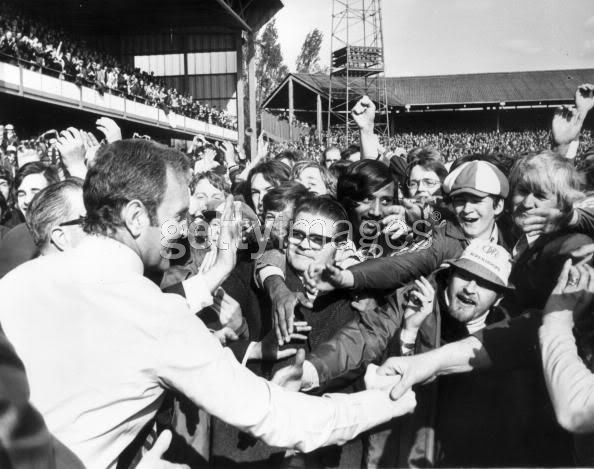 -

-
Today marks the 35th anniversary of the 1975/1976 Season. Presumably/Hopefully the club will be commemorating this year in style. Parkes - Clement Mclintock Webb Gillard - Masson Francis Hollins/Leach - Thomas Bowles Givens
And never forgetting Dave Sexton, Jim Gregory - and the man who built the team: Gordon Jago (along with players who helped get us to this spot such as Terry Venables).
VIDEOS FROM 1975/76
-
VIDEOS: QPR Defeating Liverpool
-
Video: QPR Defeating Everton
-
Video: QPR Defeating Stoke
-
The 1975-76 Season (for all clubs) In Video
FLASHBACK July 2006 - When Saturday Comes, from 2006
As good as it got Queens Park Rangers 1975-76
Queens Park Rangers 1975-76
- Thirty years ago a west London club very nearly won the title – and it would have been a popular success, too. Graham Dunbar recalls QPR's finest 42 games
- It is April 17, 2006, Easter Monday, and Queens Park Rangers lose 3-2 at Norwich in the definitive meaningless and mediocre end-of-season game. Two teams playing second-rate, second-tier football in what could be the worst five-goal affair anyone has seen; a match with no significance beyond reminding both clubs that the Premiership is a distant dream.
- Flip back 30 years and it is April 17, 1976, Easter Saturday in the old Division One, and QPR again lose 3-2 at Carrow Road, with rather more at stake. On a blazing hot holiday weekend, the top-flight title is on the line and, if you buy even slightly into the arguments of chaos theory, the future of European club football is about to be shaped.
- A hugely popular QPR team would lose the title by a single point to Liverpool, who, trophyless the previous year, would beat Wolves in a controversial last game, finish the season by winning the UEFA Cup and, 12 months later, hoist the European Cup for the first time. For want of a win in Norfolk, chaos theory says, the Reds' rule over Europe was allowed to happen.
- Gerry Francis was Rangers captain in a season that kicked off with a 2-0 defeat of Liverpool at Loftus Road. He was their inspiration during a glorious final 15-match run of 13 wins, a draw and that single defeat on the penultimate Saturday. Francis would recall: "Those points lost at Norwich could have been the difference. You can't believe we lost the game."
- The game has lost plenty in the last three decades. Comparing the state of our football nation in 1976 with today is fairly banal and pointless, but let's have a go – what QPR achieved perhaps compares with what Wigan did for the first half of this season.
- A decade before becoming every neutral's delight, QPR had meandered round 15 home grounds and settled in Division Three when Jim Gregory, a real-life Arthur Daley before the fictional one, joined the board. Money began to be spent, on Les Allen, a Double-winner at Tottenham, and Rodney Marsh from Fulham – the start of a series of raids on London rivals that served Rangers spectacularly well.
- Alec Stock's side won Division Three in 1967 at a stroll, just weeks after leaping into the nation's living rooms in maybe the best League Cup final of all, the first at Wembley, before a live television audience – when that actually meant something. First Division West Bromwich Albion's 2-0 half-time lead was brushed aside by goals from Roger Morgan, Marsh after a mazy dribble and Mark Lazarus.
- Another promotion the next year just set up QPR as the next Northampton Town, for a debut top-flight season even Sunderland fans would count as disappointing. But Gordon Jago arrived and built his 1972-73 promotion team by selling Marsh and gambling on the genius of Stan Bowles. A procession of apprentices were blended with wise old heads such as Frank McLintock, two years on from leading Arsenal to the Double, then David Webb (whose barrel chest hardly suited being wrapped in hoops) and John Hollins, downsized from Chelsea to Shepherd's Bush.
- When Jago went early in 1974-75, another King's Road refugee, Dave Sexton, spent most of his first season in charge dealing with Bowles's tantrums and assembling a midfield even Stan would be mad to turn away from. Francis started and bare-shinned winger Dave Thomas came on in Don Revie's first England game – a 3-0 qualifying group win against eventual European champions Czechoslovakia – and full-backs Dave Clement and Ian Gillard soon joined them. At Revie's time of greatest need, the World Cup qualifier in Italy in November 1976, he turned to Bowles. (It didn't work, but that's not the point.)
- Francis was 23 when Revie made him captain after humiliating Scotland in 1975. "Just to get in the England team you were competing with Bell, Ball, Hudson, Brooking and Currie for just two places in midfield. It was an honour for a QPR player to be England captain." Gerry announced his authority with the goal of the season past Ray Clemence as Rangers started the season by beating Liverpool; Stan weighed in with a hat-trick in a 5-1 demolition of Derby County, the reigning champions, a week later.
- Quite how and why QPR did not win the title is a football tragedy. They were the best and most entertaining team, were unbeaten at home, never slumped and beat every side in the division except West Ham. Frankly, Norwich fans should be ashamed of their club – and their good fortune on the day – for spiking Rangers' champagne.
- Francis has a vivid recall of the game that should be disturbing in a grown man with a long and successful career, and is actually painful to hear. "We totally dominated but you have games where nothing seems to go right. In the first half I was sent through by Stan and lobbed Kevin Keelan from 25, 30 yards but it landed on top of the net. Keelan made a couple of great saves from me." Match reports detail Keelan, himself a loveable Seventies maverick, laughing when a close-range Webb header hit him and bounced away.
- At the other end, a ludicrous mix-up gifted Ted McDougall a goal before a manically determined Thomas equalised. While Liverpool were beating Stoke City 5-3 at Anfield, Norwich scored two more – a fluke shot from Peter Morris and Phil Boyer's header while offside – before giving Rangers a late own goal.
- Rangers finished with home wins against Arsenal and then Leeds on the last Saturday, as Liverpool put their feet up while John Toshack played for Wales in a European Championship quarter-final against Yugoslavia. Ten days later, Francis and co watched in a Thames TV studio as Liverpool struck three times in the last 13 minutes at Molineux.
- "The bad taste in our mouth wasn't necessarily from losing the Norwich game, though people point the finger at it, but the way Liverpool didn't have to play their last game on the same day. They should have played under the same pressure – we were in a television studio watching our season slip away. When Kevin Keegan scored most of us walked out."
- The last hurrah for Sexton's side was a goal-strewn run to the UEFA Cup quarter-finals, before losing on penalties at AEK Athens, while Liverpool took the European Cup road leading to Rome and immortality against Borussia Mönchengladbach.
- Francis says: "We could have gone a long way in the European Cup. We played the sort of football that was equipped for European competition, but there's no doubt Liverpool were an outstanding side. Quality-wise, we were a match for Liverpool, but they could strengthen and we were a small, selling club."
- So QPR almost matched the Derby side of 1972 in winning the league three seasons after getting promoted. In 1978 Nottingham Forest would do it a year after coming up in third spot. Instead, Rangers joined Ipswich Town at club level and Holland on the world stage as vibrant sides in the total football era who fell just short of a defining triumph but are all the more beloved for it. "Everyone says QPR were their second-favourite team at that time, a nice, family club – like Ipswich and Norwich – who were consistent and could beat anybody on their day," says Francis.
- A generation on and a world away, QPR, Derby and Ipswich are all mired in the second division having spent parts of the 21st century in administration. And whatever happened to Liverpool in Europe? WSC
The Times April 18, 2004
- Caught in Time: QPR, championship runners-up, 1975-76Rob Maul
Deep within the BBC Television centre in White City, London, QPR players congregated around a small TV set to watch the final game of the season. Ten days earlier, QPR had beaten Leeds at Loftus Road to complete their League campaign, sending them top of the old First Division. Because of Liverpool's involvement in the Uefa Cup, the Merseyside club still had to play Wolves. The game at Molineux was crucial, as only one point separated the teams.
-"It would not happen now," says Gerry Francis, QPR captain that season, who saw the second half at the BBC. "It would have been fairer if Liverpool and QPR had played at the same time." Despite trailing 1-0 with 15 minutes to go, Liverpool scored three times to claim the title. "How many chances will QPR have of winning the championship?" said Francis.
QPR's manager, Dave Sexton, had built a strong team, including Francis, Stan Bowles and Frank McLintock. They remained unbeaten in the League at home. In 1979 the club was relegated to the Second Division, but, for 10 days at least, QPR were the best team in the country. [The numbers refer to a photograph, which is not carried on the website.]
1 Steve Jones A former QPR apprentice, Jones did not play for the first team. In 1979 he moved to Walsall and then to Wimbledon, where he remained until 1982, when injury ended his career. Owns a nightclub in Windsor
2 Tommy Cunningham Signed on a free from Chelsea in May 1975, Cunningham made 30 appearances before moving to Wimbledon in March 1979. He played most of his career at Leyton Orient and later became assistant manager at Brisbane Road. Now director of football at Harlow Town in the Ryman Division One North
3 Tony Tagg The central defender played four times under Sexton before moving to Millwall on a free transfer and then Wimbledon. He later became a taxi driver
4 Don Givens Givens won 56 caps for the Republic of Ireland, for whom he scored 19 goals. He coached Arsenal's youth team and then worked in Switzerland. He has been Ireland's under-21 coach since 1999
5 Martyn Busby Busby had two spells at QPR. He also played for Portsmouth and Notts County. He broke his leg during his second spell with the club and then became manager of non-League clubs Beaconsfield United and Maidenhead United. Runs a painting and decorating business near Slough
6 Phil Parkes If Ray Clemence and Peter Shilton had not been around, Parkes would have been England goalkeeper for many years. He won the FA Cup with West Ham in 1980 after they smashed the transfer record for a goalkeeper (£560,000) and he played 344 games for both clubs in a career that spanned 22 years. Returned to QPR in September 1991 as goalkeeping coach, but now runs a building firm in Reading
7 David Webb Best known for his 1970 FA Cup final-winning goal for Chelsea, Webb formed a solid defensive partnership with Frank McLintock. After QPR, he played for Leicester and Derby before managing Bournemouth, Torquay, Southend and Chelsea. He runs a property business
8 Keith Pritchett A Scot who played for Wolves, Doncaster, QPR and Blackpool, Pritchett spent most of his career with Watford. Emigrated to New Zealand, where he became a manager and then a football writer
9 Richard Teale Understudy to Parkes, Teale made only two appearances before moving to Fulham in August 1976. Runs a building firm in Eggham, Surrey
10 Ron Abbott Spent his entire, but admittedly short, career with Rangers, making 54 appearances. Once the central defender left QPR, he became a London taxi driver
THE TIMES THE SUNDAY TIMES TIMES+ The TimesThe Sunday TimesArchive Article Please enjoy this article from The Times & The Sunday Times archives. For full access to our content, please subscribe here MY PROFILE 11 Mick Leach Won promotion from the Third Division with QPR in 1967 and spent 13 years at Loftus Road, before moving to Detroit Express in 1978 for a fee of £30,000. He later went into coaching. Leach died in 1992, aged 55, after a long illness
12 Don Shanks Moved to QPR from Luton Town in 1974, making 206 appearances and scoring 11 goals before joining Brighton on a free in 1981. Now a children's football coach, travelling around Europe and America
13 Stan Bowles One of football's most colourful characters, Stan was, alongside Rodney Marsh, arguably QPR's greatest player. Gambling problems dogged his career, and he should have won more than five England caps. He started his career with Manchester City, before moving to QPR from Carlisle. Was unemployed for a long spell, until he coached with David Webb at Brentford. He is writing his second autobiography
14 Gerry Francis Captained club and country, but spent much of his career battling injury. After Rangers, he played for Crystal Palace, before returning to QPR, Coventry, Exeter, as player-manager, Cardiff, Swansea and Portsmouth. He cut his managerial teeth with Bristol Rovers, then managed QPR between 1991-94, lifting the team to fifth place in the Premiership, before taking over at Spurs. Runs a number of theatre and property companies and presents a weekly football show on Sky Sports News
15 Ian Gillard A reliable full-back. Caught the eye of England manager Don Revie and made his international debut against West Germany at Wembley in 1975. In 1982 he moved to Aldershot as a player-coach. Worked at the Mars factory in Slough before scouting for QPR and coaching at the Reading School of Excellence. Runs a cleaning firm
16 Don Masson Scottish midfielder who signed from Notts County in December 1974 and went on to make 144 appearances, scoring 24 goals before moving to Derby County in 1977. He ended his playing days at Notts County. Runs a hotel near Nottingham
17 John Beck Beck played for QPR, Coventry, Fulham, Bournemouth and Cambridge, before becoming manager at Abbey stadium in 1990. After taking Cambridge to successive promotions and an FA Cup quarter- final, he managed Preston and Lincoln City. He returned to Cambridge, but resigned in November 2001
18 Danny Westwood A prolific goalscorer for QPR's reserves after joining from Billericay Town in July 1974, Westwood made only one appearance for Rangers before moving to Gillingham. He works in the City of London
19 Frank McLintock Captain of the Arsenal Double-winning side of 1970-71, he was one of the few defenders to win Footballer of the Year. Capped nine times by Scotland, McLintock moved into management with Leicester and Brentford. He also became an agent and set up the Cash Converter chain of shops. Aged 64, he is a Sky Sports pundit
20 John Hollins A member of Chelsea's FA Cup and Cup Winners Cup teams of the early 1970s, Hollins later became manager at Stamford Bridge before being sacked. Managed QPR, Swansea and Rochdale. Aged 57, he manages Stockport Tiger-Star in China
21 Don Rogers Goalscoring hero of Swindon Town's League Cup victory in 1969, Rogers came to QPR via Crystal Palace. After retiring, he opened a sports shop in Swindon
22 Dave Thomas A quick winger who joined QPR from Burnley in 1972, making 220 appearances and scoring 33 goals before joining Everton in 1977. Later became Portsmouth's youth coach. He lives in Chichester and teaches PE at a local secondary school
23 Dave Clement Father of West Brom's Neil, Clement was capped five times by England. After Rangers, he moved to Bolton, Fulham and Wimbledon until retiring in 1981. He committed suicide in 1982, aged 34
http://www.timesonline.co.uk/tol/sport/article827617.ece
QPR Stats for 1975/1976
Final 1975/1976 English Division 1 (SOCCERBASE)
Liverpool 42 14 5 2 41 21 9 9 3 25 10 60 .1290
QPR 42 17 4 0 42 13 7 7 7 25 20 59 .0303
Man Utd 42 16 4 1 40 13 7 6 8 28 29 56 .6190
Derby 42 15 3 3 45 30 6 8 7 30 28 53 .2931
Leeds 42 13 3 5 37 19 8 6 7 28 27 51 .4130
Ipswich 42 11 6 4 36 23 5 8 8 18 25 46 .125
Leicester 42 9 9 3 29 24 4 10 7 19 27 45 .9411
Man City 42 14 5 2 46 18 2 6 13 18 28 43 .3913
Tottenham 42 6 10 5 33 32 8 5 8 30 31 43 .0
Norwich 42 10 5 6 33 26 6 5 10 25 32 42 .0
Everton 42 10 7 4 37 24 5 5 11 23 42 42 .9090
Stoke 42 8 5 8 25 24 7 6 8 23 26 41 .96
Middlesbro 42 9 7 5 23 11 6 3 12 23 34 40 .0222
Coventry 42 6 9 6 22 22 7 5 9 25 35 40 .8245
Newcastle 42 11 4 6 51 26 4 5 12 20 36 39 .1451
Aston Villa 42 11 8 2 32 17 0 9 12 19 42 39 .8644
Arsenal 42 11 4 6 33 19 2 6 13 14 34 36 .8867
West Ham 42 10 5 6 26 23 3 5 13 22 48 36 .6760
Birmingham 42 11 5 5 36 26 2 2 17 21 49 33 .76
Wolves 42 7 6 8 27 25 3 4 14 24 43 30 .75
Burnley 42 6 6 9 23 26 3 4 14 20 40 28 .6515
Sheff Utd 42 4 7 10 19 32 2 3 16 14 50 22 .4024
NB: In English Division 1 (old) 1975/1976 goal average applied instead of goal difference - Soccerbase
RESULTS Queen's Park Rangers 1975/76.
2-0 Home v Liverpool 1975-08-16 1st Division, 1975/76, Match 1
1-1 Home v Aston Villa 1975-08-19 1st Division, 1975/76, Match 2
5-1 Away v Derby County 1975-08-23 1st Division, 1975/76, Match 3
2-2 Away v Wolverhampton Wanderers 1975-08-26 1st Division, 1975/76, Match 4
1-1 Home v West Ham United 1975-08-30 1st Division, 1975/76, Match 5
1-1 Away v Birmingham City 1975-09-06 1st Division, 1975/76, Match 6
4-1 Away v Shrewsbury Town 1975-09-09 Football League Cup, 1975/76, Round 2
1-0 Home v Manchester United 1975-09-13 1st Division, 1975/76, Match 7
0-0 Away v Middlesbrough 1975-09-20 1st Division, 1975/76, Match 8
1-0 Home v Leicester City 1975-09-23 1st Division, 1975/76, Match 9
1-0 Home v Newcastle United 1975-09-27 1st Division, 1975/76, Match 10
1-2 Away v Leeds United 1975-10-04 1st Division, 1975/76, Match 11
1-1 Home v Charlton Athletic 1975-10-07 Football League Cup, 1975/76, Round 3
5-0 Home v Everton 1975-10-11 1st Division, 1975/76, Match 12
3-0 Away v Charlton Athletic 1975-10-14 Football League Cup, 1975/76, Round 3 (Replay)
0-1 Away v Burnley 1975-10-18 1st Division, 1975/76, Match 13
1-0 Home v Sheffield United 1975-10-25 1st Division, 1975/76, Match 14
1-1 Away v Coventry City 1975-11-01 1st Division, 1975/76, Match 15
0-0 Home v Tottenham Hotspur 1975-11-08 1st Division, 1975/76, Match 16
1-3 Home v Newcastle United 1975-11-11 Football League Cup, 1975/76, Round 4
1-1 Away v Ipswich Town 1975-11-15 1st Division, 1975/76, Match 17
1-0 Home v Burnley 1975-11-22 1st Division, 1975/76, Match 18
3-2 Home v Stoke City 1975-11-29 1st Division, 1975/76, Match 19
0-0 Away v Manchester City 1975-12-06 1st Division, 1975/76, Match 20
1-1 Home v Derby County 1975-12-13 1st Division, 1975/76, Match 21
0-2 Away v Liverpool 1975-12-20 1st Division, 1975/76, Match 22
2-0 Home v Norwich City 1975-12-26 1st Division, 1975/76, Match 23
0-2 Away v Arsenal 1975-12-27 1st Division, 1975/76, Match 24
0-0 Home v Newcastle United 1976-01-03 F.A. Cup, 1975/76, Round 3
1-2 Away v Newcastle United 1976-01-07 F.A. Cup, 1975/76, Round 3 (Replay)
1-2 Away v Manchester United 1976-01-10 1st Division, 1975/76, Match 25
2-1 Home v Birmingham City 1976-01-17 1st Division, 1975/76, Match 26
0-1 Away v West Ham United 1976-01-24 1st Division, 1975/76, Match 27
2-0 Away v Aston Villa 1976-01-31 1st Division, 1975/76, Match 28
4-2 Home v Wolverhampton Wanderers 1976-02-07 1st Division, 1975/76, Match 29
3-0 Away v Tottenham Hotspur 1976-02-14 1st Division, 1975/76, Match 30
3-1 Home v Ipswich Town 1976-02-21 1st Division, 1975/76, Match 31
1-0 Away v Leicester City 1976-02-25 1st Division, 1975/76, Match 32
0-0 Away v Sheffield United 1976-02-28 1st Division, 1975/76, Match 33
4-1 Home v Coventry City 1976-03-06 1st Division, 1975/76, Match 34
2-0 Away v Everton 1976-03-13 1st Division, 1975/76, Match 35
1-0 Away v Stoke City 1976-03-20 1st Division, 1975/76, Match 36
1-0 Home v Manchester City 1976-03-27 1st Division, 1975/76, Match 37
2-1 Away v Newcastle United 1976-04-03 1st Division, 1975/76, Match 38
4-2 Home v Middlesbrough 1976-04-10 1st Division, 1975/76, Match 39
2-3 Away v Norwich City 1976-04-17 1st Division, 1975/76, Match 40
2-1 Home v Arsenal 1976-04-19 1st Division, 1975/76, Match 41
2-0 Home v Leeds United 1976-04-24 1st Division, 1975/76, Match 42 - Results

-
For QPR and Football Updates throughout the day, also check the QPR Report Messageboard/quasi-blog. Join in or just read the various QPR and football-only discussions!
-
Compilation of Match Reports & Comments re Sheffield United 0 QPR 3