-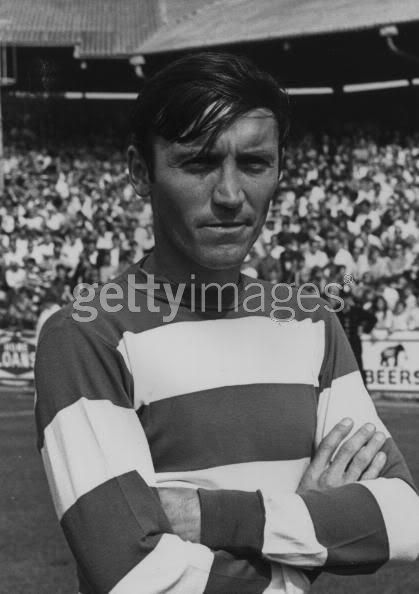 -
Forty Two Years Ago Today: Then-Recording Signing, Barry Bridges Made His QPR Debut
-
For QPR and Football Updates throughout the day, also check the QPR Report Messageboard/quasi-blog. Join in or just read the various QPR and football-only discussions!
-
An invitation to QPR Supporters across the globe! Whatever country. Whatever continent. Whatever age. Whatever Perspective: Come post on the growing, truly-International, QPR and football-only QPR Report Messageboard
_____________________________________________________________________________________
-
Closed Door Friendly/Scrimmage with West Ham Today
QPR Official Site- Rowlands Returns
Martin Rowlands is set to step up his recovery this afternoon when he features for the Reserves in a behind-closed-doors friendly against West Ham United at the Club's Harlington training ground.
- Rowlands, 31, has been sidelined since suffering a knee injury in October while on international duty with the Republic of Ireland.
- QPR Manager Neil Warnock told www.qpr.co.uk: "Martin is excited at the moment - he's absolutely busting a gut in training. "It will feel like a fantastic signing when he's back - I couldn't buy anyone better than him."
- Alessandro Pellicori, Patrick Agyemang and Gary Borrowdale have also been named in Ronnie Jepson's squad.
- Please note, this match is a strictly 'behind-closed-doors' fixture. Please do not attempt to attend this game as you will not be granted access to the training ground.
- QPR Squad: Danny Fitzsimmons, Romone Rose, Alessandro Pellicori, Martin Rowlands, Max Ehmer, Lee Brown, Jordan Hibbert, Patrick Agyemang, Michael Doughty, Michael Harriman, Bruno Andrade, Elliott Cox, Gary Borrowdale, Joe Oastler, Elvijs Putnins, Nikki-Lee Bulmer, Trialist.
QPR
-
Video: QPR Fans Speaking at Scunthorpe Game
-
Congratulations to Gareth Ainsworth: Five Hundred Appearances
-
The QPR 2010/11 Team Photo
-
Could-Have-Been QPR!: Marlon King Set for Coventry
-
Pellicori Set for Italy Return?
-
Four Years Ago Today: Graham Mackell Appointed QPR CEO...and within Months Was Axed
-
Birthday for Ex-QPR Leroy Rosenoir (46)
-
Online Streaming Fails With Viewers
-
English Clubs Made Big Money From Champions League
-
Joey Barton Nazi Salute?
-
For any messageboard reader (from any club) who's ever read an ostensibly ITK ("IN THE KNOW") POSTER: A brief really brilliant video - "The In The Know Video"
-
Congratulations to Bradley Orr: QPR's Representative in this Week's Football League Team of the Week!
-
American Youth Player Tries Out With QPR
WAITING FOR OFFICIAL DAVE KITSON TO QPR ANNOUNCEMENT
-
Been on various messageboards (for several days) and reported various places.
Guardian Blog/Michael Hann Tuesday - Adel Taarabt: signing of the summer?
QPR's Moroccan international is so dominant, it raises worries about where inspiration will come from when he's absent
Adel Taarabt leads Scunthorpe players a merry dance during QPR's weekend win at Loftus Road. Photograph: David Field/Action Images
Despite Manchester City's valiant attempts to prove otherwise, there are still bargains to be had in English football, and QPR look to have secured the best of them this summer in the purchase of the Adel Taarabt from Spurs. For a reported £600,000 rising to £1m, Neil Warnock has bought a player whose early season form suggests he might just be the best in the Championship.
Taarabt spent last season on loan at Loftus Road, and while he was easily the most watchable thing about a team that spent much of the season struggling, he was no more than a distraction. He was prone to selfishness and sulking – at managers, referees and team-mates alike – and for all his ability, one suspected he was one of those players who couldn't harness it for the good of the team.
It's probably fair to say that Warnock's is not the first name that comes to mind when one thinks of managers capable of getting the best out of temperamental flair players, but that's just what he's done. The Rs' manager claims to have spent three months persuading the Moroccan international to make his loan permanent, has rebuilt the team to free Taarabt to be the playmaker, and kept up his Love Unlimited policy by making him skipper for Saturday's visit by Scunthorpe.
And how he was rewarded: Taarabt was imperious. Inside the first half-hour he'd performed multiple Cruyff turns, had twice played 50-yard crossfield passes to feet with the outside of the boots, had reduced the Scunthorpe defence to shreds with several dribbles, had one penalty appeal turned down (it looked legitimate from where I was sitting, but I'm a QPR season ticket holder and my judgment might not be wholly neutral), and set up the Hoops' opening goal with a perfectly delivered inswinging corner (he set up the second, too). There were audible gasps from those around me (and from me) at his daring, and appreciation that this daring was in service of the team rather than his own ego. Even the Iron's official minute-by-minute report described him as "a joy to watch". Taarabt won this game for QPR, and he's going to win plenty more, too – though he's so dominant it raises worries about where inspiration will come from when he's absent.
So, a million for him – what could go wrong? Plenty, I fear, desperately though I hope otherwise.
For starters, he's going to get booked a lot for diving, as he was on Saturday. The problem is that he's too good for most Championship defenders. He has the power and skill to burst into the box repeatedly, and he is going to get fouled often. But no referee is going to be willing to give four penalties to the same player in one game, and so I fear legitimate penalty claims will go ignored, and cards will be brandished. One worries that Taarabt might start taking this personally.
Second, he'll become a target for the Championship's hard men, who'll just try to kick him out of games. He doesn't appear to have any fear, but there's a better than average chance that he'll try to get his own back and find himself in more trouble than the original offenders.
But the biggest worry for Rangers is that he will, literally, prove too good for the Championship and be on his way before Loftus Road has seen the best of him. If the form he's shown in the first three games of the season continues to Christmas, he's going to be an inviting target for Premiership clubs who need to spruce up their squads in the January transfer window, and – sadly – it's hard to imagine Rangers turning down a good offer. It's also hard to imagine Taarabt rewarding Warnock's faith with loyalty: after all, if you'd been called the new Zidane as a teenager, wouldn't you want to prove it at the top level.
In the meantime, though, if you're anywhere near west London on a Saturday afternoon when the Rangers are at home, pay a visit to Loftus Road. QPR fans are mentioning Taarabt's name in the same sentence as those of Bowles and Marsh: and, yes, he really is that great to watch. Treat yourself.
Guardian
MIRROR - QPR plot £2m bid for Stoke striker
- Warnock is ready to save Dave Kitson from his Stoke nightmare with a £2million bid.
- QPR boss Warnock wants to offer Kitson an escape route as he bids to power up his promotion challenge at Loftus Road.
- Kitson has been training with the Potters youth team this summer will be allowed to quit the Britannia Stadium.
- He was the club's record buy of £5.5m two seasons ago but Tony Pulis is prepared to cut his losses on the former Reading star.
Mirror
-[
Kitson's Record/Articles re Kitson
]
Dave McIntyre Blog - Even I can see the positives
- I laughed at a text from a friend on Saturday night saying he'd just seen the most positive Sunday-paper match report I've done on Rangers for about five years. But on reflection, he wasn't far wrong.
The last time QPR looked this strong was during a spell last season under Jim Magilton, when they were giving opposing teams a good hiding.
The problem then was, as so often, things were not right off the pitch and when that's the case it's only a matter of time before things go wrong on it.
There was also the issue of what happened when opposing teams stood up to Rangers, who for some time have had the ability to take any Championship side to the cleaners on their day.
That question mark is still there, although Neil Warnock seems prepared in a way I never sensed Magilton's side was.
Warnock knows there will be days Adel Taarabt doesn't shine and opposing teams will play better – and have better luck – than recently. There are reasons to think Rangers are more equipped to come through that test than they were a year ago.
Another difference is that Warnock is mainly looking to improve in areas he actually needs to, whereas last season yet more daft signings – Ben Watson and Steven Reid especially – broke up Rangers' momentum.
Warnock needs to get a striker or two, and then QPR need to put the chequebook away and finally end the ridiculous, constant influx of players that has been relentless in recent years.
Yes, they could do with (yet) another forward, although teams have finished above them in recent years, and in some cases won promotion, with lesser squads on paper.
I still think they have a fair chance of signing Jason Roberts on a permanent basis, but that one was never going to be done quickly.
It's an area Warnock's right to look at. But I was as surprised he thought Jon Walters would be a worthwhile signing as I was by Rangers believing they had all but signed him last week, when Stoke always seemed his most likely destination.
Another player Warnock definitely likes is Martin Rowlands.
I did fall for it in Saturday's post-match press conference when he said he was close to getting a top midfielder, for a second I did think: "news to me, who the hell's he on about?"
He went on to explain that it was Rowlands, who is expected be back in action soon.
Warnock has been talking Rowlands up for some time, and suggested recently that he's the only player not in or very close to his first team who is capable of forcing his way into it (which shows how relatively weak the squad is).
When Warnock took over at QPR one of my first thoughts was that, if he can stay fit, Rowlands should do very well because he has one big thing in his favour: Warnock's teams tend to be strong through the middle, with midfielders who sit and others who push forward, and Rowlands is fairly unique in that he can play in either role. Plus, he doesn't like playing wide.
He's also a strong character, the type of which Rangers lacked without him before signing the likes of Shaun Derry, Bradley Orr and Clint Hill.
Orr's also handy in that he's a good talker, as he proved after the game on Saturday.
I've lined him up as Damien Delaney's long-term replacement as man who can be counted on to talk after a game, especially a bad defeat. Assuming Rangers still do defeats now. -
Dave McIntyre Blog
The Paladini/Caliendo/Dunga "Coup" - Five Years ago Today.
Some days after "The alleged Incident" at Loftus Road before the Sheffield United game, Dunga controversially flew in...The Board met...Bill Power and Mark Devlin went home...and Bill Power was controversially voted out and Mark Devlin was made redundant. But this was just the start of quite a year.
BBC- Power is removed as QPR chairman
Gianni Paladini has taken control at Loftus Road
Queens Park Rangers chairman Bill Power has been removed and chief executive Mark Devlin sacked.
Director Gianni Paladini, backed by Monaco-based groups that bought shares in Rangers last year, moved to oust Power at a board meeting on Wednesday.
Power, who was a close ally of the Italian before their relationship turned sour, was voted out and Devlin told he was being fired.
But Power and his supporters are likely to challenge the legality of the move.
Both Power and the Monaco groups were keen to increase their shareholding.
Power's camp were undone by former Brazil captain Carlos Dunga unexpectedly flying in from Japan to vote with Paladini.
Dunga represents one of the Monaco groups but little has been heard of him since he was made a director last summer.
Wednesday's board meeting was the first the World Cup winner has attended.
Power and Paladini joined forces to topple the previous board 14 months ago, but there have been bitter divisions since.
Paladini is now in control at Loftus Road and is likely to take over Devlin's duties.
A new chairman is expected to be named shortly.
QPR Official Statement - August 25, 2005
The Board of QPR Holdings Ltd has decided that Mr Mark Devlin's position as Chief Executive Officer is to be made redundant with immediate effect.
Mr Bill Power is no longer Chairman of the Board but remains as a Director.
Mr Gualtiero Trucco has been appointed interim Chairman of the Board.
Bill Power and Director Kevin McGrath do not recognise the validity of these decisions which were taken at yesterday's Board meeting in their absence.
They are currently seeking legal advice with regards to these decisions
SPORTING LIFE - QPR POWER STRUGGLE GOES ON
QPR manager Ian Holloway has attacked the boardroom chaos threatening to derail the club - and admitted his future is uncertain.
Bill Power and Mark Devlin were ousted as Rangers chairman and chief executive respectively in a boardroom coup earlier this week, allowing director Gianni Paladini to seize effective control of the club.
Power continues to fight his demotion and is expected to mount a legal challenge, but manager Holloway could now be under pressure - former Rangers player and Aston Villa manager John Gregory was in the directors' box for Friday's home match against Sheffield Wednesday.
"We've had two bad results [at Coventry and Northampton], but whether I remain here is another matter," Holloway said.
"If they want me, great, if they don't then that's life.
"Hopefully the people in the boardroom can sort our their squabbles. They need to sort it out. They are directors - they need to direct the club."
Paladini attracted two Monaco-based groups of investors to the club when it was in dire financial straits last summer and one of their number - fellow Italian Gualtiero Trucco - has been installed as interim chairman.
Holloway led Rangers to 11th place in the Championship last term following their promotion from the old Division Two the previous season.
But Holloway has had to deal with boardroom instability throughout his reign - and he hinted he was growing tired of it.
"The supporters don't know the facts," he told BBC London 94.9 FM.
"It's not a nice situation to be in. I've been through three boards since I've been here and I'm not happy about that.
"We don't want to wash our dirty linen in public. QPR is a baton that's been handed around.
"When the board get fed up, when the supporters get fed up, they can get someone else."

The Guardian -Rangers raise a point despite boardroom chaos
"Arindam Rej at Loftus Road Saturday August 27, 2005
Trouble is mounting at QPR. A boardroom power struggle has unsettled the club to such an extent that this result was peripheral for their fans. The sooner they find out who their next chairman is, the better.
Not that focusing on this point would have cheered them up. They failed to overcome a Wednesday side who picked up three injuries in 51 minutes and were reduced to 10 men for the final 15.
Bill Power is expected to mount a legal challenge after his removal as chairman, during a board meeting this week in which the chief executive Mark Devlin was also sacked. Rangers' director Gianni Paladini has taken control, with Gualtiero Trucco as the interim chairman.
Background worries are not unusual but this month the events have been scarcely believable. Paladini, whose long-held ambition is to run a football club, had his resignation demanded when he was threatened with a gun before the game with Sheffield United.
The club was further startled by this week's news. Power and Paladini had worked together to bring down the previous regime 14 months ago but relations have deteriorated to such an extent that Power, despite remaining a director, has lost his job. More bizarrely Power still claims he is chairman....
Guardian
QPR OFFICIAL SITE - August 30, 2005 - BRIGHT FUTURE
Gianni Paladini has promised a bright future for Queens Park Rangers following the changes at Boardroom level last week.
Bill Power is no longer Chairman and Mark Devlin's position as Chief Executive was made redundant following a Board meeting at Loftus Road.
But the Director insists that the decisions taken were made with only the Club's interest at heart and he has played down suggestions of turmoil at the highest level.
"I am still friends with Bill. We go out for lunch and we talk on the phone every day. I have no problem with Bill.
"This is not about individuals or personalities, it is about the future of this great Club and all of us - Bill included -want nothing more than to see QPR continue to grow and improve."
Paladini is also sympathetic with supporters who may have been worried about the situation.
He appreciates that the supporters are concerned and has stressed that their feelings are at the forefront of his mind.
"The supporters are what makes this Club great and from the moment I arrived at Loftus Road I have been overwhelmed by their passion and devotion.
"All supporters will worry when they see change and I can understand that. But I believe that change was necessary for long term stability.
"The investors and directors are ambitious - I am ambitious - but we are not turning things upside down. We are going to make sensible steady progress and take Rangers back to where we belong - the Premiership."
Paladini also believes that the root of stability lies with the manager and that is why he hopes to sit down with Ian Holloway this week to discuss a new contract.
"Ollie is responsible for so much that has happened here during the past few years. Our successes on the pitch are down to him and he should be rewarded accordingly."
BILL POWER STATEMENT, QPR OFFICIAL SITE - September 1, 2005
Today following advice from my doctor and after lengthy discussions with my family and each member of the board I am confirming my departure as chairman of QPR.
I am well aware of the feelings of supporters having received literally hundreds of goodwill messages. But I must be selfish and think of my own health and also the health of two family members, both lifelong R's - my beautiful mum and my lovely father-in-law, who are both in hospital and not in the best of health.
I have been in discussions for the last two months with my fellow board members regarding who could, should or would 'pick up the baton'. I have told Gianni that he should become chairman with immediate effect to help focus everyone on going forward and I have advised him to meet with the supporters groups as quickly as he can.
As I write this, I have just enjoyed a day talking and having lunch with Gianni and on the phone with Ollie discussing possible new signings and things that we thought could take the club forward. I hope, and am sure, that those discussions and my advice will be acted upon and that we all see the benefits for ourselves .
In all honesty, and perhaps selfishly again, I must say it was like a weight being lifted from my shoulders having previously known that a decision I might make as Chairman could affect the hopes and dreams of so many fellow R's. Now it is time to let another friend push us forward. I am not leaving, just taking a well earned rest.
Words fail to express how much I have enjoyed my tenure as chairman, living every fan's dream of helping the club they love. I'm sure I will think of dozens of things I should have said, so for now I will just say a big thank you to everyone I have met and wish you all well.
Once again I ask you to get behind Gianni, Kevin, Ollie and the boys. I know that when we all pull together we are unstoppable.
Come on you R's.
QPR
QPR OFFICIAL STATEMENT - GIANNI PALADINI
Gianni Paladini has been appointed Chairman of Queens Park Rangers Football Club and QPR Holdings Ltd.
Interim Chairman Gualtiero Trucco has stepped down and the Board of Directors have unanimously chosen Paladini to take on the role on a full-time basis.
The changes were agreed at a Loftus Road Board Meeting on Wednesday afternoon and Paladini is delighted by the honour of this 'challenging but exciting' role.
"The Monaco investors have recommended that I be appointed Chairman and I am deeply honoured that the Directors have allowed me this opportunity.
"I hope now that after a period of instability we can all look forward to the brightest of futures at Loftus Road.
"We have a wonderful manager, an exciting and improving squad and a real opportunity to push for a place in the play-offs and even the Premiership.
"I believe these are wonderful times to be a QPR supporter and I just want to play whatever part I can in bringing both success and stability to this Club.
"I fully appreciate that supporters will have been a little bewildered by recent events and I wish that so much of what has happened could have happened differently.
"But I believe we now have the right people in place, both on the pitch and behind the scenes, to take this club forward.
"I would like to thank every single fan for their continued, passionate support for QPR and I would also like to pay tribute to all the staff here.
"Life hasn't been particularly easy for them recently either but every single one continues to work as hard as ever for the benefit of this club.
"It has never been clearer to me that, both in the stands and behind the scenes, this is a wonderful place full of very special people."
-
QPR Report: The Boardroom Coup
-
Meanwhile, the club that Gianni Paladini Came Close to Buying before he bought into QPR is again available!