-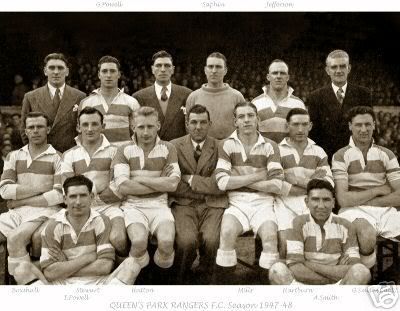 -
Recalling QPR's 1947/48 Team (whose unbeaten run has just been broken!)
-
- For QPR and Football Updates throughout the day, visit the ever-growing (and hopefully, always-improving!)QPR Report Messageboard/quasi-blog . All QPR and football perspective welcome. Or simply feel free to read the football-only updates and discussions. Also see: QPR REPORT ON TWITTER
_____________________________________________________________________________________
-
-
QPR Player Still Number #1 in Championship...and Many Other QPR Players Remain Very Highly Ranked
-
Two Year Flashback: Amit Bhatia's QPR "Open Letter"
-
Who Owns QPR?
-
Recalling "Rebuild QPR" Supporters Plan/Document
-
Kevin Gallen Joins Barnet On Loan
-
Trevor Challis Birthday
-
Portsmouth Closing Down?
-
Celebrate Pele's 70th Birthday Today in New York
....
South Africa Could Ban Vuvuzelas
-
Gareth Ainsworth Represented English Footballers at a Memorial Service in France for Footballers Killed during the First World War: More on WWI Footballers KilledSUPPORT WARNOCK! - Des Kelly/Daily Mail
- "...
Stop being Lippi and back boss, Flavio
- Queens Park Rangers sit on top of the Championship. They look a revitalised force on a mission to rejoin the elite for the first time in 15 years.
- That is largely down to their manager Neil Warnock, who is seeking to repeat his uncanny knack of achieving promotion by chasing the seventh of his career.
There is no doubt Warnock has made a brilliant start to the season. So how has he been rewarded?
- Let's ask Flavio Briatore, QPR's disgraced former chairman. You'll remember him as the man who scurried for cover after being implicated in the Singapore 'Crashgate' cheat scandal.
- It turns out, the Italian had a brilliant plan to motivate his manager.
Not content with having been accused of orchestrating a deliberate car crash in Formula One, Briatore seems intent on driving QPR's promotion push into another brick wall.
- He said that if Warnock's side reached the Premier League, he would install Marcello Lippi as boss.
- Briatore blurted: 'Bernie Ecclestone and I have a 70 per cent stake in QPR.' (Since he didn't specify the cut, I'm guessing that split is Bernie 69 per cent, Big Mouth 1 per cent.)
- 'And if we were to get into the Premier League,' he continued, 'I have a dream - and that is to have Lippi as coach.'
- How dispiriting it must be for Warnock to know that if he leads the club back into the top flight an investor will seek to replace him.
- During Briatore's time as chairman at Loftus Road, Rangers became a football joke, using 12 different managers and caretaker bosses in a little over three seasons.
Rumours even circulated that managers were expected to abide by team instructions faxed in to them from the sunbed of a yacht moored somewhere in the Mediterranean.
It is surely no coincidence that as soon as Briatore disappeared from the scene, QPR shot to the top of the table under Warnock's effective stewardship.
- Naturally, having seen the Italian's remarks, QPR tried some damage limitation, issuing the following statement: 'The board of directors - including Flavio Briatore - are 100 per cent behind Neil Warnock.'
- Indeed. It's much easier to push someone from behind.
- But just like Briatore, Rangers supporters also have dreams. They dream of reaching the Premier League. And they dream that a certain perma-tanned pillock would shut his trap, stop pretending he knows something about the game, and leave the manager to carry on his good work. "
Daily Mail
Independent/ Neil Warnock: I'm sure a World Cup winner could learn a lot from me – but Lippi won't be coming to QPRWhat I Learnt This Week - Saturday, 23 October 2010
Everyone has got very excited about a few comments from Flavio Briatore which appeared in the Italian press. By the time they got into the English papers he was being quoted saying he will make Marcello Lippi QPR manager if we get into the Premier League.
Obviously it would be a great experience for me to work with a man who has won the World Cup and the Champions League, and I'm sure Marcello would also enjoy learning from me, but, sorry to disappoint you all – and especially Sharon who thinks me winning promotion then being paid up is the ideal scenario – I don't think it is going to happen.
Flavio has spoken to me, and told me that he did get collared by a journalist who was talking about Italian managers working with England. They spoke about Carlo Ancelotti and Roberto Mancini, and Fabio Capello, and Flavio said it had always been his dream to take QPR into the Premier League and have Marcello Lippi as manager. But, he assured me, he did not mean at this moment in time. I think Flavio was surprised when I said, "It does not bother me in the slightest." I've been in the game long enough to know things get built into something they are not. I get on all right with Flavio, and with Bernie Ecclestone. They, and Amit Bhatia have been so supportive of me and the team since I've been at the club. I enjoy their company and I'm not in the least bit worried. I'm enjoying every minute of being the manager at QPR and a hyped-up newspaper story is not going to change that.
As I write I don't know how we got on at Ashton Gate last night, where we were trying to create a new club record for an unbeaten start to the season. It's not been my favourite ground in recent seasons so I hope we had a bit more luck.
Three years ago we were 1-0 up and the ref put four minutes up on the board. Bristol City scored in the sixth minute. My thoughts on that cost me three grand. Two years ago, in the promotion play-off semi-final, Ben Watson hit the post from a penalty; I'm convinced we would have gone on to win and then given Hull a good run for their money in the final. Then last year Freddie Sears scored a great goal to put us in front. Unfortunately for me and Freddie, four people in the stadium did not see it, and they were all wearing black at the time. To rub salt in the wounds Bristol City scored a last-minute winner.
Freddie never did score in the League for us, had that goal counted I'm sure his confidence would have been lifted. I'm so pleased he has gone on loan to Sc**thorpe. He's a smashing lad and I hope he can kick-start his career.
2. Deal done, now England will see the real Rooney
The chess game has come to an end and Wayne Rooney has signed a new deal. It is the logical conclusion. I couldn't really see him in a Chelsea or Manchester City shirt, and by the sound of it Coleen didn't fancy moving to Spain. I think it is good news for England. Now this has been put to bed I think we will see the real Rooney, all this ducking and diving must have been affecting his game.
I can't see his team-mates holding it against him. They know him and won't have been too surprised at what he said. Now he's got a fabulous new contract he can tell them he was only joking and he loves them all. I don't think the size of the contract will cause a massive problem either, players accept the best player gets top whack.
I feel sorry for Everton, who must have been counting the money they would have got from their sell-on clause, but I know two people who will have been delighted at all the week's headlines. David Cameron and Nick Clegg could not have wished for a better diversion as they announced all those cuts.
3. Carroll reminds me of the likeable rogue I put straight
It brought back a few memories when I saw Andy Carroll has to live at Kevin Nolan's house as a condition of his bail. When I was at Plymouth I had a similar situation with Ronnie Mauge. Ronnie got me promoted, he scored the winner in the play-off final, but he also caused me a problem or two.
He got in trouble with the law and ended up going to court. I gave a character reference and told the judge if he allowed Ronnie bail he could live in our house, which was 20 miles from Plymouth so it meant he would not set foot in Plymouth at night time. The judge agreed. So I had Ronnie round washing the pots and vacuum cleaning for the next few weeks.
It turned into a great time for me because we did have some laughs. He was a likeable rogue. Sharon loved him, he had this fabulous smile with a gold tooth. But on the pitch he could handle himself. He was like a cold assassin and he didn't pull out of any tackles. I think he began to realise, as he was washing up and hoovering, that he was better off behaving himself, so I take a lot of credit for turning his life around. He still keeps in touch and calls for advice as he helps run a local team near Ipswich.
4. Jaunt to Queen's club is the perfect cure for away-day hell
Last night was the end of the week of travel hell. Saturday we played Norwich at home, Tuesday we played at Swansea. Last night at Bristol. Well done the Football League's fixtures people. What with that and both Norwich and Swansea being awarded penalties I'm beginning to wonder if there's a conspiracy to end our unbeaten run. Thankfully Paddy saved them.
I enjoyed Swansea. The new stadium is very impressive (what with Cardiff's new ground as well Welsh football seems on the up) and everyone was very welcoming. Three people even asked me to autograph copies of last week's Independent column.
With getting back in the early hours on Wednesday we have been on the road every day. I felt I needed a blow-out after all that travelling and was lucky enough to get a couple of hours' tennis at Queen's Club. Oh, how the other half live.
That evening I decided to relax and watch a bit of football. The Tottenham game looked the most interesting, so I turned that on. At half-time, at four down and with 10 men, I had to turn it off. I didn't want to see Harry embarrassed by eight or nine. With the other games all boring I decided to go though my planner on Sky+ and eliminate all these football programmes which were clogging it up (Sharon told me to find space for some X-Factor and Strictly). That took me to quarter-past eleven. You can imagine how I felt when I eventually turned on the news to see the 4-3 scoreline. I saw the highlights and what a fantastic hat-trick by Gareth Bale, and how proud Harry must have been after fearing the worst. I felt good for Harry with that end result. Also, my old mate Benitez must have regretted some of his substitutions.
I wished there had been another three or four minutes, but the result gave Tottenham pride back in their game, which could have been squashed if it had been a demolition with the number of players Harry has missing. It will have given them a lift before today's important match against Everton when the early kick-off won't help Harry after such a draining away trip.
5. Hooray for half-term and some quality time with family
The kids are looking forward to half-term and so am I. This week I have hardly seen the family, just hotels and the bus. I'm glad we haven't got a midweek game so we'll be able to do one or two things together.
6. Football must help people get through belt-tightening
I feel embarrassed now mentioning my bus pass when all these cuts have been made, but I enjoy going on the bus. That's not a crime is it? I hope you don't think any worse of me. I could always keep a record of my bus trips and hand my fare to charity.
It sounds like we're in for a period of belts being tightened and people thinking about how they spend their money, so I do feel football should really try to give people the opportunity to take kids into games at a reasonable price. It is still the most popular sport in the country, the chance for people to get rid of the frustrations of their week, and we need to help in what will be a difficult time for many.
Indpendent
-
Thursday's Lippi Stories/Denials/Responses
1 QPR 13 21 29
2 Cardiff 12 10 26
3 Watford 12 9 21
QPR OFFICIAL SITE - NEW CLUB RECORD!
- QPR set a new Club record tonight (Friday), as they made it 13 matches unbeaten with a 1-1 draw at Bristol City, surpassing their previous sequence at the start of the season of 12, which was set in 1947/48.
- This campaign's run of results of eight wins and five draws, sees the R's occupy top spot in the npower Championship table, and following the game, boss Neil Warnock admitted that he was pleased for the players to make history for the Club.
- "It's good for the Club, and for the players to be a part of it," he said.
- "The lads will always remember being a part of this achievement.
- "I hope we can continue our unbeaten run for as long as possible. To go 13 games unbeaten is no mean feat. They deserve a lot of credit."
The stats...
2010/11 WWWDWWWWDWDDD - first 13 unbeaten (so far!)
1947/48: WWWWWDWWWWDWL - first 12 unbeaten
QPR
-
QPR Report Messageboard Discussion: Memories of 1947/48!QPR Official Site - WARNOCK ON ROBINS
Neil Warnock paid tribute to his top-of-the-table charges, who came back from a goal down to take a point at Bristol City.
Patrick Agyemang's strike with just seven minutes to spare earned the R's a deserved share of the spoils, on a night when QPR recorded a new Club record start to the season with their 13 successive match unbeaten in the npower Championship.
Speaking exclusively to www.qpr.co.uk at the final whistle, Warnock said: "I think a lot of teams would have probably thought 'this is not going to be our night' - but we're not like that.
"We went a bit gung-ho in the second half, you do when you're a goal down!
"We come into games thinking we can win every one, not that we can't be beaten."
"Defenders look after themselves in games like that. I thought today was a team performance.
"Bristol City will make it difficult for a few teams now they've got their act together.
"I sometimes think the games against teams at the bottom are the more difficult ones.
The R's gaffer admitted that it's been a testing week for his side following their trip to Swansea City on Tuesday prior to this evening's clash in Bristol, but highlighted the importance of having a big squad, as Rob Hulse came from the bench to make his first outing in a QPR shirt.
"You really shouldn't be asked to play three games in six days. It's scandalous really, but you've just got to do it," Warnock added.
"He (Hulse) was a steal. I was delighted to get him - you're going to need a squad.
"We really work hard and when you get a result like that, it makes it all worthwhile."
QPR
Telegraph - Warnock happy to exact some revenge over Robins
An 84th-minute equaliser from substitute Patrick Agyemang meant Warnock's men extended their unbeaten run in the npower Championship to 13 games, one better than their team of 1947/48 managed.
Jon Stead had fired rock bottom City ahead after 16 minutes with a 20-yard shot that flashed in off the underside of the crossbar.
I've been waiting a long time to manage a side like this and I'm enjoying every minute of it," said Rangers boss Warnock. "We had to work really hard for a result and kept going right until the end. I wasn't thinking about the record, just getting another point.
"I've been on the wrong end of some controversial moments against Bristol City so I think I was due a late goal. I loved signalling 1-1 to their fans as I left the field because they always give me a hot reception.
"We haven't won our last few games but eight victories and five draws is hardly a crisis. You always relish it when your team are top of the table and life is pretty good at the moment
Telegraph
Guardian - Patrick Agyemang reprieves QPR after Jonathan Stead strikes early
Championship Bristol City 1 Stead 16 QPR 1 Agyemang 84 Stuart James
Queens Park Rangers broke a club record as they stretched their unbeaten run in the Championship to 13 matches, but there was little evidence of the chasm that exists between these clubs in the league table. Leading through Jon Stead's splendid fourth goal of the season, Bristol City looked set to register a second win in four days until the Rangers substitute Patrick Agyemang turned the ball home six minutes from time.
Agyemang's goal extends their lead at the top to three points and keeps City anchored to the foot of the table on goal difference. Neil Warnock will be thankful to emerge with a point from a stadium where he has bitter memories, after his last visit ended with Crystal Palace losing 1-0 after Freddie Sears scored "the goal that never was", yet four draws from five matches suggest his QPR team have lost some of their early-season momentum.
City's breakthrough came against the run of play, although there was much to admire about the quality of the goal. Danny Rose, on a season-long loan from Tottenham Hotspur, was the architect as he escaped on the left before releasing Stead midway inside the QPR half. There was still much for Stead to do but Rose's intelligent run opened up space for the striker to stride forward and thump a 22-yard shot high into the roof of the net.
After dominating possession early on and opening up City with ease, Rangers lost their way after falling behind and would have been two down but for Paddy Kenny blocking Rose's low shot with his legs. The visitors, however, looked particularly dangerous whenever Kyle Walker, another player on loan from Spurs, broke on the right. Walker flashed several first-half shots wide and also created a decent chance that Jamie Mackie squandered.
Rangers thought they had levelled within 60 seconds of the restart but Jamie Mackie's effort, after David James had initially saved from Heidar Helguson, was ruled out for offside. City immediately broke at the other end but Danny Haynes, after neat work from his striker-partner Stead, saw his shot deflected wide. Marvin Elliott also came close to adding a second City goal with an excellent 25-yard drive that Kenny was stretching every sinew to tip over.
Warnock, looking increasingly anxious in his technical area, introduced Tommy Smith and Rob Hulse from the bench as Rangers' pursuit of an equaliser became more and more desperate. Kaspers Gorkss thought he had scored when his towering header beat James but Jamie McAllister cleared off the line. City were not so fortunate in the 84th minute, however, when Agyemang, who had a loan spell at Ashton Gate last season, pounced to hook in Matt Connolly's shot.
http://www.guardian.co.uk/football/2010/oct/22/bristol-city-qpr-championship
TELEGRAPH - Bristol City 1 Queens Park Rangers 1: match report
Real a full match report of the Championship match between Bristol City and Queens Park Rangers at Ashton Gate on Friday October 22 2010.
By Sandy Macaskill
Neil Warnock is so confident at Queens Park Rangers that he just laughed when he found out Flavio Briatore, the former chairman who remains a major shareholder, had revealed an interest in appointing Marcello Lippi as manager.
He might not be quite so boisterous after seeing his side draw their third straight match – against Bristol City, the bottom side in the Championship. Under Briatore, that sort of run buys you the sack.
Fortunately, Briatore no longer wields the power at Loftus Road (to the supporters' relief), and besides, QPR are still top of the table, while their longest ever unbeaten run at the start of a season was secured when Patrick Agyemang cancelled out Jon Stead's first-half goal.
So Warnock remains in buoyant mood. "I can't see Lippi wanting to be reserve manager," he joked. "That's the only vacancy I can see."
What should concern him is that Adel Taraabt seems to have taken a leaf out of Briatore's book on self-importance. The general view is that since becoming captain the Moroccan has understood the need to put himself second, but he continually ignored team-mates in favour of taking on the opposition team on his tod — Hogan Ephraim almost self-combusted as a result.
QPR were soon set the challenge of finding a goal by Stead, who jinked in-field after 16 minutes and pulled the trigger from 25 yards, the ball lancing in off the bar.
Jamie Mackie was unfortunate to see his second-half header ruled offside, while Taarabt tried this and that, the result usually a shot blazed over the bar. "He puts bums on seats, so you can't knock me for playing him," Warnock said. Even so, he replaced him with Agyemang, who scrambled a goal with seven minutes to go.
Match details
Bristol City (4-4-2): James; Carey, Caulker, Fontaine, McAllister; Adomah (Cisse, 58), Elliott, Johnson, Rose; Haynes, Stead.
Subs: Gerken, Hunt, Stewart, Clarkson, Sproule, Pitman.
Booked: Rose, Elliott
QPR (4-5-1): Kenny; Walker, Gorkss, Connolly, Hill; Mackie, Derry, Faurlin, Ephraim (Smith, 57); Taarabt (Agyemang, 78); Helguson (Hulse, 64).
Subs: Cerny, Orr, Hall, Mahon.
Booked: Walker, Derry, Gorkss, Faurlin
Referee: Lee Mason (Lancashire).
Telegraph
Mirror - Richard Latham
Patrick Agyemang came off the bench to rescue a point for Rangers.
The striker, who sent part of last season on loan at Ashton Gate, replaced Adel Taarabt after 78 minutes and struck five minutes later, forcing the ball in from point blank range following a corner and a shot from Matt Connolly.
Jon Stead's spectacular 16th minute strike had given bottom club City a massive lift against the Championship leaders at Ashton Gate.
The striker let fly from 20 yards after a break by Danny Rose and saw his rasping effort go in off the underside of the crossbar.
City had to make a late change when Jemal Campbell-Ryce failed a fitness test on a hamstring problem. Danny Rose, on loan from Spurs, deputised on the left wing.
Rangers were unchanged, which meant former City full-back Bradley Orr had to be content with a place on the bench.
Manager Neil Warnock has been involved in several controversial incidents at Ashton Gate over the years and received his customary hot reception from home fans.
Rangers began well and Kyle Walker, another Tottenham loanee, got forward from right-back to go close twice in the opening minutes. .
Then Walker teed up Jamie Mackie for a shot from inside the box that beat David James, but flashed wide.
Stead's goal came with his side under pressure. But it sparked Rose into action and the tricky winger began to cause problems for the Rangers defence.
His shot from a narrow angle brought a sprawling 20th minute save from Kenny. Then he set up Danny Haynes, who fired over from the edge of the box.
Kasper Gorkss headed over for Rangers from a Walker cross. But City were gaining more possession and it took a brilliant interception from Clint Hill on the goal-line to deny Stead a simple finish from a Haynes centre.
Walker fired inches wide again before being on the receiving end of a late challenge from Rose that brought the City player a caution. The final action of the first half saw Mackie hook a shot fractionally wide with James a spectator.
In a dramatic start to the second period Rangers had the ball in the net through Mackie only for Heidar Helguson to be ruled offside.
Within moments Haynes was threatening at the other end, but mis-hit his shot when through and collected only a corner.
It took two fantastic Kenny saves to keep Rangers in the game as the home side began to find gaps. First he arched his back to tip over a 30-yard rocket from Marvin Elliott.
The keeper had to be equally alert four minutes later, diving to his right to keep out a low drive from Stead.
But the visitors kept threatening themselves in a gripping match and Jamie McAllister had to clear off the line from a Gorkss header before Agyemang struck
-
QPR Finances - Decade Flashback: Director of Football Gerry Francis on the State of QPR Finances
-
Donate to QPR GIRLS ONLINE
-
Old Football Boardgame Website - including the most famous of all: The created-by-a-QPR-supporter, Subbuteo