-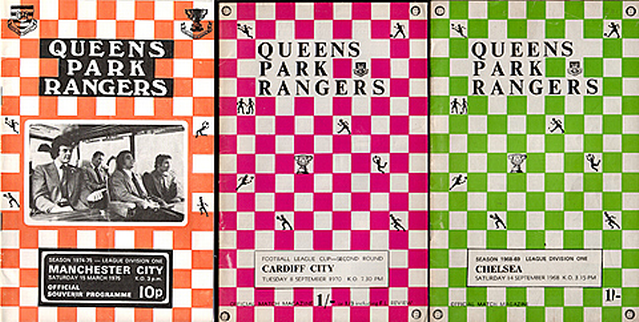 The Mirror Year Ago
-
-
-
For QPR and Football Updates throughout the day, visit the ever-growing (and hopefully always-improving!) QPR Report Messageboard/quasi-blog. Either offer your own perspectives on any of the topics (QPR and football only). Or of course, feel free to simply read the various QPR and football-only discussions. Also: QPR REPORT ON TWITTER
_____________________________________________________________________________________
-
Taarabt Interview (En Francais!)
-
Birthdays for Ex-QPR Steve Slade and almost-QPR Stefan Postama
-
Faurlin Extends Contract Till 2014
-
Kingfisher-QPR Update (as of Yesterday). But no additional actual News
-
Liverpool Being Sold to Boston Red Sox?
-
Last QPR Fan Forum: Approaching almost 3 1/2 Years Ago
-
Spurs Getting Closer to "Taking" "West Ham's" Olympic Stadium!
-
Ex QPR-Director, Kevin Steele Court Update
Four Four Two The Rich ListFootball Rich List: City's Sheikh back on top UPDATED:
-
The Richest Players List
-
The Richest Managers List
-
The 100 Richest
2. Lakshmi Mittal & family £17bn
QPR Age 60 (Last year £18.4bn, 1st)
- Lakshmi Mittal will be delighted that his 2007 purchase of a 20% stake in QPR is paying off at last. By late September the Hoops were steering clear at the top of the Championship and looking good to be in the promotion race for the rest of the 2010-11 season. It will take some steel, but then steel is where the team's biggest benefactor made his fortune.
- Now boss of the world's largest steel maker – his family company Arcelor-Mittal – Mittal worked in the family business until 1995, when he separated his own steel operation from the family's Indian businesses and went his own way. He settled in London, where he loves to live, and stayed there. Mittal's family stake in the company is now worth £13 billion.
- In all, with past dividends, a £4 billion investment portfolio and other assets, we estimate that the Mittal family is now worth £17 billion – plenty enough to help Neil Warnock's QPR to glory.
Four Four Two 100 Richest
Four Four Two
Manchester City owner Sheikh Mansour bin Zayed Al Nayan has reclaimed his place at the top of the FourFourTwo.com Football Rich List in association with Leaders in Football.
The 2010/11 incarnation of the list – to be fully revealed at 11am today – sees the Eastlands benefactor return to the top spot, having been overtaken by Queens Park Rangers stakeholder Lakshmi Mittal in last year's list.
The ever-rising price of oil has been good news for Sheikh Mansour, with his wealth estimated to have risen £3 billion to a total of £20bn. This has seen him leapfrog Mittal, who's own fortune is now valued at £17bn, down from the £18.4bn of 12 months ago.
Both will have been encourage by their respective sides' start to the season. Manchester City are currently second in the Premier League, having last weekend beaten champions and league leaders Chelsea. Meanwhile, QPR are current runaway leaders of the Championship, accruing 26 points from a possible 10 so far this term.
Also on the moving down a place is Chelsea owner Roman Abramovich (£7.4bn), who now stands in fourth place – his lowest ranking since arriving in English football in the summer of 2003.
The Stamford Bridge supremo has been overtaken by Uzbek-Russian tycoon Alisher Usmanov (£8bn). The major Arsenal shareholder's value has sky-rocketed thanks to rising metal prices over the past 12 months, seeing the 57-year-old climb five places from eighth place in 2009.
The Liebherr family, who have pledged to continue to support League One Southampton financially following the death this summer of Markus Liebherr, now stand in fifth place.
The German-born, Swiss-based industrialist had bought the club just over a year prior to his death, taking the Hampshire side out of administration and investing in the playing staff relatively heavily for a side in English football's third tier.
Completing the Top 10
are Joe Lewis (Tottenham Hotspur, £2.7bn), Denis O'Brien (Celtic, £1.87bn), Stanley Kroenke (Arsenal, £1.85bn), the Glazer family (Manchester United, £1.53bn) and
Bernie Ecclestone (QPR, £1.4bn).RICHEST PLAYERS
Former Manchester United and Real Madrid star David Beckham is the highest ranking active player, with an estimated wealth of £100 million, a figure which dwarves that of all of his contemporaries.
This includes former England team-mate Michael Owen, who despite being the second richest player on this list still has a wealth just 40% the size of Beckham's.
Manchester United's Wayne Rooney has dropped out of the top five wealthiest players, with his estimated worth plummeting from £37 million to £25 million following a difficult year on and off the pitch for the striker.
Overtaking Rooney and completing the top five players are Rio Ferdinand (Manchester United, £34m), Sol Campbell (Newcastle United, £31m) and Ryan Giggs (Manchester United, £27m).
RICHEST MANAGERS
As has been the trend in recent years, managers are also getting in on the act (six managers featured in last year's Top 100).
England's much-maligned coach Fabio Capello continues to lead the way as the wealthiest manager in the British game, with an estate worth an estimated £36 million.
He is joined in the list by the likes of Roy Keane (Ipswich Town, £28m), Sir Alex Ferguson (Manchester United, £22m), Carlo Ancelotti (Chelsea, £21m) and Arsene Wenger (Arsenal, £17m), with the bulk of former Ireland and Manchester United captain Keane's wealth being accrued during his playing career.
The complete Football Rich List will be announced at Leaders in Football and available simultaneously at FourFourTwo.com from 11am.
Four Four Two
-
Last Year's "Rich List"QPR Official Site - ADEL SCOOPS AWARD
-
Adel Taarabt has been named Match of the Day magazine's Championship Player of the Month for September.
- The R's playmaker picked up the accolade following a successful month in which QPR won four matches and drew one, with Taarabt providing three assists and chipping in with a goal.
- Taarabt was presented with the gong last Thursday after being chosen on behalf of Match of the Day by Manish Bhasin, presenter of the Football League Show.
- Bhasin said: "Adel is now fulfilling his potential under Neil Warnock, who's handled him brilliantly.
- "He's been given license to roam from wide and if he doesn't score, he'll provide assists.
- "But Clubs who pay too much attention trying to mark him out of the game will be undone by his team-mates, including Championship top scorer Jamie Mackie."
- Taarabt said: "Thanks, Match of the Day. This is nice. I'm very proud to win this award. I was the Football League's player of the month in August and now I've won this for September - I'm very happy."
QPR
Mirror - Loan Rangers want more of Spurs' Walker
QPR want to re-sign Tottenham starlet Kyle Walker on another loan deal.
Rangers manager Neil Warnock has opened talks with Harry Redknapp in a bid to persuade the Spurs boss to let Walker return to west London.
The defender, 20, impressed during a month's loan with the Championship leaders and Warnock is keen to have him back after the international break.
"I've spoken to Harry and we would like to extend it," Warnock said.
"Kyle's a great player who can play anywhere across the back and even in midfield, so he's got a few strings to his bow. It would be nice to have him on board."
But Walker's immediate concern is a back problem which could force his withdrawal from England's Under-21 squad.
He was injured during QPR's win at Crystal Palace and will be assessed by England's medical team ahead of Friday's European Under-21 Championship qualifier against Romania.
Mirror
Dave McIntyre Blog -The trialist that never was
Had a decent chat with Neil Warnock this afternoon. For various reasons it was my first in ages.
He's speaking to Harry Redknapp about re-signing Kyle Walker on another loan deal – no surprise there - although Bradley Orr has pretty much recovered from the calf injury he's had.
Orr, Ali Faurlin and Fitz Hall played in an apparently very full-on training session this morning. Warnock also mentioned that Rob Hulse has stepped up his training and is not far away from being available.
Warnock plans to go to Scotland's game against Spain next week, as Jamie Mackie may be involved. He's very enthusiastic about Mackie's call-up but there is some concern at Rangers about a slight hamstring strain he's been carrying for a while, and I think Warnock will end up asking Craig Levein not to work him too hard in training.
In some ways, Mackie's similar to Gareth Ainsworth in that he doesn't know how to hold back and can sometimes be his own worst enemy. As Warnock put it, if Mackie came across kids playing in the park and they were one short, he'd join in.
Incidentally, Walker also has an injury and I reckon may end up pulling out of England's Under-21 squad. He strained his back against Crystal Palace on Saturday.
On a different note, Bruno Andrade signing his first professional contract reminded me of when I first came across his name a few months ago.
Not long ago I would have known all there was to know about a lad coming through the ranks at Rangers. The fact I wasn't sure who 'Andrade' was in a squad list before his first reserve match was a sign that I don't cover QPR nearly as much these days.
I should have known who he was. Not least because, as I've since discovered, he's a very good player.
But, at the time, the name rang a bell but I wasn't 100% sure he was on Rangers' books and wondered if he was a trialist.
A bit of web searching followed, and who should I come up with but one Jorge Andrade. Could this be our man? Well, a bit more info suggested it surely had to be him.
Jorge Andrade is 32, a former Portugal international, and has been without a club since leaving Juventus in 2009 after a serious knee injury.
Now, it's easy during these relatively good times for QPR to forget, but cast your mind back to the Rangers you knew before the start of this season, and remember what you'd have considered to be a typical signing.
A former international. In his 30s. Played in Italy. Not had a club since suffering a bad injury. Probably about three stone overweight and been turned down by every other club in Europe…. I mean come on, it's got to be our man, hasn't it?
So confident was I that this was the 'Andrade' in question, I wrote a story with the intention of circulating it for the next day. Former Portugal and Juventus player on trial at QPR; doesn't matter if he's crocked I thought, this one will create interest.
So I prepared a little something. Cos I'm ahead of the game, me….
QPR have handed a trial to former Portugal and Juventus defender Jorge Andrade.
The 32-year-old played in the Champions League for Porto and Deportivo La Coruna, and has been without a club since leaving Juventus last year following a serious knee injury.
He joined Juve for around £8m in the summer of 2007 and suffered a broken kneecap only weeks later. He has since undergone three operations.
Andrade, who represented his country at the 2002 World Cup, has been handed the chance to rebuild his career by Championship side Rangers, and featured for them in a reserve match yesterday.
Obviously, at some point before hitting the send button, I needed to confirm this was our man. Just a formality, obviously. It was clearly him – a QPR signing if ever there was one. But still.
This bit's always tricky. It's a rare case of a story that only QPR can really confirm. I don't want to talk to them. I don't want them knowing that I know they've got this Andrade on trial. They'll announce it themselves straightaway if they know I'm doing it (today's Faurlin contract story an example), and I need to avoid that.
But there's no way around it, so I make the dreaded call, with my hand hovering over the send button.
"Bruno? What about him?" asks said QPR official.
While staring at the waste of an afternoon on the screen in front of me, I explain that I've got a lot of time for…erm…Bruno…and might…erm…look to do a piece for one of the local papers. Some time. Erm…maybe. Yeah. Local paper. Some time. Yeah. See you Saturday. Bye.
So, no matter what young Bruno achieves during his QPR career, he'll always make me think of Jorge Andrade. And Devon White of course.
Dave McIntyre Blog
Yann Tear/Ealing Gazette - Rangers boss admits illegal approaches for Heidar
Helguson
-
NEIL WARNOCK says he twice made illegal approaches for Heidar Helguson – the man he rates as player of the season so far for Rangers.
Helguson headed the winner at Crystal Palace on Saturday, but the Icelandic striker's contribution was no surprise to the QPR boss, who has always been impressed.
"The best player for us so far has been Helguson. He's been a revelation," Warnock said. "I wouldn't swap him for anybody at the minute. I spoke to him three times in the past – twice illegally – to see if he'd sign for me over the years, so he knows I've been a big fan of his.
"When I arrived here, I just said to him: 'Why don't you give it a go, because I can't see anybody better than you. He has given it a go and he's been tremendous really.
"People said to me he could never play three games in a week, but he's done it twice now. And he's gone to play for his country, whereas a lot of people would have pulled out of the country game to get a break."
Ealing Gazette
QPR Reserves Win - QPR win 2-0. Two goals from Tommy Smith
Southampton Official Site Under 21s Taste Defeat
Posted on: Tue 05 Oct 2010
Saints Under 21s lost 2-0 to an experienced QPR second string in West London on Tuesday afternoon.
Martin Hunter's young team were given a strong test by the hosts, who secured their win with a goal in either half from winger/striker Tommy Smith, one of a number of Rangers players with considerable first team experience.
Encouragingly for the visitors, defender Aaron Martin continued his comeback from injury with another impressive performance at the heart of defence, and he was unfortunate not to have done better with headers from two set pieces in the second half.
Academy prospect James Ward-Prowse saw his late effort cleared off the line as Saints' Under 21s coach also saw his young substitutes make an impact on the game in the closing stages.
And Hunter believes that the gulf in higher level playing time between the two sides will benefit his developing players.
"It was a great experience for the lads, the younger boys especially," he commented afterwards.
"We're disappointed because the two goals we conceded were from our own errors in the middle of the park, but overall our application and adaptation to a new system was good, and we certainly weren't outplayed.
"In a game like this, the performance is always more important than the result, so we'll take the positives, work on our mistakes and move forward from here."
Saints U21s: Tommy Forecast, Lee Nicholas, Ryan Dickson, Andy Robinson, Aaron Martin, Ryan Tafazolli (Jack Saville 85), Lloyd Isgrove, Harlee Dean (James Ward-Prowse 65), Anthony Pulis, Ben Reeves, Matthew Reece (Calum Chambers 70). Subs (not used): Jack Dovey, Joe Curtis, Ben Martin.
QPR Reserves: Cerny, Leigertwood, Harriman, Borrowdale, Waters, Rowlands, Smith, Rose, Agyemang, German, Andrade. (+ Four trialists)
http://www.saintsfc.co.uk/page/DevelopmentSquadArticle/0,,10280~2175907,00.html
QPR Official Site
IN RESERVE: SMITH GRABS DOUBLE
Posted on: Tue 05 Oct 2010
Striker Tommy Smith scored his first goals for QPR as the Reserves overcame Southampton 2-0 at the Harlington training ground this afternoon in a behind-closed-doors friendly.
Reserve Team Manager Ronnie Jepson named a strong side for the match, with Radek Cerny, Mikele Leigertwood, Gary Borrowdale, Martin Rowlands, Patrick Agyemang, Antonio German and Smith all featuring.
Following his brace, Smith told www.qpr.co.uk: "It is nice to score my first goals for the Club but obviously I would like to be getting them for the First Team.
"The next challenge for me is to do just that."
An exclusive interview with Tommy Smith will be available on QPR Player from Wednesday.
Join QPR Player now and stand a chance of winning Jamie Mackie's signed match boots!
http://www.qpr.co.uk/page/ReserveNews/0,,10373~2175755,00.html
-
QPR and other clubs Youth take part in Downs Tournament
-
QPR's Tommy Smith Charity Involvement
-
Lee Camp Still Waiting for Ireland
-
On This Day, Four Years Ago: New QPR Manager, John Gregory Was Laying Out His Ambitious Plans for QPR
-
Audio Part II (Part I coming) of Jnet Radio Interview with Ex-QPR Mark Lazarus
-
VIDEO: Couple of Past QPR Wins Over Next Opponents, Norwich