-
-
QPR's Truly-Historic 1968/69 Season
-
Any American or Canadian Readers of QPR Report/QPR Report Messageboard? (Or any QPR Fans from Central or South America?)
-
Throughout the day, updates, comments and perspectives re QPR and football in general are posted and discussed on the QPR Report Messageboard...Also Follow: QPR REPORT ON TWITTER
_____________________________________________________________________________________
-
Will Rangers's Second strip be Red and White Quarters? And third Strip Orang/Tangerine?
-
QPR Play Plymouth Pre-Season
-
Richard Scudmore on the QPR/FA Matter
-
QPR's Summer and 2011/12 Calendar
-
QPR Honoured at City Hall
-
Twenty-Nine Years Ago: FA Cup Final I: Spurs vs QPR
-
Year Flashack: Leon Clarke Joins QPR
-
Video: Gianni Paladini's "The Sky is Blue" Comment
-
Ex-QPR Dave Needham Turns 62
-
Significant Football Court Case Coming in November
-
AFC Wimbledon vs Luton Football League Decider today...Impact of Relegation on Blackburn or Birmingham
THE SUN - Mittal in QPR bid on Monday By BEN HUNT
) LAKSHMI MITTAL will launch a bid to seize full control of QPR on Monday.
The Indian steel magnate is a shareholder in the Premier League new boys.
Now he wants to buy out Formula One tycoons Flavio Briatore and Bernie Ecclestone.
Mittal, worth an estimated £17.5billion, has promised boss Neil Warnock a £40million transfer kitty if his bid is successful.
The stumbling block could be Briatore's £100m valuation of Rangers.
A source said: "Everyone here is hoping the Mittal bid is successful.
"They want to see QPR prosper and may be willing to spend money on the players we need to stay in the Premier League."
The Sun
Neil Warnock/Independent

Neil Warnock: Missed sitters, bad decisions: the play-offs are great theatre as long as I am not involved
What I Learnt This Week
There's been some cracking play-off matches this week.
I do love the play-offs, as long as I'm not involved. I've had four wins at Wembley and one defeat at the Millennium Stadium, which is more than enough to go through. There is so much tension and hope. The first legs tend to be cagey, but in the second teams go for it.
I was at Swansea on Monday for what turned out to be an enthralling match. Billy Davies will not be able to understand how Nottingham Forest missed so many chances. They hit the post three times. Managers can plan and plot, but they can't do anything about that.
Swansea played some fantastic stuff to get two quick goals and looked comfortable, but in the second half Forest threw the kitchen sink at them. They got one and in the last minute should have had a penalty for an obvious handball which would have pushed the game into extra-time (Swansea's third came in injury-time). The linesman was in a great position, but didn't give it. He must ask questions about himself.
You need the breaks in games like that. Just as Swansea were lucky on Monday, Huddersfield were on Wednesday. The Bournemouth sending-off was for a tackle that was no worse than the ones that had been going on throughout the game, whereas Huddersfield's Kevin Kilbane twice escaped dismissal. He only saw yellow after manhandling the ref, and was not booked after a body-check late on. Then with Bournemouth winning at the end of the first period of extra-time the ref signals a minute's added time. The minute's up when Huddersfield get a corner. What does the ref do? He looks at his watch, then allows the kick to be taken. Of course, Huddersfield level and go on to win on penalties. It really is about time we had professional timekeepers, like in rugby.
In a way though, I suppose justice was done as my old club had finished miles ahead of Bournemouth in the regular season. When they went behind it brought back memories of my first play-off, with Notts County in 1990. We played Bolton in the semi, who had finished 18 points behind us. We had to go to Burnden Park for the first leg and they got a dodgy penalty early to go one-up. The play-offs were still fairly new and we weren't used to them, so I was on the bench thinking, 'we don't deserve this, we were 18 points better than them'. As it happened we turned it round, drew at Bolton, and won at home to go through.
The Peterborough match was another cracker with the only disappointment (I'm writing this before last night's games) being the one at Cardiff. They began like a house on fire, but after Reading scored twice it became an anti-climax. Losing Craig Bellamy was a massive blow to Dave Jones, he has that something different you need.
Teams can take a while to get over losing in the semis but Dave and Billy are experienced enough to regroup. However, Dave will feel it having been so close to automatic promotion all season, and then missing out in the play-offs again. He'll be in a strange situation having been at Cardiff six years. After such a long time you do wonder whether it is time to make a clean break. I know managers don't always have the choice, but Dave's done a wonderful job, he's improved the team year in, year out, over the last few years.
2. Tweeting distraction adds to McLeish's relegation battle
I don't envy anyone involved in tomorrow's relegation deciders. I've been there and it is a horrible, horrible, day. I feel for Alex McLeish whose Birmingham team never looked in trouble most of the season, but now find themselves out of form and needing a result at White Hart Lane. With Tottenham chasing Europe, you wouldn't really bet on Birmingham.
I also know exactly how he will feel when he hears the team news from Old Trafford, where it looks as if Blackpool will be playing a weakened Manchester United. If Blackpool had Carlos Tevez, like West Ham four years ago, I'd fancy them.
McLeish has enough on his plate without the revelation that his goalkeepers, Ben Foster and Colin Doyle, got in at four in the morning from the club's end-of-season dinner. He's not happy and I'm not surprised. Still, it's a bit of a turn-up when the information comes out because one of the players' wives has tweeted it. Normally players are caught out by a fan seeing them. I can't believe how players and their families want to tweet everything.
End-of-season dinners can be a bit of a minefield, as West Ham discovered. There are not usually too many problems if the season has gone OK, but when you've been relegated it's tricky. In the circumstances it is only right the players turn up, but you do have to marshal it as alcohol brings the worst out of people. I can imagine the atmosphere was a bit strained as West Ham's relegation was a surprise when you look at the squad they have, and the size of their fan base.
3. William's side bowled over as homework has me stumped
It's supposed to be the close season, but there still aren't enough hours in the day. I've been having meetings to plan for next season with the board, and the staff. There's so much to do.
The toughest task of the week, however, has been helping William with his homework. I did feel for him. He came in after cricket at seven, had something to eat, did his English homework, and still had science to do. I said, 'That's enough', and sent a note to school explaining why he hadn't done it.
The following night I tried to help him with it. Sharon was away and that's when I do miss her, I didn't have a clue. It's been a bad week for William because he just can't win a cricket game at the minute. I said to him, if at first you don't succeed, try and try again. It is a reminder of how he is growing up when he goes in to bat with his helmet on. He'll be 10 on Monday, a magic age, into double figures. It has been a busy few weeks what with Amy becoming a teenager recently.
4. Good luck against Celtic, Stuart – you'll need a lot of it
You have to say the FA Cup final was a damp squib. I'm sure Tony Pulis was the most disappointed man in the stadium when his team really didn't get among Manchester City, but you have to appreciate how good City's players are, and how much money they cost. The day shouldn't take away from what's been a wonderful season for Stoke.
It's the Scottish Cup final today and I'll be thinking of my old assistant Stuart McCall as he has the thankless task of playing Celtic. After missing out on the League, Celtic will be even hungrier to win the cup, and since they battered Stuart's Motherwell 4-0 last week you have to fancy their chances. You never know in a cup final, but Stuart will need everything to go right for his team if they are to win their first honour in 20 years.
Whatever the result he's done ever so well in his first season and I'm very pleased for him. I've been to Fir Park a few times and it is a friendly, family club.
5. Council enjoys trophy time
The chairman Gianni, me, and some of the staff were invited to Hammersmith & Fulham Town Hall to meet the Mayor and council leaders on Wednesday. It's impressive inside, though it looks a lot like a courtroom to me. Apparently there's 150-odd councils so not many have a Premier League club, but our borough's got three, us, Chelsea and Fulham, so they're very proud. As you can see from the picture, I took the trophy along with me – I know, I've been taking it everywhere, but I've had to let it go now. Several councillors said they had seen last week's picture of me in bed with it.
6. Young Blades look sharp
Monday night I'll be keeping an eye on the FA Youth Cup final second leg. Sheffield United and Manchester United drew 2-2 in the first leg at Bramall Lane this week watched by nearly 30,000 fans. That's an incredible gate and proof that my hometown team is a Premier League club. Most of the Sheffield team were coming through the ranks when I was there and they are great kids, the future of the club as they try to climb back up.
7. Di Canio is an ideal choice
What a fantastic appointment they've made at Swindon. They have a tradition of making bold management choices and who's to say Paolo di Canio won't be as successful as Glenn Hoddle? He'll certainly be able to use one of my stock phrases: "Don't do as I do, do as I say."
Independent
-
Hayley Roberts: Running in Memory of Neil Roberts
-
How Do Newly-Promoted Teams Do in The Premiership: Some Stats
-
QPR and The Championship: Major Stats for 2010/11
-
QPR Report T-Shirts!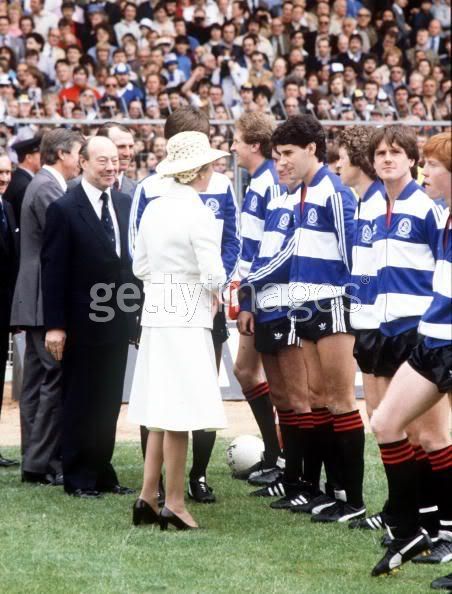 -
Twenty-Nine Years Ago: FA Cup Final I: Spurs vs QPR