-
-
QPR's Truly-Historic 1968/69 Season
-
Any American or Canadian Readers of QPR Report/QPR Report Messageboard? (Or any QPR Fans from Central or South America?)
-
Throughout the day, updates, comments and perspectives re QPR and football in general are posted and discussed on the QPR Report Messageboard...Also Follow: QPR REPORT ON TWITTER
_____________________________________________________________________________________
-
Luigi De Canio Exiting Lecce
-
RIP: George Best Would Have Been Sixty-Five Today
-
Twenty-Nine Years Ago TODAY!: FA Cup Final I: Spurs vs QPR
-
Five Year Flashbkack: "Ugo a Go-Go" - QPR Announce Ugo Ukah Had Left QPR. A few Months later, leaked out, that he actually had not.
-
Will Rangers's Second strip be Red and White Quarters? And third Strip Orang/Tangerine?
-
QPR's Summer and 2011/12 Calendar
-
Early Premiership Title Odds!
-
How Do Newly-Promoted Teams Do in The Premiership: Some Stats
-
Hayley Roberts: Running in Memory of Neil Roberts
-
QPR Report T-Shirts!
Reuters - Bernie Ecclestone rebuffed QPR co-owner Lakshmi Mittal on Sunday while giving manager Neil Warnock his full backing to lead the newly-promoted club into the Premier League.
Billionaire Indian steel magnate Mittal was quoted in Saturday's British newspapers as saying that he would be making a bid for full control of the west London club on Monday.
Formula One supremo Ecclestone, who holds approximately 62 percent of the club's shares, told Reuters at the Spanish Grand Prix that was not a given.
"Mittal put a statement out to say he was going to buy all the shares on Monday," the 80-year-old said with a smile in the Barcelona paddock.
"But it's a bit like these Murdoch people saying they're going to buy CVC (Formula One's commercial rights holders). They've forgotten to ask if it's for sale."
Ecclestone, a Chelsea fan, became the majority shareholder in December after buying out his friend and former Renault team boss Flavio Briatore.
He has said he has an agreement to give Italian Briatore first refusal should he wish to sell his stake.
Ecclestone, Mittal and Briatore joined forces in 2007 to buy QPR. The club secured promotion to the Premier League as Championship (second division) winners late last month.
Ecclestone said there was no question about Warnock staying, despite media speculation that the club might replace him with a high-profile Italian coach.
World Cup-winning manager Marcello Lippi, Ireland coach Giovanni Trapattoni and former Chelsea manager Claudio Ranieri have all been mentioned.
"Yes, 100 percent. We've never discussed anything about him leaving," said Ecclestone when asked whether Warnock would stay.
"He's never wanted to leave and we don't want to get rid of him."
Eurosport
EXPRESS - QPR SET FOR INDIAN SUMMER
Lakshmi Mittal will table a buyout bid for QPR tomorrow
Sunday May 22,2011
By Sunday Express Reporter
INDIAN billionaire Lakshmi Mittal will table a buyout bid for QPR tomorrow that could spark a multi-million pound war with Manchester City for the Premier League title.
Steel magnate Mittal, who has a fortune of more than £17billion, is prepared to put his money where his mouth is to pip City's oil-rich owner Sheikh Mansour for football's richest prize. Mittal's son-in-law Amit Bhatia, who also has a stake in the Premier League new boys, warned that his father-in-law will spend "what it takes" to see his club crowned champions.
Mittal, who wants to buy out F1 tycoons Flavio Briatore and Bernie Ecclestone, has already promised manager Neil Warnock a preliminary £50million warchest. The tycoon has been waiting in the wings since he acquired a 20 per cent stake
Express
Yesterday's Sun
THE SUN - Mittal in QPR bid on Monday By BEN HUNT
) LAKSHMI MITTAL will launch a bid to seize full control of QPR on Monday.
The Indian steel magnate is a shareholder in the Premier League new boys.
Now he wants to buy out Formula One tycoons Flavio Briatore and Bernie Ecclestone.
Mittal, worth an estimated £17.5billion, has promised boss Neil Warnock a £40million transfer kitty if his bid is successful.
The stumbling block could be Briatore's £100m valuation of Rangers.
A source said: "Everyone here is hoping the Mittal bid is successful.
"They want to see QPR prosper and may be willing to spend money on the players we need to stay in the Premier League."
The Sun

SUNDAY PEOPLE/Tom Hopkinson - QPR ready to move for Bassong after Spurs quit threat
QPR are on red alert after Sebastien Bassong revealed he wants to quit Tottenham.
The 24-year-old central defender had a major role in helping Spurs qualify for the Champions League 12 months ago.
But he has barely had a look-in this season, with Michael Dawson and William Gallas the preferred pairing in the heart of Harry Redknapp's defence.
Bassong has three years left on his contract and is desperate for regular first-team football.
Newcastle boss Alan Pardew is also interested in the former Toon star.
But the Cameroon international is keen to stay in London. Rangers are on the lookout for a centre-half with Premier League experience and Bassong fits the bill at Loftus Road.
Sunday People
-
QPR and The Championship: Major Stats for 2010/11
-
Video: Gianni Paladini's "The Sky is Blue" Comment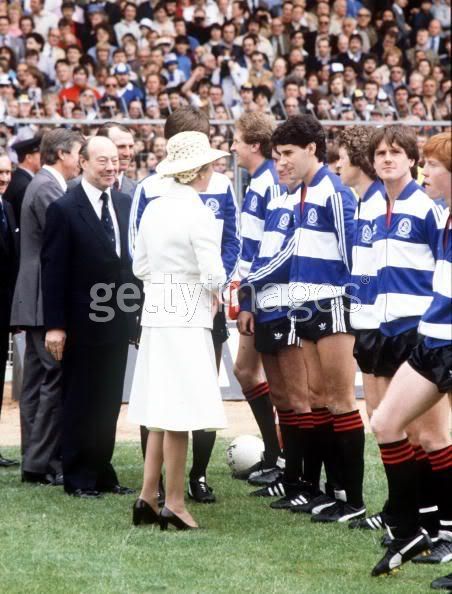 -
Twenty-Nine Years Ago: FA Cup Final I: Spurs vs QPR