-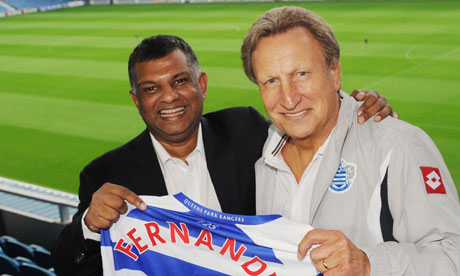 FLASHBACK 18 MONTHS
QPR REPORT BLOG - AUGUST 18, 2011
QPR Deal: Done and Dusted! - Tony Fernandes (and Associates) along with Amit Bhatia in...Amulya (Ground) Loan Assumed by Fernandes and Bhatia


QPR Official Site - EXCLUSIVE: FERNANDES SEALS TAKEOVER

Malaysian business tycoon Tony Fernandes CBE has completed his takeover of Queens Park Rangers Football Club.

Fernandes' company Tune Group have bought a majority stake in the Club, buying out previous majority shareholders Flavio Briatore and Bernie Ecclestone.

The 47 year-old founder of AirAsia, who is also the team principal of Formula One's Team Lotus, and his business partners, have a controlling stake of 66 per-cent and will work alongside the Mittal Family, who have retained their 33 per-cent stake.

Speaking exclusively towww.qpr.co.uk,Fernandes said: "I lived in Uxbridge Road for many years and grew up around the area.

"Everyone knows I've followed West Ham all my life, but I've always had a soft spot for QPR.

"Rangers were one of the first teams I watched as a child at Loftus Road."

Fernandes - who will take the role of Chairman of QPR Holdings Ltd and be joined on the board by joint Tune Group owner Mr Kamarudin Bin Meranun, one of Malaysia's most successful business tycoons -added: "The opportunity to get involved with the Club was mentioned to me by the previous owners and here I am.

"I've always wanted to be involved in football and the appeal of a London Club, like QPR, was too good an opportunity to turn down.

"It's funny how life has a way of spinning things round. It goes full circle sometimes.

"QPR is a raw diamond and hopefully I can contribute into turning it into a diamond."

Amit Bhatia, who will resume his position as Vice Chairman of the Club, toldwww.qpr.co.uk: "I'm very excited to welcome Tony to QPR and having spent considerable time with him, know that we share the same vision and values.

"We have discussed in great detail how to restore pride at the Club and I'm very pleased with the outcome of these discussions.

"It was a very difficult decision to resign from the board when I did, so I'm thrilled to be back and would like to thank all those who supported me and my family and look forward to serving the Club to the best of my abilities again.

"Tony and I will work alongside each other to try and make this season as exciting and successful as possible. I love this Club and this is a very happy day for me."

Fernandes added: "I have ambitions in the long term.

"I could easily say we're going to win the Champions League and the Premier League, but that's really not my style. I don't want to make big promises I can't guarantee.

"I want the fans to be proud of what we're doing and be involved as much as we can. The fans pay good money and are stakeholders, so whatever we do, I want the fans to be proud. We'll do it in style and with integrity.

"I'm keen to create a good Academy, so that there's a constant supply of players. We're in a fantastic part of London and we should be bringing kids through.

"The third aspect is to be a strong partner in the community and to make a difference in the community.

"Of course you don't go into anything in the sporting world and not want to be the best, but these things take time and I'd rather let the results speaks for themselves."

*The Club will be making no further comment at this stage. QPR


QPR Official Site - Fernandes "Soundbites" (Before the Press Conference!) - EXCLUSIVE: TONY TALKS

Soundbytes from our exclusive interview with QPR's new majority shareholder Tony Fernandes ...


*TF ... on Neil Warnock

"I feel very good about Neil. He has similarities to me.

"He's very impulsive. He says what he believes, without maybe thinking of the consequences sometimes, but I'm famous for that in my country.

"He's honest and transparent and a very excitable person.

"I love his passion and that word is key in my psyche.

"Money can get you so far, but passion can get you a lot, lot further.

"From what I've seen in my short time here, he has the passion and the hunger to make this a success.

"My gift is analysing people and there is something special with Neil."


*TF ... on transfer funds

"Without doubt there will be funds made available.

"It won't be crazy money though, because having watched football for a long, long time, I don't think our squad is too bad.

"We've got some special players. The front-line looks as strong as many in the Premier League.

"We need to strengthen and I've spoken to Neil. I think two or three good players could make a big difference.

"Neil will identify the players. He's living the dream and this has been his life for so long now.

"What I will do is give confidence that when he comes to me with a name and I'll say 'yeah, okay, let's try it.'

"I think he was shocked earlier this week when he mentioned some of the names and I backed him and said let's go for it.

"The first name I said to him he just laughed at me. Twenty-four hours later he rang me and said 'are you serious?'

"He came back and I said 'well, if we do it, save a chapter in your next book for this.'

"We're not going to spend £30 or £40 million but if a player is identified and he fits in, it's penny wise, pound foolish not to do it."


*TF ... on the short-term

"I'm excited and nervous.

"My ambition this year is just to stay up and build a good structure and solid foundation to grow for the future.

"Obviously there'll be nerves after 15 years away from the top-flight, but there's always up and downs and that's something I've lived with for all my business life."


*TF ... on the Mittal Family

"I think it will be a good relationship with the Mittal Family that we can build on over the years.

"I don't know them that well, but we share a common passion.

"They're very passionate. Amit is extremely passionate and that's why I wanted them to be involved.

"Money is easy, power is easy - passion is something that can't be bought.

"That attracted me more to the Club than anything else really, that the partner I'd be working with shared the same passion as me.

"I pride my whole life on passion. You've got to be passionate and love what you do - the rest becomes easier if you're hungry."


*TF ... on commitment to the cause

"Talk is easy, but I'm either zero or 100 per-cent and I am going to put my maximum into this.

"I'm very excited. Whether we win or lose, even if it's four or five one week, I'll still be there to the end.

"We all share the same common goal - and that's QPR."


*TF ... on the opening day defeat to Bolton

"I think the boys did fantastically against Bolton.

"Ninety-nine per-cent of people will probably say that's a tainted view, but for 45 minutes I thought we made Bolton look very ordinary.

"I'm encouraged by the squad we've got."


*TF ... on his ambitions

"I don't really want to talk about long-term ambitions.

"I could easily say we're going to win the Champions League and the Premier League, but that's really not my style.

"I have ambitions in the long term.

"I want the fans to be proud of what we're doing and be involved as much as we can. The fans pay good money and are stakeholders, so whatever we do, i want the fans to be proud. We'll do it in style and with integrity.

"I'm keen to create a good Academy, so that there's a constant supply of players. We're in a fantastic part of London and we should be bringing kids through.

"The third aspect is to be a strong partner in the community and to make a difference in the community.

"Of course you don't go into anything in the sporting world and not want to be the best, but these things take time and I'd rather let the results speaks for themselves than make big promises I can't guarantee."


*TF ... on sponsorship

"Sponsorship isn't a top priority to be honest.

"Obviously there's maybe a little bit of pride involved that we're the only Club without a sponsor, but we could get a sponsor tomorrow, but at what price?

"My top priority is to make sure we survive in the Premier League; to give the Manager and the management my support to go out there and do their best job without an overhang from any of the shareholders. And to create a development Academy for the future.

"If worse comes to worse, I'm sure I can persuade Air Asia or Malaysian Airlines to come on board and sponsor us!"


*TF ... on the Loftus Road loan

"The loan against Loftus Road is a shareholders loan. It's been transferred to me and the Mittal Family.

"It's nothing to worry about." QPR

http://www.qprreport.blogspot.com/2011/0....-fernandes.htm
l

Guardian/Owen Gibson - Tony Fernandes vows to review ticket prices and investments at QPR

• Fernandes says he will 'definitely' review ticket prices
• Neil Warnock describes the deal as 'momentous'

Queens Park Rangers' new owner, Tony Fernandes, has vowed to review contentious ticket price rises before the club's next home match and to reconnect with disenfranchised fans after taking control in a £35m deal.

Neil Warnock hailed the deal, which ends the turbulent tenure of Bernie Ecclestone and Flavio Briatore, as "momentous", the manager saying it would give him the platform to keep the club in the Premier League. "It's a fantastic day for me personally. As a manager, results determine if you get the sack. You hope you are given a fair crack of the whip and have an opportunity to try."

Warnock will now target players including West Ham United's Scott Parker. "Up to today I did fear if we had enough structure to progress. To be on a level playing field with a third or two-thirds of the Premier League is a great opportunity for me, my staff and my players."

Fernandes, with a personal fortune estimated at more than £200m, underlined his support for Warnock and promised to back him in the transfer market, with a renewed bid for Parker already under consideration. The Malaysian, a lifelong West Ham fan who has failed in two attempts to buy the East End club and in the process fell out with David Gold and David Sullivan, said he had always had a "soft spot" for QPR, having lived on the Uxbridge Road for "many years".

But although the AirAsia chief executive pledged funds to invest in the long-term development of the club's academy and infrastructure, and is believed to have promised Warnock around £10m for players, he said fans should not expect a benefactor with limitless funds."I don't believe you can run any venture that isn't profitable. You have to build a proper structure for the business to develop," he said.

Fernandes, the co-owner of Formula One's Team Lotus, pointed to his experience in that sport in controlling costs and exploring the potential for exploiting social media and new ways of engaging with fans and sponsors.

"My whole life has been building things. At AirAsia I bought the airline for £250,000 and it was two planes and losing lots of money," Fernandes said. "In the first year we did 200,000 passengers and 10 years on we're doing 32 million. I think football is a fantastic business if run well and it's a fantastic brand-building business for the things that we do."

His long-term business partner, Kamarudin Bin Meranun, has also invested in the deal and will join the board. Fernandes said QPR were a "rough diamond" in a "fantastic location" and had "huge potential to develop into something special".

Despite winning promotion to the Premier League, disgruntled fans have been concerned by huge ticket price rises and a lack of investment in the team. Fernandes said they would "definitely" review ticket prices.

"We will seek views from the management and fans. Talk is easy but implementation is much more difficult. My view is that this is a club for everybody and, if we have to make changes, we will. If we are to make an announcement, it will be before the next home game."

Amit Bhatia, who resigned as chairman in May after clashing with Briatore over issues including ticket prices, will return to the club as vice chairman. Lakshmi Mittal, the Indian steel magnate with a £17.5bn fortune, has retained his 33% stake in the club. Phil Beard, who was director of marketing for London's successful 2012 Olympic bid and oversaw the Millennium Dome's conversion into the O2 arena, will be the club's new chief executive.

Fernandes said that he and Bhatia would explore the possibilities for exploiting QPR in Asia and India and said his AirAsia and Malaysian brands would be "heavily involved" in the club. One of them is likely to be emblazoned on QPR's shirts.

Fernandes, an avid Tweeter, said he hoped to use social media to make bring the club closer to fans. "The power of social media is to be as close to the fanbase as you can. They can interact with you and tell you good and bad. That's the way I want to run the club, I want to be open and transparent." He said he had already received hundreds of messages from fans.

Warnock, who saw his team beaten 4-0 at home by Bolton Wanderers in their first Premier League match for 15 years, said it was unlikely any new faces would come in before Saturday's match at Everton but he would be "disappointed" if there were none before their match against Wigan Athletic on 27 August.

"We have got to look to the future now. It gives me a fighting chance to bring the players in that I think are needed to stabilise us at the top level," Warnock said. Guardian


David Conn/The Guardian
QPR's Tony Fernandes looking to build bridges – as well as his fortune

The new owner has made no secret that he bought QPR not only for the love of football but as a sponsorship vehicle

The Queens Park Rangers owner, Tony Fernandes, is optimistic about the future of the Premier League club. Photograph: Adam Holt/Action Images

Tony Fernandes said with a little understatement on becoming Queens Park Rangers' majority owner that he has "a communicative style", and supporters will justifiably expect their club to be more approachable now, after the high-handedness of the Bernie Ecclestone and Flavio Briatore roadshow. Fernandes, who, with three partners, built AirAsia from a loss-making company with two planes to Malaysia's version of EasyJet, has that modern businessman's touch of talking to people and an appreciation of publicity, for himself – complete with famous Twitter account – and for his businesses.

Expressing all the right sentiments to soothe QPR fans' sullen resentment over the price hikes that immediately followed May's promotion to the Premier League, Fernandes, in an interview with the Guardian, was not all soft soap, however. He made no secret that he was motivated to buy QPR for £45m not only for the love of football, but as a sponsorship, marketing vehicle for AirAsia, where he remains a significant shareholder, and Malaysian Airlines, in which he and a partner more recently bought a 20% stake.

"Many people do not realise the power of sport to market a brand," said Fernandes, whose Lotus Formula One team is sponsored by AirAsia, which also sponsored last year's British Grand Prix and, for a time, Manchester United. "You can spend £40m on advertising and have nothing like the same effect. Around the world, everybody watches Premier League football."

Through building up AirAsia, which has brought him decoration in several countries including a CBE here, his Formula One escapades and steady profile raising, Fernandes has become a public figure, whose career and success story have been serially told. Born in Kuala Lumpur, where he played the piano at the tupperware parties and conventions that made his mother's fortune, he was educated in England, at the Epsom College boarding school, then the London School of Economics.

He qualified as an accountant and worked in the music industry for 14 years, including for Time Warner. He did not agree with the AOL merger in 2000, and left the company to do the deal that made his real fortune – buying the debt-laden AirAsia, with three partners, for a token one Malaysian ringgit in 2001.

He said he mortgaged his home and had just £250,000 to invest initially, but he and the partners reshaped AirAsia into a low-cost airline flying, according to its most recent annual report, 18 million passengers to 65 cities in Asia and around the world, turning over £790m and making a pre-tax profit of £200m. Tune Air, the company Fernandes and his partners formed to buy AirAsia, still owns 26%, and he said he sold shares in the airline to raise the cash to buy into QPR. Kamarudin Meranun, a co-investor, who will join the QPR board, is a longstanding Malaysian partner with Fernandes.

Eager to become involved in football, Fernandes tried twice to take over West Ham United, first in 2009 when it was being run by the insolvent Icelandic bank Straumur, then as recently as June. The club's co-owner, David Sullivan, rejected his offer as "derisory" and criticised him for talking about it on Twitter – Fernandes claims he was already in negotiations and tweeted about it to clarify that he was interested to "hundreds" of people who were asking him. When it was clear there was no deal, he said he was approached by Ecclestone, who has nursed an apparently semi‑detached attitude to QPR after taking over as Briatore's backer in 2007.

Amit Bhatia, who won respect from fans during his time as chairman before resigning in May after the price hikes and Ecclestone's rejection of his own takeover offer, will become involved again, and his father-in-law, the Indian steel magnate Lakshmi Mittal, is retaining his 33% stake. Bhatia, considered a smart young Indian executive, and Fernandes, aspiring to be something of a Malaysian Stelios Haji-Ioannou, the EasyJet founder, are said to have struck up a rapport and intend to run QPR efficiently with a modern, enlightened touch.

"I'm lucky," Fernandes said. "I love football, I love the Premier League, I am investing in something I love, and it is also good for my business."

Many, though, have arrived at Premier League clubs similarly proclaiming it a dream come true, then been taken aback at the scale of money required for the wages of players to have a hope of surviving. Fernandes, a relentless enthusiast who was beaming on Thursday, will hope his experience in football will always be a happy one. The Guardian


Independent - Jack Pitt-Brooke - New QPR owner promises 'love' for Warnock

Tony Fernandes promised yesterday to give manager Neil Warnock "the support and love required", after becoming Queen's Park Rangers chairman and majority shareholder.

Fernandes bought out the previous majority shareholders Flavio Briatore and Bernie Ecclestone, strengthening Warnock's position at the club. Amit Bhatia, Warnock ally and part of the Mittal family, which owns 33 per cent of the club, will return as vice-chairman, the post he resigned in May.

Warnock admitted his relief yesterday at the end of a period of board-room instability, and at Bhatia's coming back to the club. "If you look at my time here, until possibly March-time this year, I've never had a better feeling at football in my whole life," Warnock revealed. "It's been a difficult few months for me and I wouldn't say it has all been that enjoyable but it's something you have to cope with."

So far this summer QPR have not been particularly assertive in the transfer market, despite the wealth of their former owners. Their only cash spent so far this summer is £1.25m on Blackpool striker DJ Campbell. Jay Bothroyd and Kieron Dyer have also arrived on free transfers. But Fernandes insisted yesterday that the club would invest in new players before the end of the window. "We will give [Warnock] what he requires to do the job to the best of his ability," he said. "It's not just about players today, it is about infrastructure. But players are the immediate [priority] because there is a deadline."

Warnock hopes to bring in up to five players before the end of the transfer window. "It's just a great day for me," he said, "the opportunity to bring three, four, five quality players into a squad that's already a good set of lads." Warnock said that West Ham midfielder Scott Parker was "one of a number of options" he was looking at. "We're actively looking at a number of players before the deadline closes. We are looking at quality players."

While Fernandes, founder of AirAsia and team principal of Formula One's Team Lotus, promised to spend money this month, he was clear that QPR would not be the recipients of unsustainable largesse. "You cannot run any venture that isn't profitable," Fernandes said. "You have to build a proper structure for the business to develop. I'm not saying it is going to be profitable tomorrow but certainly that is the ambition. Sensible business operations are needed for the long-term survivability of any sport."

Fernandes used to live on Uxbridge Road and confessed he "always had a soft spot for QPR". Regarding ticket prices, Fernandes said QPR was a "club for everybody" and there would be a review. Independent


Dave McIntyre/West London Sport - Amit Bhatia

Amit Bhatia insists QPR needed change at the top in order to stand any chance of surviving in the Premier League.

Bhatia is back at Loftus Road as company vice-chairman – the position he quit in May after a disagreement with Flavio Briatore.

He will work alongside new majority shareholder Tony Fernandes and believes the pair can help establish Rangers in the top flight.

"We badly needed stability at the club," Bhatia told West London Sport.

"You can get away with certain things in the Championship but in the Premier League you're playing on a different stage and you have to conduct yourself in a certain way. It's different.

"Now, there is absolute 100% certainty that Flavio and Bernie are no longer involved with QPR. They have no ties with the club left. Their involvement is completely finished."

"I've sat down with Tony and discussed with him where I think we can make this club better and replicate the success of last season."

He added: "I'm thrilled to be back. I received an incredible amount of support when I resigned. I received literally hundreds of letters from fans.

"I was very humbled by it – and felt very sad too, actually, because some people obviously felt I'd done some good and wanted me to stay involved, yet circumstances meant I couldn't.

"It makes coming back that much sweeter. I couldn't be happier. I really feel this is the start of something special for the club."

Last year it was suggested the Mittal family had ousted Briatore from power, which was never the case.

But Bhatia says this time there is no room for doubt that the Briatore era is over, and that all ties to the Italian and former co-owner Bernie Ecclestone have been cut.

Bhatia has a close relationship with manager Neil Warnock

Bhatia said: "Last season I was very much the one guiding the club along with Neil Warnock until Flavio and Bernie did get involved again.

"Now, there is absolute 100% certainty that Flavio and Bernie are no longer involved with QPR. Their shares have totally been bought and they have no board representation.

"They have no ties with the club left. Balance sheet, debt, amounts owed – all of it. Their involvement with QPR is completely finished."

Bhatia says that also applies to ownership of the Loftus Road ground, which effectively passed into Briatore's hands when he facilitated a loan to pay off the infamous £10m debt to ABC Corporation, which was secured using the stadium as collateral so that Rangers could come out of administration in 2002.

"That loan will probably continue to exist, but it has now been bought off [by the new regime]," Bhatia explained.

"The stadium loan when we inherited the club was a loan that was unfair on QPR and brought an extremely high rate of interest.

"We decided to replace the loan with our own loan, which was done on an interest-free basis. It was to lighten the burden on the club.

"It is a [current] shareholders' loan to the club which no longer involves Flavio and is non-interest bearing. I think that's the most sound and rational way of doing it."

Bhatia confirmed the new-look board are reviewing the position of Gianni Paladini, who has been stripped of the role of club chairman – a title he held for six years and retained despite a number of changes to the company board.

"Flavio and Bernie are out and Gianni's situation has to be reviewed," he said.

"He brings some value to the club, but there are other things that we have to make sure are treated correctly and done in the proper way.

"Over a period of time, we'll make decisions. For now Gianni remains at the club, but what the future holds for him we'll just have to wait and see." West London Sport


QPR Official Site - WARNOCK: 'A MOMENTOUS DAY'
Posted on: Thu 18 Aug 2011

Neil Warnock couldn't contain his excitement, as the Club announced Tony Fernandes' takeover of QPR at a Loftus Road press conference this afternoon (Thursday).

Flanked by Fernandes and Amit Bhatia - who will also resume in his position of Vice Chairman - the R's gaffer was all smiles, as the trio fielded a whole host of questions from the local, national and international press from 2pm.

"It's a momentous day," Warnock toldwww.qpr.co.uk."To get Tony on board and listen to his ideas and plans for the Club is exciting - not just for the First Team but for the whole Club.

"I think everyone connected with QPR should be excited about the whole prospect.

"The Club needs the stability and expertise that Tony has got to take it to the next step.

"We've got to the Promised Land and we want to stay there and build a Club for the future - that doesn't happen overnight.

"We have to put bricks in place to build that foundation - everything about today is positive."

Bhatia - as most R's fans will remember - played a major role in bringing Warnock to W12 last March. The 62 year-old continued: "It only seems like yesterday when I came through the door.

"Everybody knows why I came here - Amit was instrumental in me doing so.

"I'm as excited today as I was when I came and shook Amit's hand to take the job last year.

"I told him then that we'd get up next year, and I don't think he quite believed me when I told him that!"

There are just 12 days until the summer window slams shut and Warnock admits that he'll be working tirelessly to bring in further additions to his squad.

He added: "Fortunately for me, we've still got time to bring in targets that we need at the Club, to take us to where we want to be.

"We'll all be working very hard in the coming days and weeks to bring in those players who I think we need to compete at the level we're talking about.

"We learnt so much last year to get to where we are now and we've got to learn quickly again to take the Club forward.

"Now we've got the people now on board, it's within our capabilities to do that." QPR



GIANNI PALADINI

Dave McIntyre - West London Sport - Paladini's six-year reign is over

Gianni Paladini is no longer QPR chairman and the club's new-look board are to discuss his future in the coming days.

Paladini was Rangers' longest-serving chairman since Jim Gregory, having held the position since 2005.

Tony Fernandes was on Wednesday confirmed as company chairman and majority shareholder at Loftus Road, with Amit Bhatia returning to the post of company vice-chairman.

Paladini's position as club chairman has not been affected by a number of changes to the company board in recent years, but this time around he has not survived the cull.

Fernandes is this week taking soundings from Bhatia with a view to announcing a restructure of the club in the near future.

But the decision has already been taken to strip Paladini of the title he has held since prevailing in a boardroom coup six years ago.

Paladini, who is still under contract, has always been seen by the Mittal family as someone with a contribution to make because of his experience in the game.

But disagreements between the controversial Italian and Bhatia's trusted friend Ishan Saksena caused acrimony prior to Saksena being removed as company chairman and managing director in May.

He will also no longer be used as a bridge between the manager and board, which became his primary job under the Flavio Briatore-led regime.

Paladini's function as a meeter and greeter, which he has retained by virtue of being the only QPR director who attends every match, also hangs by a thread, with a number of alternatives for the role already being considered.

The Fernandes-led restructure will include the appointment of Philip Beard as chief executive.

Beard, a senior member of the successful London 2012 Olympic bid team and former CEO of The O2, will formally start work once Premier League approval is received. West London Sport


Paul Warburton-Fulham Chronicle - Gianni Paladini set to leave QPR

CONTROVERSIAL chairman Gianni Paladini is set to leave QPR with a two-year pay off.

The current Rangers club supremo was the focal point for fans' ire when he was deemed to have made mistakes over the transfer of midfielder Alejandro Faurlin.

As a result, the FA at one stage threatened a points deduction that would have derailed Hoops promotion hopes last season - only lifted on the morning of the final match against Leeds.

After the game, the Italian was roundly booed when answering questions over the loudspeaker system. But the man born in Naples in 1946 was seen as a saviour when he rescued Rangers from administration in 2003" Fulham Chronicle


Evening Standard -Tony Fernandes axes Gianni Paladini on his first day in charge
Tony Fernandes has sacked chairman Gianni Paladini in his first act as Queens Park Rangers' new owner and taken on the role himself.

Fernandes moved swiftly after his company, Tune Group, took on a 66 per cent stake in QPR buying out previous majority shareholders Flavio Briatore and Bernie Ecclestone.

Paladini, who sold his stake in the club in 2007, is disappointed by the move but it is believed the 65-year-old feels he has reached an age where he is happy to free himself from the stress of helping to run the club.

In 2005, Paladini was held up at gunpoint at Loftus Road shortly before a home game but seven men were later cleared of charges of conspiracy to blackmail, false imprisonment and gun possession.

Paladini has bought two seats in the directors' box and is expected to attend QPR's home games regularly as a fan.

Paladini has enjoyed a close working relationship with Neil Warnock but the manager has warmly welcomed the arrival of Fernandes, with the deal also seeing Amit Bhatia rejoin the board, three months after he quit.

QPR were hammered 4-0 by Bolton on the opening day of the Premier League season but Warnock now hopes to strengthen his squad before the transfer window closes on August 31.

"It is so exciting," he said. "It is going to be hard work because we need to find the right players and do our business in a short space of time, but this will give us a fighting chance.

"To have Amit back on board is great because he is the reason I joined the club as manager in the first place.

"Tony and Amit have got the same vision and it is not short-term - it is long term but this is the best thing regarding the fans and I am sure they will be delighted.

"Tony and Amit know that I'm looking to bring a number of players in and they will do all in their power to get my targets. We have a number of transfer targets in every position and we are looking to strengthen. I have backups in place in case we can't get my first choice. The most important thing is to get the right players in by the end of the window."

Fernandes, the founder of AirAsia and boss of Team Lotus, has high hopes for his new club and said: "QPR are a raw diamond and hopefully I can contribute into turning them into a diamond. I am thoroughly impressed with Warnock's passion and enthusiasm." Standard


Talksport/Ian Cruise - Exclusive - Curle: 'QPR can now go shopping at Harrods

Can Listen to Audio
* Exclusive - Curle: 'QPR can now go shopping at Harrods'

Keith Curle has told talkSPORT Neil Warnock can now 'go shopping at Harrods' after Tony Fernandes' takeover of the Loftus Road club.

The Malaysian tycoon secured a 66 percent stake in the west London club on Thursday and immediately pledged there would be money to spend.

And, although he insists he won't be splashing out crazy money on new signings, Rangers' fans can look forward to some new arrivals before the close of the transfer window.
"Tony's come in and it's changed the focus. We're now shopping at Harrods rather than lesser shops"Keith Curle

And assistant manager Keith Curle admits the club can begin to focus on targets towards the top end of the market rather than the bottom.

Curle told the Alan Brazil Sports Breakfast: "We had a meeting with Tony last week to talk about some targets. You can tell by the acquisitions we've made, they've been frees, that we've been scouring the market for value for money.

"Now Tony's come in and it's changed the focus. We're now shopping at Harrods rather than lesser shops."

QPR started their Premier League campaign with a 4-0 thrashing at home to Bolton, and Curle admits they have to wise up.

He added: "The lads didn't deserve a 4-0 hammering but we'll be looking for a response on Saturday [at Everton]. We need to be more ruthless and professional . Kevin Davies nearly reffed the game [last week] and we need to be more street wise." Talksport

http://www.qprreport.blogspot.com/2011/0....ompilation.html


And some of the other...on QPR Report August 2011

QPR Report Tuesday: Trasnfer Day?...CEO Beard Talk...
A QPR Odyssey - QPR Club Secretary of the 1960s, 1...
QPR Report Monday Update: Transfer Gossip...(Remin...
QPR Report Sunday Update: Wigan Loss
QPR Report Friday: Transfer Waiting!...Malaysian ...
Video: QPR Fan Interview With Neil Warnock
QPR Report Thursday: Ray Jones (RIP)...Fernandes: ...
QPR Report Wednesday: Rochdale Loss: Reports and C...
QPR Report Tuesday: Warnock on Transfers...Ticket ...
QPR Report Monday Update and Transfer Gossip
QPR Report Sunday: Fernandes on Possible Loftus Ro...
QPR Report Saturday: Everton Play...Warnock Speaks...
QPR Report Friday Takeover Compilation: Exuberance...
QPR Deal: Done and Dusted! - Tony Fernandes (and A...
QPR Report Thursday (Takeover Day?)
QPR Report Wednesday: Fernandes Wants Mittal Share..
http://www.qprreport.blogspot.com/2011/08/qpr-report-wednesday-bullard-to.html.