-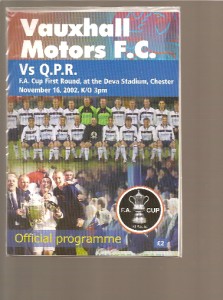 -
-
For QPR and Football Updates throughout the day, visit the ever-growing (and hopefully always-improving!) QPR Report Messageboard/quasi-blog. Either offer your own perspectives on any of the topics (QPR and football only). Or of course, feel free to simply read the various QPR and football-only discussions. Also: QPR REPORT ON TWITTER
_____________________________________________________________________________________
-
QPR Official Site - CLUB STATEMENT
- In the wake of events surrounding our fixture against Millwall on Tuesday (September 28th) evening, the Club can confirm it is continuing to work closely with the Police and football authorities.
- This matter is being treated very seriously by the Club and the authorities and we will comment further when possible.
- The Club will be making no further comment at this stage.
QPR
Yahoo - [Millwall's CEO] Ambler defends Lions` reputation
Millwall's chief executive Andy Ambler has defended the club's reputation after Tuesday night's violence at QPR.
Police made 11 arrests after trouble flared between both sets of fans before and after the goalless draw at Loftus Road.
But Ambler told Sky Sports News: "We are really disappointed that Millwall's name is associated with these incidents outside the ground.
"I'm thankful these incidents are relatively rare. To put it in context the same supporters went to Cardiff on Saturday and were praised by the police.
"I feel sorry for the loyal Millwall fans who have to put up with this away from home. They are normally very well behaved.
"We do not want to take the passion of Millwall away. The Millwall family is very special. We've done Wembley twice with 40,000 fans without incident - it's a family football club."
Yahoo
News Shopper/Paul Green - Jackett: QPR game wasn't overshadowed by trouble
KENNY Jackett says he doesn't believe Tuesday's trouble off the pitch spoiled Millwall's draw at leaders Queens Park Rangers.
The Lions put an end to their losing run with a resolute defensive display to hold QPR 0-0 but the major talking point afterwards were the clashes between both sets of fans before and after the game.
Police made 11 arrests after violence flared but Jackett believes it is wrong to assume either club are to blame for what happened outside Loftus Road.
He told News Shopper: "I don't think the game was overshadowed, it was a very good game and we contributed well and worked very hard.
"There were 11 arrests but there wasn't any trouble in the ground at all.
"Our supporters backed their team magnificently and contributed to what was a very good atmosphere.
"I do hear there was trouble outside the ground but it is hard for football to always take responsibility for that."
Despite the controversy, Jackett was delighted with what he saw on the pitch.
The Lions boss added: "We've had two good performances at Cardiff and QPR.
"They were both tough games but Tuesday night was a terrific London derby and we contributed well to a good game.
"To get a point at such a good side gives us something to build on going into a home game this weekend against Burnley."
Not for the first time this season, keeper David Forde pulled off several fine saves at Loftus Road and Jackett was keen to acknowledge his contribution.
He said: "A lot of people want the opportunity, myself included, to prove themselves in the Championship and David Forde is one of them.
"We would like him to perhaps be less busy sometimes and for the other side's keeper to be a lit bit busier but when needed it is always important to have a good goalkeeper.
"It is a key position, there is no doubt about that.
"Even in the Watford game, I wouldn't have put any of the goals down to him, which is quite unusual for a result like that."
News Shopper
QPR Official Site - MACKIE IN SCOTLAND SQUAD
In-form R's attacker Jamie Mackie has received his first call-up to the Scotland squad.
The 25 year-old, who joined QPR from Plymouth Argyle in the summer, has been selected for fixtures against Czech Republic and Spain.
Mackie has been a revelation since his move to QPR, scoring eight goals in ten appearances in all competitions.
Craig Levein's side currently top their European Championship qualifying Group I table, with one win and a draw from their opening two fixtures.
The Scots lock horns with the Czechs at the Synot Tip Arena in Prague on Friday 8th October, before hosting World Champions Spain at Hampden Park on Tuesday 12th October.
Scotland squad
Goalkeepers: McGregor (Rangers), Gilks (Blackpool), Gordon (Sunderland)
Defenders: Hutton (Tottenham), Berra (Wolves), Broadfoot (Rangers), McManus (Middlesbrough), G Caldwell (Wigan), Weir (Rangers), Whittaker (Rangers)
Midfielders: Adam (Blackpool), Brown (Celtic), Dorrans (West Brom), McCulloch (Rangers), Fletcher (Manchester United), Morrison (West Brom), Robson (Middlesbrough), McEveley (Barnsley), Maloney (Celtic)
Forwards: Fletcher (Wolves), Iwelumo (Burnley), Mackie (QPR), Miller (Rangers), Naismith (Rangers).
QPR
QPR Official Site
-
MACKIE: 'THIS IS A MASSIVE MOMENT'
Jamie Mackie has spoken exclusively to www.qpr.co.uk after today being named in Scotland's squad for their Euro 2012 qualifiers against the Czech Republic and Spain.
Mackie's startling form for QPR since his summer arrival from Plymouth brought him to the attentions of Scotland Manager Craig Levein, and now the 25 year-old is preparing himself for his first international appearance.
Mackie, who has netted eight goals in nine league games for the R's, said: "It's a lot to take in. I am extremely proud to be part of the squad and hopefully I can add something to it.
"The season so far has been unbelievable. Any personal accolades I get along the way are a bonus, but the opportunity to play for Scotland is a massive, massive moment in my career.
"I want to grab this chance with both hands."
Mackie qualifies for Scotland through his grandfather, Graham, and the R's No.12 said: "My granddad isn't with us anymore but he was a very proud Scotsman from Kilmarnock, and this is a really special moment for my whole family.
"I am delighted to be given this opportunity.
"I will have a lot of family going to both games. They are all going to be over the moon - and there'll probably be a few people coming out of the woodwork now looking for tickets!"
While many of his QPR team-mates will enjoy a well-earned rest following this weekend's Championship encounter at Crystal Palace, Mackie will be travelling to Prague with the rest of the Scotland squad to face the Czech Republic on Friday 8th October.
Four days later, he will be at Hampden Park for the visit of Spain.
While R's fans may be concerned about Mackie's fitness levels when he returns for Championship duty, the player is convinced the extra games will be of benefit.
"I believe that the more I play, the better I am," he said. "I don't rest very well. I much prefer to be playing football.
"During the last international break I went to Spain with the family. We had a great time but I kept thinking that Scotland were playing, and I would preferred to have been there. And I told my missus that too!
"The Manager has said to me to be sensible and look after myself. I know my body, and I am sure the Scotland medical staff are second-to-none so they will look after any niggles I might get.
"It won't be until after the Palace game that I start to really get excited about it.
"I absolutely love playing for Queens Park Rangers, everyone knows that - and I just can't wait for Saturday's match so I can get out there again."
QPR
-
Premiership Attendances Up
-
New FIFA Rules re Transfers
-
Sheffield Wednesday in Big Trouble (Again)
-
One Year Ago: Report that Amit Bhatia Prepared to Take Over
-
Three Years Ago: John Gregory's Last Game in Charge
-
Five Years Ago, Chairman Paladini Profiled (and seperately, Chairman Paladini Threatens Legal Action vs Evening Standard)
-
Thirteen Years Ago: QPR Manager Stuart Houston Wins "Manager of The Month"
-
Akos Buzsaky NOT Included in the Hungarian Squad for the 2012 Qualifying Games
-
The Stan Bowles Quiz
-
QPR Video from September 1972: Just two weeks after Stan Bowles Joined QPR, showing his brilliance
-
"Leaders in Football" Conference Details
-
"Wages" of a Football Administrator!