-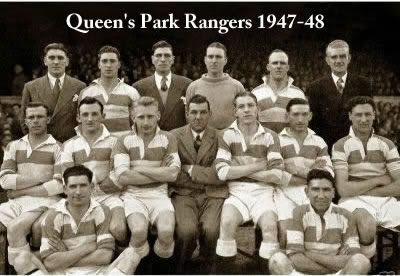 --
Two QPR Fans Recall QPR's 1947-48 Season (+ Stats from 1947-48)
-
-
For QPR and Football Updates throughout the day, visit the ever-growing (and hopefully always-improving!) QPR Report Messageboard/quasi-blog. Either offer your own perspectives on any of the topics (QPR and football only). Or of course, feel free to simply read the various QPR and football-only discussions.
--
The QPR Report Messageboard
_____________________________________________________________________________________
QPR's Mackie and Walker make Championship Team of the WeekFootball League's Championship Team of the Week
John Ruddy
Kyle Walker David Wheater Adrian Mariappa Adam Drury
Barry Robson John Eustace Jordon Mutch Adam Hammill
Ched Evans Jamie Mackie
Football League
PFA's Give Me Football - Liverpool wonderkid making waves at Anfield
Sterling continues to impress at Liverpool. (©PAphotos)Picture [/b]
Raheem is a very exciting young English player Liverpool starlet Raheem Sterling showed his potential with a clinical brace for the U18s against Leeds.
One of the hottest properties in English football, Sterling was coveted by a string of Premier League sides back in January before deciding to join the famed Liverpool academy from QPR.
At the time the Liverpool managing director, Christian Purslow, said: "Raheem is a very exciting young English player whose progress was being closely monitored by many other leading clubs and I'm delighted he's joining us."
Arsenal were thought to be close to agreeing a deal for the player, but the winger decided to join the Reds as the Merseyside club pipped their Premier League rivals to the signature.
Roy Hodgson was clearly impressed, including the 16-year-old in Liverpool's senior pre-season tour. The youngster has continued to shine at youth level ever since.
Two second half strikes were more than enough to see off the Whites, with a 50th minute opener being consolidated with just three minutes left on the clock.
"It was a very tough game but we deserved to win because we produced a good team performance," Rodolfo Borrell told Liverpoolfc.tv.
The Liverpool U18 side remain unbeaten thus far in the 2010/11 season, and show great signs of promise for the future at Anfield.
Sterling as seen as the jewel in the crown, and the England youth international could work his way up the Liverpool ranks quicker than first imagined"
Give Me Football
- Compilation of QPR-Leicester Reports, Managerial Comments and Video

- Flashback: A Reminder of QPR's Results Last Season!

- Supposed QPR Interest in Wolves' Michael Knightly

- Video Flashback: Flavio Briatore Talking About His QPR Plans (and some other QPR videos)

- Four Years Ago Today: Gianni Paladini Axes Gary Waddock (and Alan McDonald) and appoint John Gregory
-
Compilation of QPR Songs (Some Oldies!)- RIP: Spurs Double Winner (and Colleague of Les Allen) Bobby Smith- Forty Years Ago: Barry Bridges' Final Game for QPR

- Three Years Ago: Bernie Ecclestone's First QPR Game

- VIDEO: 1982 QPR Win at Leicester: Stainrod, Stewart, Venables as Manager
-
Lee Camp Set for Northern Ireland
-
One Year Ago, QPR had ONE player in the Actim "Top Hundred Championship Players. Now QPR have TEN (with hopefully additional players to make that ranking)