-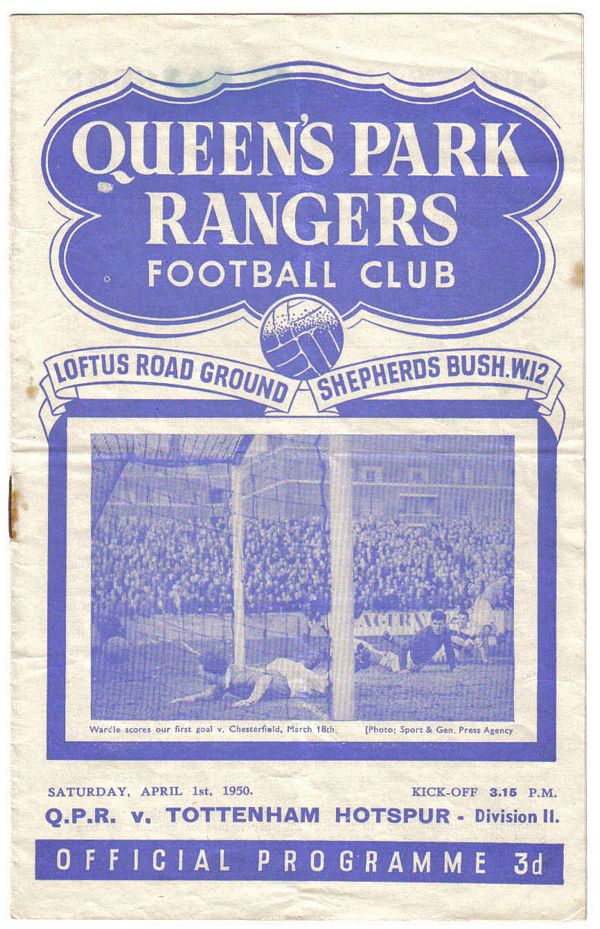 -
-
For QPR and Football Updates throughout the day, visit the ever-growing (and hopefully always improving!) QPR Report Messageboard/quasi-blog. Either offer your own perspectives on any of the topics (QPR and football only). Or of course, feel free to simply read the various QPR and football-only discussions.
--
The QPR Report Messageboard
_____________________________________________________________________________________
-
QPR Chants: The Collection - App
-
Neil Warnock and Iain Dowie on Talksport: Smith Paperwork problems...Works With Bhatia...Money in January if Needed
-
Marking Six Months of Neil Warnock at QPR: Great Appointment!
VIDEOS:
-
VIDEO: Trevor Francis QPR Hatrick
and also: (
Video of Venables, Bridges and Hollins Playing for Chelsea
!)
-
VIDEO: QPR Beating Chelsea 4-2 With Les Ferdinand Scoring his First Goals for QPR after Don Howe Replaced Trevor Francis
-
VIDEO: Terry Venables' QPR Beat Newcastle
-
Decade Ago Today: Shock Home Defeat for QPR - Knocked out of the Cup (Report and Gerry Francis Managerial Comment)
-
In the National Masters, QPR go out in the first game on penalties
-
Birthdays For Ex-QPRs Bruce Rioch and Steve Kelly
-
Les Allen Turned Seventy-Three
-
MARK LAZARUS Interviewed Tonight:
-
This Evening: (Monday, September 5), Mark Lazarus is being interviewed on JnetRadio - Listen/Call in or Email Questions
-
For More on Mark Lazarus: Marking Fifty Years Since Lazarus Joined QPR (Video, Photos, Interviews)
-
Nine Year Flashback: The Brian Melzac Effort to Take Over QPR
Kevin Blackwell/Sky - How Could Have Taken Over at QPR
"...[Kevin] Blackwell worked with Warnock as a player and a coach at Bramall Lane and might have taken over at QPR himself in 2009, only to see Sheffield United reject their advances for his services....
"This time last year I could have gone to Queens Park Rangers straight after the play-off final and the club turned it down.
"Neil rang me on two occasions and said: 'I've spoken to Flavio Briatore and they did want you to come here'.
Sky
-
The Way Things Are Run at Southampton
-
Decade Flashback: First Meeting of the QPR Supporters Club
-
Past QPR-Related Petitions
-
The QPR Accounts in the days of Blackburn and Davies
-
Pellicori Played for Torino yesterday
-
QPR Women's New Sponsor: Tribune Magazine
-
QPR Attendance Stats Over Past Few Years

- Comparing QPR Starts Over Past Few Seasons
-
QPR Need to Submit (or have already submitted) the Names of 22-Man Squad (Names of players Over the age of 21) to the Football League. Only those players eligible to play for QPR
-
Nine QPR Players Ranked in Championship's Top 60 Players
-
On This Day (September 4): Clive Clark and Frank Sibley Made QPR Debuts
-
On This Day: Fourteen Years ago- Ray Wilkins Exits QPR (and Terry Venables and Alan Curbishley the names linked as Replacement)